Sleepworkers
A company on a quest for comfort, Purple Innovation's range of mattresses, pillows, and seat cushions have propelled the company to the head of the market
Only the Pearce Brothers, Terry and Tony, know whether they caught anything on their 1989 fly fishing trip to the Rockies. What we do know is that the trip kickstarted a chain of events that would eventually lead to the founding of Purple Innovation, one of the world's most advanced comfort technology organizations.
Drawing on their relative experience – Terry in manufacturing and design, Tony in advanced aerospace materials – the brothers embarked on a partnership in the early 1990s that proved highly successful in developing cushioning solutions for wheelchairs and sporting goods. Not simply satisfied with their technology being licensed by the likes of Nike and Top-Flite, the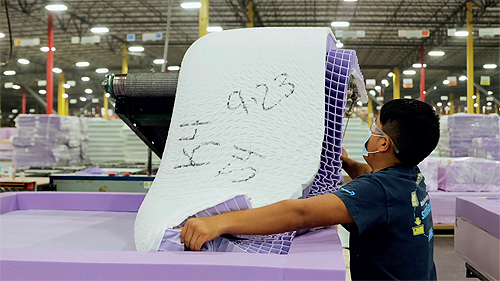 Pearces went in search of a new cushioning technology that could be produced at a much lower cost. A breakthrough arrived in 1996, when the brothers invented Hyper-Elastic Polymer. Originally designed for use in hospital beds and wheelchairs, the Pearces adapted this unique, pressure-relieving, hyper-elastic gel for consumer mattresses, stretching it into a form called the Purple Grid. "The Purple Grid solves the problems caused by normal mattresses that prevent great sleep," explains Purple Innovation's Vice President of Engineering and Manufacturing, Andrew Clarke. "It's the only comfort innovation that is instantly soft where you want it, firm where you need it, and comfortably cool all night. Purple's mattresses are longer lasting, and our unique grid structure allows airflow, creating a better sleep experience and true innovation in the mattress category."
Today, Purple Innovation, the company resulting from the Pearce Brothers' efforts, specializes in the development of mattresses, pillows, and seat cushions. After going public in 2018, the company is now headquartered in Lehi, Utah, where the company also boasts 670,000 square feet of manufacturing space. These production facilities are designed to handle large scale compounding and house Mattress Max™ machines, which allow Purple to make Hyper-Elastic Polymer large enough to cover a king-sized mattress at an affordable cost. Purple hopes to improve its manufacturing capabilities in late 2020 with the addition of a new 520,000 square foot facility in Georgia to help with increasing consumer demand.
"We are very close to opening the new site in McDonough, Georgia, which will allow us to better serve our customer base in the South and on the East Coast," Andrew says. "We hope to have the facility operating by the end of this year and are on track to hire more than 360 employees to staff it.
"When it comes to production in Utah, our engineering teams are currently working on the next generation of equipment and providing design updates for improved assembly and efficiency. These lines are designed and manufactured here in the USA. The technology developed by the Pearce Brothers is constantly being refined by a large group of engineers and controls specialists, including Purple's own internal machine and fabrication shops. We also benefit from new world class distribution and fulfillment systems to allow ease in getting product to our customers.
"As a team, we have been fortunate to work with some really good equipment vendors and they have been able to support us at our aggressive and dynamic pace," he adds. "The Maintenance, Engineering and Manufacturing teams are now fully engaged in a new software package that manages equipment maintenance through to production performance of our lines. The software implementation was driven through the teams and was adopted quickly, winning this team awards for the speed and use of the system."
The introduction of Joe Megibow as CEO at Purple in 2018 has seen the company expand a multifaceted omnichannel strategy, as well as launching into retail with the opening of
its own showrooms. To date, the company has sold over one million mattresses and has products available in over 1900 retail locations. No matter how the business changes and evolves though, Andrew believes it is vital for Purple to stay true to its roots as an innovator. Innovation, he says, will always be the key to Purple's success. "Our founders led the way in the development of technologies and systems that were aimed at improving comfort in the world around us," he declares. "Over and over again, prior to starting Purple, these technologies have been licensed out to major players in their own arenas to make a difference for their customers. As we grew from a licensing company to a product oriented, customer focused company, our processes have begun to solidify with this new (to us) emphasis on finished products at scale. We have been able to develop products like our Harmony Pillow as we identify real customer needs and build from there. We have been able to pull from decades of technologies and processes development, which gives us a huge advantage, to creatively solve real customer product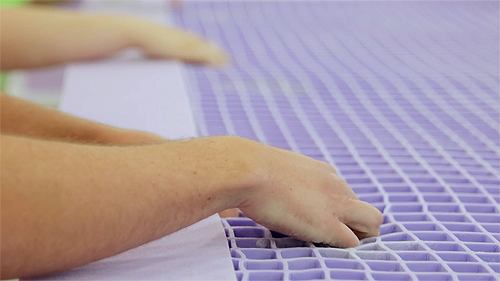 problems. As we continue to grow and expand our contact with end users, we are also continuing to develop this process into a more robust product development system."
Despite the challenges presented by Covid-19, the expansion Andrew mentions has continued for Purple in 2020 – a year of explosive growth for the company. With many consumers making the shift to working from home, Purple's innovative comfort solutions have seen an increase in demand, resulting in the company working harder than ever to keep up. Since January 2020, Purple has hired over 900 new employees and is still looking to add more new faces to its warehouse, fulfillment, and production teams. Though the company was forced to temporarily furlough some team members in the early stages of the pandemic, the creation of new products, such as face masks and emergency relief beds, kept the majority of the manufacturing workforce employed throughout. Similar adaptations were made on the retail side of the business. "As we temporarily closed some retail locations, our retail staff shifted focus, responding to online sales and support. Shifting them from in-store to online helped us meet growing demand on the e-commerce side of the business. We went back to our roots and focused on direct to consumer rather than wholesale in the marketplace, which was met with great demand from our customers," Andrew reports. "We also implemented strict measures to keep our employees safe – staggering shift times and contracting an industrial cleaning service to regularly sanitize the manufacturing facilities. It all means that we are now in a position to invest in better talent and better resources, improving project management and corporate processes to facilitate more successful outcomes. We want to empower our employees to keep growing and keep maturing this business."
Though complex science and engineering lies at the heart of all Purple's products, the company would not exist without people – the customers looking for comfort and the employees providing it. This fact has been made ever clearer to Andrew and his team during the lockdowns and remote working environments of 2020, but the company has endeavored to keep its workforce connected and its positive culture of engagement and development intact. Debates over a daily Question of the Day – 'Is cereal a soup?', for example – grew into the establishment of a new Company Culture team that now organizes programs and events to help increase employee satisfaction. These events include the recent renting out of a drive-in movie theatre for the whole company to attend with their families. For many employees, the occasion marked the first time since March that they were able to interact safely with one another from a distance. With many workers across the globe experiencing stressors like never before, Purple has, in response, forged a strong partnership this year with BluNovus, a free service for employees and their families that helps improve emotional wellbeing by proactively addressing mental health and addiction. Additionally, Andrew suggests that the company is developing more fun ways to interact with its staff before the end of the year too, with the ultimate goal being a happy, motivated workforce ready to take Purple Innovation to the next level of its growth.
"We can't wait to surprise our employees on December 12th when each of them will receive a gingerbread house in the mail so each of us can decorate and celebrate National Gingerbread House Day. It's just another little token that strengthens our togetherness, as we continue to build our culture." Andrew states. "At the heart of everything we do is a quest to find answers to the question: 'how can we give comfort?'. Externally, that looks like our products. Internally, we've found that being agile and flexible to our employees' needs is paramount. We're leading with a human-centric culture where we give employees the space to work the way they need to, while trying to have as much fun as we can along the way. Together, we will continue innovating and creating comfort solutions in all facets of life."
Purple Innovation
Products: Mattresses, pillows, cushions, and other comfort solutions
www.purple.com