Opening a new chapter
Pyroban® is a well-known leader in developing explosion protection solutions. The company's recent acquisition by SEA Equity ushered in a new era, which will see Pyroban return to its roots and expand its capabilities thanks to new modern facilities already in operation
The end of 2017 brought about a change of ownership at Pyroban, an expert in providing explosion protection solutions for diesel and electric, and diesel engines. In November, Pyroban was sold by its previous owner, Caterpillar® Inc., to the investment company SEA Equity. Brian Quarendon was appointed Group CEO, and despite him having been part of Pyroban only for a
short period of time, he is more than happy to take us through the history of the company and its most recent developments.
"The Pyroban Project was launched by ICI (Imperial Chemical Industries) with an aim to make sure that its engines and materials handling equipment were protected after accidental release and ignition of a flammable vapour by a diesel engine at its Wilton Plant had occurred resulting in fatalities. From there, it grew to become a company of its own in 1972, called Power Research, and later it changed its name to Pyroban," Brian begins. Over the next years, the business worked on multiple projects and developed a range of products for the oil and gas and materials handling markets. In 2011, it was sold to Caterpillar, and six years later, it changed hands again, when its current owner SEA Equity acquired the company.
Brian discusses the impact of the acquisition: "It will allow us to look more at our heritage, and focus on building upon the reputation we had historically earned, as an explosion protection company. We will be able to concentrate on our core technologies and markets, which are the materials handling sector, and the protection of diesel engines for use in hazardous areas. The crucial thing is that we will have a more direct access to our clients and end users, because this had to be centralised through the network of Cat® dealers in the past. We hope this will improve our overall customer service. Reorganising the business to get it back to its roots as a customer-focused company was a real highlight for us last year, and a key shift in direction instigated by the acquisition."
For nearly 50 years, Pyroban has been developing innovative products, and Brian sheds some light on those solutions that have proven most popular with customers. "Our system6000™ is our most sought-after product. It is a gas detection system that offers active protection in Zone 2 areas. We are capable of converting all brands and models of electric and diesel materials handling mobile equipment so that they are safe for use in Zone 1 and Zone 2 hazardous areas, and while Zone 2 is slightly less critical than Zone 1, system6000 was designed specifically for that application.
"Outside these two areas, we have developed the Gascheka duo™ solution. It is an Added Safety package that ensures operators are fully-protected anywhere onsite. On top of the aforementioned products, our Ex-tec 2G/3G technology has also been selling well. It allows electric materials handling equipment to operate safely either in Zone 1 or Zone 2, without the use of active gas detection," Brian explains.
Famed for the production of complex and efficient solutions, it is understandable that Pyroban's biggest strength lies in its technical capability. "Our people have years of experience that have allowed them to develop the expertise that we are associated with. We are widely recognised as innovators in technology, and leaders in all the new specifications and standards that come out. In fact, people across the explosion protection industry tend to use the word 'Pyrobaning' to explain the process of vehicle conversion," Brian notes.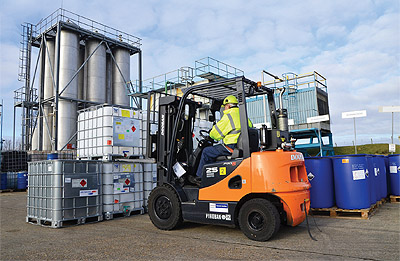 Having a whole term named after it, is clear evidence of the company's popularity and reliability in business, and its recent operations are a compelling example of Pyroban's determination to remain a top player in the field. Since 2015, the company has diligently prepared itself to meet the new European standard for explosion protection for lift trucks, called EN1755:2015. Brian comments: "It has been the main focus of the company for the last two years. We had to have all our designs aligned with the new requirements. This means that we made substantial changes to the ways a truck is converted. As a manufacturer, despite our existing electronics solutions already being high-tech, all our safety control electronics required design updates to meet the latest performance requirements. From an end users perspective, the new standard now considers static electricity an ignition risk during 'normal' operation, so we needed to ensure that all tyres, seats, batteries and any other externally accessible non-metallic parts are antistatic."
The preparatory activities for the new European standard formed just part of the investments the company has undertaken lately. "Recently, we placed what is probably the largest investment Pyroban has made in its history, when we opened our new state-of-the-art fabrication, machine and painting centre within an 18,000 square feet facility," Brian reports. He continues by sharing the aspirations of the company to turn its UK facility into a centre of excellence for manufacturing of both diesel, and electric trucks. "It has been only three months since we began upgrading the Shoreham factory to make it suitable for electric and diesel equipment conversions again. One of the most positive outcomes of bringing this process to the UK, is that it will allow us to recruit between 30 and 40 new employees, and place even more significant investment in the future. I have been very impressed by our staff 's commitment to this transformation, they have pulled out all the stops to accelerate our readiness; a clear demonstration of Pyroban's strength and commitment to its customers," Brian details.
Pyroban has already established a visible footprint across Europe, with regional offices and representation located in France and the Netherlands that deal mainly with the sales and customer support side of the business, but it is on Brian's agenda to expand the company's capabilities into the emerging markets of the Americas and Asia. "It is something we are looking to achieve in the years to come. The problem with these markets is that at this moment in time, they are not as focused on their safety standards, as they should be. However, we are definitely seeing that the international standards are becoming more universally recognised by the big players, and we have started to receive an increased number of enquiries for vehicles that will be either shipped or converted in these regions."
Together with the ongoing works on its UK facility, Pyroban's plans for 2018 include the enrichment of its product range. "We are currently developing packages and systems for other vehicle types, but we are also working on new systems outside material handling," Brian clarifies. "In the oil and gas market, we are planning to introduce new solutions, which allow improved service time on the engine. We have observed a growth of interest in the oil and gas industry, and as customers demand a higher level of service, we are determined to respond to their needs and offer them flexible solutions, which will keep them coming back with more orders," he concludes.
Pyroban Ltd
Services: Explosion protection solutions