Tailored Manufacturing
Telford-based Qi Van Systems is a leading manufacturer in vehicle conversion working for many of the UK's leading utility and public sector organisations
Established in 1984, Qi Van Systems is a Telford-based manufacturer in the vehicle conversion industry, with more than 30 years of experience working with many of the UK's leading utility and public sector organisations. The company is committed to leading the way in the UK conversion market in terms of innovation, product quality, and customer service. In the last 12 months alone Qi has introduced over 2000 new or improved conversion components, which confirms Qi's name as a converter who has a focus on saving customers time, money, and weight within their designs.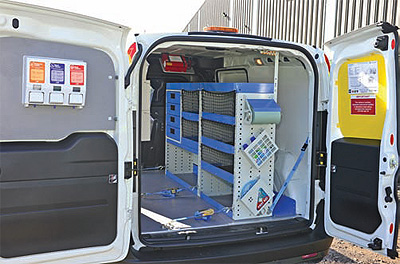 Qi operates from two sites in Telford totalling seven acres – one site which houses manufacturing, fitting and office staff, and a second site which is a storage facility based on a major commercial rail site. As a leader in bespoke designs, Qi has developed seven core services which combined offer a 'one-stop-shop' solution to customers – these services include Consultation, Design, Manufacturing, Conversion, Graphics, Logistics and Support. Setting it apart from other converters, Qi has its own industry-leading Order Management Tracking System (OMTS). OMTS captures information from the customer specific design catalogues, tracking expected vehicle stock dates, chassis details, livery requirements and onward delivery information – having all of this information to hand allows Qi to pre-plan vehicle-specific build slots, and ensure that the conversion process is as efficient as possible. The system is accessible 24/7 and gives information in real-time to both customers and Qi alike.
"As a bespoke manufacturer, we make our racking on site in Telford, which means we have the flexibility to produce kits to customers' exact requirements; if a customer wants a specific type and size of shelf for a precise operator role, we can design a specification to suit. We manufacture and fit our racking and ancillary components in Telford, as well as producing and fitting our customers' graphics on our site. We take an empty vehicle and completely kit out to meet customers' requirements, so upon delivery to the end user vehicles are fit-for-purpose," explains Lyndon Stonier, Managing Director at Qi Van Systems.
Promoted from Commercial Director in March 2016, Lyndon joined Qi in 2013, and has used his long-term experience in asset finance to significantly improve operations within the company. "When I joined Qi the company needed a change in direction and a bit of a revamp," Lyndon notes. "I saw that there were issues with regards to the level of service we provided and over-promising on delivery timescales – this was where I put my focus, to differentiate Qi in the market as a company who can deliver an exceptional level of service and quality to the customer. By taking on a 'big enough to cope, small enough to care' approach, we are able to survive in the market place against major competitors, by producing high quality conversions, in a timely manner, whilst also providing dedicated support along the way.
"Design was a department within Qi that needed significant improvements, when I arrived we had only one designer, but to ensure we kept up with legislative changes and an ever-evolving environment we aim to design for future requirements by investing in innovation. As such I brought dynamic, experienced people into the business – our design department now has five designers, one of which is focusing on R&D to improve the development of our products and operations. The investment in staff was not limited to the design department – although we are a competitive manufacturer, the strength of our business lies in our people. Over the past three years several of the employees we have invested in have been promoted; from sales roles to production managers, designers to manufacturing managers, from administrators to account managers and customer service managers. We believe that by investing in our people, we can cultivate a knowledgeable and loyal, integrated team who provide the exact quality and service levels t at our customers demand."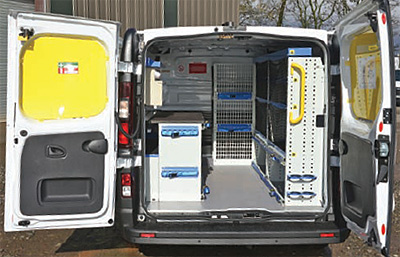 Complementing the integrated operations within Qi is the company's investment in cutting edge equipment which ensures production of high quality vehicle racking and ancillary components. In May 2016 Qi invested £500,000 to purchase a new state-of-the-art laser cutting machine, and carry out improvements to the existing powder coating plant.
The fibre sheet metal laser creates a laser beam one tenth of the width of a CO2 laser, which allows for faster processing of thinner materials through the utilisation of compressed air rather than using Nitrogen gases. The machine means the company can produce a wider range of steel and nonferrous metal products at a quicker rate, while also reducing its' carbon footprint. The powder coating plant has been improved with the installation of new recycling water tanks that offers significant water savings of up to 60 per cent due to spent water going through cleaning tanks and being re-used. Following these investments Qi will continue to benefit from a reduction in manufacturing timescales, reduced carbon footprint, and a 25 per cent weight reduction which will help customers increase payloads as part of vehicle conversions.
Converting on average more than 3000 vehicles per annum, and certified as ISO 9001 and ISO 14001 compliant, the firm has enjoyed year-on-year growth since 2014. Moving forward Qi will continue to concentrate on innovation by trialling high-tensile lightweight steel and assessing the benefits of weight reduction. Investment is however not solely limited to manufacturing equipment such as lasers; Qi has recently invested in an overhaul in lighting throughout its site by introducing LED lighting. "The aim of the improving lighting provisions is part of an environmental programme, whilst also keeping our employees in safe and comfortable surroundings," says Lyndon. "We also have planned for future investment into our software to develop our OMTS system."
The business is continuously adapting, and has differentiated itself from other converters in the market with its bespoke offering and high quality and service levels. Lyndon concludes: "Looking ahead, our objective is to increase the company turnover to £12 million, by investing in training and getting a multi-skilled workforce so that we can utilise our people more efficiently and improve service."
Qi Van Systems
Products: A full range of vehicle conversion equipment