British heat
Employing the world's most advanced radiator manufacturing technology, QRL Radiator Group (QRL) is growing its market share at home and abroad, while advocating the continuous use of British steel in the manufacturing process
QRL Radiator Group is a company on a mission. As the only UK radiator manufacturer that uses 100 per cent British steel in its pressed steel panel products at its production factory, the Newport-based business possesses a strong sense of responsibility to actively promote the merits of British manufacturing, protect its legacy, and ensure its healthy future. Operating from a facility that spans 1.2million square feet, QRL has the capacity to produce a whopping four million steel panel radiators every year, as well as a further 350,000 designer radiators, ensuring its position as one of the leading radiator manufacturers in both the UK and Europe.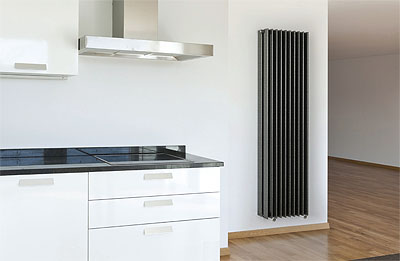 Tony Mullins had been the Chairman of QRL, known then as Barlo Industries, between 1987 and 2004, before Quinn Industries took ownership. Four years ago, Tony became Chairman again to restore the company back to its former glory.
"During the 1980s and 1990s, the Barlo brand became the leader with key independent merchants in Britain's distribution market, which allowed it to reach 24 per cent market share. When Quinn Industries bought the business, it effectively withdrew Barlo from the market, and when QRL returned, the share had dipped considerably. The company's share is now 14 per cent, but the ambition for the future is to get back to 24 per cent. This is why it made perfect sense to roll out the Barlo brand across our entire portfolio in 2018, to coincide with the company's 50th anniversary," reveals QRL's Managing Director, Lee Kenney.
Benefitting from the extraordinary capacity of its manufacturing site, the company produces the most efficient panel radiators in today's marketplace, which significantly outperform their peers. "Our unique third-generation technology was developed by QRL experts to achieve the highest heat output currently offered on the market, whilst driving down running costs for customers," Lee states. "Due to their narrow waterway pitch of just 25mm, QRL steel panel radiators are lighter, with a lower water content and a faster heat transfer rate – resulting in more efficient performance overall. Very simply, with QRL panels, rooms get warmer, faster."
The unrivalled performance of QRL's radiators has also led to a recognition from the Energy Saving Trust (EST) – an independent organisation delivering programmes and consultancy on energy efficiency to UK businesses and international companies. In 2016, QRL became the first and only radiator manufacturer in the world to be granted 'verified' status* by the EST – marking the creation of a brand new, dedicated radiator category for the efficiency organisation*.
A change in customer behaviour driven by the aspiration to achieve a more aesthetically-pleasing look of an internal space, has been clearly demonstrated by the significant growth of the designer radiator market. "Our analysis tells us that designer radiators now account for 35 per cent of the entire market in Europe, and only five per cent in the UK, so there is a huge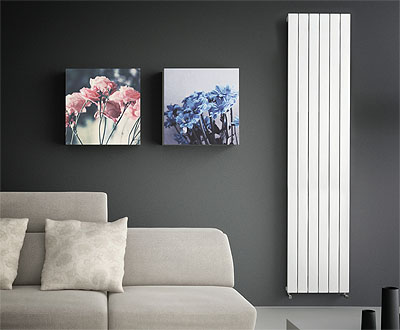 potential waiting to be unlocked here. Design has become a key consideration for people and they are showing earnest interest in coloured, vertical radiators that save space and can deliver on both form and function, to offer energy efficiency and value for money. The company's leadership in the area owes to its ability to deliver a coloured radiator from 180 different patterns in just three weeks from ordering – as opposed to around 11 weeks for most manufacturers – because QRL is the only designer radiator manufacturer based in the UK," clarifies Lee.
Thanks to its bespoke nature, Merriott is another brand that has helped QRL earn its fame in the radiator industry. "It is a very significant player on the commercial side of the business," Lee remarks. "Over the years, Merriott radiators have been installed in buildings in London, Manchester, Birmingham, all the way to Dublin, as part of high-profile projects in these locations.
"In fact, QRL is Ireland's number one radiator manufacturer for both its Merriott and Barlo brands," he reveals, opening up on QRL's export activities. "Roughly speaking, about 40 per cent of our production is exported, into the Irish and European market. I am proud to say that QRL has recently become an importer into China, too."
The need for levelling the playing field in the UK radiator market has been pestering Lee's mind for some time, as he fairly points out the compliance issues plaguing the industry, putting British manufacturers at a disadvantage. "BS EN442 is a European standard that all radiators must be manufactured to ensure they meet quality standards and fulfil their performance claims, and the UK is no different. Unfortunately, we know from having commissioned independent research that a huge number of radiators imported into this country do not meet this standard, and, oddly enough, not much is being done to change that," he expresses his disapproval. "Radiators that do not conform to this standard will ultimately be radiators that underperform – which translates to higher energy bills for the end-user.
"The challenge for our industry, represented by the Manufacturers' Association of Radiators and Convectors (MARC), is to insist on the rigid enforcement of the EN442. This will protect British manufacturers, guarantee consumer safety and ensure that they do not pay higher bills because the authorities have overlooked the fact that an importer is overstating claims about heat outputs. We estimate 50 per cent of radiators sold in the UK are imported and it's questionable whether these all meet the minimum compliance standard. In contrast, we source our steel from Port Talbot, only 37 miles away from our factory and plan to continue doing so in the coming years. Local sourcing not only helps significantly reduce our carbon footprint, it also highlights our ongoing commitment to supporting British manufacturing," he concludes.
QRL Radiator Group
Products: Radiators