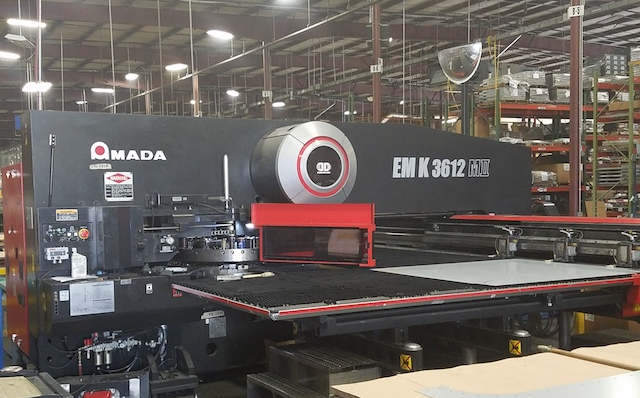 Many manufacturers make quality their goal, but when that word is part of the company name it creates even higher expectations. For Quality Industries, the word is a promise. "With the word 'quality' being in our name it's only fitting when we communicate both externally and internally it's about exceeding our customers' expectations for quality," says Mike Swift, director of quality for the Tennessee-based metal fabricator.
It seems like many companies these days incorporate lean and Six Sigma practices and have a quality management system that follows ISO standards. Where the difference in quality can be found is in the precision of the manufacturing equipment and the training of the employees. Quality Industries continuously invests in both those areas.
The company has made improvements to its legacy manufacturing processes by adding assembly fixtures with feature programmable logic controllers (PLC) that can monitor torque and incorporated  sensor technologies into hard tool dies that can detect the positioning and/or presence of a component and stop the process if it is not correct.
Its people are its strongest asset and their depth of experience includes skills such as   aluminum welding to American Welding Society standards. Quality Industries' training programs and recruiting are targeted to maintain the pool of skilled people for all our core processes . Many employees have been with the company for 15-plus years and have developed extensive knowledge of the company's customers. However, as it looks to expand its customer base, Quality Industries seeks people who can add new skill sets to its current capabilities.
"The product engineering team that we have are people that come from a strong metals background that have experience in the industries we're trying to grow in," Swift says. "We have added talent at all levels of the organization that have experienced other companies – including larger companies – which adds fresh eyes and best practice opportunities. Strategically, this is an important part of what we're trying to do.
"We feel we are very customer focused," Swift continues. "We feel that we are smaller in size in terms of the number of employees, but large in capability and very proud of the fact that we do have a lot of senior employees on the floor with a lot of experience. The experience is important when you consider the amount of SKU complexity that we manage. There is a significant amount of craftsmanship that goes into producing the quality our customers expect."
Swift himself joined the company in 2015 as director of operations after more than 30 years in the metal fabrication industry. Quality Industries was an appealing change for Swift because of the company's growth expectations. "The vision on how to grow the business fit my personal interests as well as my background," he explains.
In the past two years, Swift has dedicated himself to improving the company's lean implementation by tackling material flow, eliminating waste, better utilizing labor and putting controls around labor and capacity management.
Diverse Customers
When Robert and Georgianna Russell founded Quality Industries in 1972, they started off supplying deep fryer systems to Colonel Sanders. The company soon expanded into the heavy truck industry by supplying components to Peterbilt Trucks, then located in nearby Madison, Tenn. Today, the company fabricates component parts and subassemblies for a variety of customers and applications.
"The types and flexibility of our core manufacturing processes allow us to reach into many types of industries," Swift says. The bulk of Quality Industries' core competency is centered on aluminum welding and fabrication, but it can work with rolled steel as well. Those metals are utilized by a variety of manufacturers within the alternative and renewable energy, electrical enclosure, air handling, heavy trucking, power generation and transmission, recovery equipment and telecommunications fields.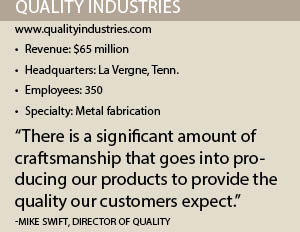 Serving a wide range of industries and markets is a key part of Quality Industries' strategy. "The mission of the company is to continue to add diversification to its customer base," Swift says. By balancing the diversity of its customers, Quality industries protects itself from cyclical downturns impacting any one industry.
Quality Industries can cater to such a diverse group of customers because it has invested in an extensive list of capabilities. The company offers engineering, press, paint and assembly services – creating a complete package that has earned Quality Industries honors as one of The Fabricator's Fab 40 the past three years. "When you look at our core competencies, we are very much a full-service supplier," Swift says.
Lean Investment
Quality Industries' main campus in La Vergne, Tenn., consists of three building totaling 267,000 square feet. The facility houses 5,000-watt carbon dioxide lasers for accurate sheet metal cutting, 60 manual welding stations, 12 CNC punching machines, 17 CNC press brakes capable of bending forces up to 253 tons and stamping presses with a maximum capacity of 600 tons.
In addition to its engineering and fabrication capabilities, the facility has powder and wet spray coating lines. The powder coating equipment can paint 18 feet a minute in a wide window and has quick changeover, making color changes in only 10 minutes. Further, the process can apply Quality Industries' anti-corrosion coating, which is rated for more than 2,500 hours of salt spray resistance.
The speed of Quality Industries' painting process is indicative of the fast response the company strives for. The standard lead time for larger customers is about 20 days. The average manufacturing cycle itself is close to  five days from start to finish.
Quality Industries has incorporated technology such as a combined punch press and laser machine, four robotic welding cells and three automated CNC milling machines into its manufacturing lines. Swift says the plant has reduced lead times by as much as 25 percent through incorporating lean processes and investing in new equipment. "We've done quite a bit to lean the organization through plant and equipment investment and reorganization targeted at reducing waste," he adds.
Westward Expansion
Although it has diversified its customer base, Quality Industries retains close ties with many of its longtime customers. In 2011, the company opened a second plant in Denton, Texas, to better supply a nearby Peterbilt facility. For the past six years, the Denton plant has been a dedicated assembly operation for just-in-time delivery to Peterbilt.
Capabilities are more limited than at the main La Vergne facility, with only two punch presses, a laser operation and manual brake presses. However, Quality Industries has begun investing more into the facility in preparation for serving a larger customer base. Last year, Quality Industries moved 50 employees into a larger facility in Denton including salaried support staff.
Components that were fabricated in La Vergne and shipped to Peterbilt in Texas were also transferred to Denton for production and quality benefit. "With our expansion vision and now extending west, [the Denton facility] is a strategic advantage for us in supplying customers outside the radius of our Tennessee operations," Swift says.
That location is now a key part of the company's future in the Southwest. "We definitely want to expand organically with our customer there, which is Peterbilt, but we also recognize the importance strategically in being located in the western part of the country for the growth that's happening out that way," Swift says.
Denton sits about 45 minutes northeast of Dallas, a prime spot to serve the oil, gas and solar energy markets. "When you look at just the growth around Dallas in general there is a lot of manufacturing movement into that area," Swift says. "We think it's almost limitless in terms of the opportunities with different types of industries and customers there."
As its plans are realized, Quality Industries has the capability to grow in its Denton facility to accommodate additional work. The company is leasing 86,000 square feet of space in a multi-tenant building, but it has the option to add another 90,000 square feet of production facility in the future, ensuring that it can keep pace with demand. "We have plenty of growth opportunity at that Texas location," Swift says.