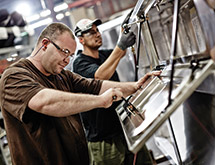 Founded in 1972 in Nashville, Quality Industries (QI) today is an integrated contract manufacturer. Initially focused on stainless steel foodservice equipment and class seven and eight truck component parts, the company now provides innovative engineering services, quality component parts, sub-assemblies and finished products to a wider customer base.
"The foodservice industry is no longer a large percentage of what we do, but it was a key piece of our beginnings," President and CEO Warren Hayslip says. "We remain a large heavy duty truck and commercial vehicle supplier today and have gotten into the electrical, solar power and other markets."
Raising the Bar
Now headquartered just outside Nashville in La Vergne, Tenn., QI has about 267,000 square feet of manufacturing space in its state-of-the-art facility. Over time, the company has increased its capacity and capabilities, investing in the latest manufacturing equipment and technology.  Its Tennessee facility includes powder and paint lines, 5,000-watt lasers, manual welding cells, robotic welding cells, CNC punches, press brakes, stamping presses up to 600 tons, integrated assembly cells and metal finishing cells.
"Our focus is on maintaining strong long-term relationships with customers," Hayslip says. "They look to their suppliers for ideas and innovation, and focusing on your existing base creates growth opportunities. Diversification is also important, as we have done in solar power, producing support structures used in single-axis solar tracking arrays."
In order to be responsive and grow with customers while also diversifying, QI has invested in its talent. In the last few years, the company has brought in new personnel across the board, including engineering, finance, accounting, production, sales and marketing professionals. Additionally, the company has embarked on significant capital improvement programs, modernizing and replacing old equipment and adding new capabilities.
"This year, our capital improvement program is about $12.5 million," Hayslip says. "It may not be quite as large next year, but it will still be significant. Included in our capital programs are manufacturing equipment, office upgrades and IT improvements."
Some of the capabilities the company has brought in have allowed it to offer more value to customers, such as the new state-of-the-art powder coating equipment. In addition, it has improved its fabrication equipment and invested in various forming and bending machines, and robotic welding.
"In the last two years, we've had over 30 capital projects ranging from very big to very small," Hayslip says. "Overall, that indicates that we are committed to investing in the company across many areas. As we transform ourselves, we are making needed improvements and adding new skillsets that will benefit customers and allow us to grow."
Strengthening quality management programs has been another focal area for QI.  In fact, the company has recently earned ISO:9001 certification for the first time. That was a big priority for Hayslip when he joined the organization two years ago.
"I wanted to get it done quickly," he says. "We have used ISO as a framework for quality and vendor management. It is important that we have high service and quality expectations, and that we monitor them closely. We also look at the performance of our suppliers and expect that they will be improving their game as we do the same."
Branching Out
QI has also expanded its physical footprint beyond Tennessee. While in 2011, the company established a small light-assembly facility of 18,000 square feet in Denton, Texas, it will soon move to a new 83,000 square foot facility later this year.  This facility will include new fabrication capabilities and employ more than 40 employees at the outset, with plans for further expansion.
"The expansion in Denton has been a big geographic extension of our business, and I can see us building or acquiring other locations around the country," Hayslip says. "We want to be positioned as a nationwide supplier, growing from our regional player origins."
QI understands that lean initiatives and operational improvement programs are critical to help it stay ahead of the competition. Excellent performance will allow the company to endure, and it has already established many decades-long relationships. But rather than stay content with where it is, QI believes in continuous improvement.
"We know that what works today may not be adequate for tomorrow, so getting better and being excellent is key," Hayslip says. "We want to be a world-class supplier, and innovation and technology will be important. We are focusing on product design and process engineering so we can use technology internally to improve our manufacturing processes, build technology into products, and do a lot under one roof."
With broad fabrication, coating and assembly capabilities, QI is poised to take advantage of the ongoing stabilization and resurgence of the American manufacturing sector. It has learned to compete during tough times, and it believes it is positioned to succeed in the future.
"We have a strong history along with experience and institutional knowledge we can use going forward as we add technology and improve management systems and our entire organization," Hayslip says. "Operational excellence and world-class performance will be our main priority."
As QI continues to seek growth opportunities, it aims to be a leader in the independent metal fabrication industry through engineering excellence and innovative application of technology and processes. This will allow the company to best serve customers and achieve sustainable profitability.
"Our goal is to move from our roots as a regionally focused company to become more dynamic, lean, innovative and national," Hayslip says. "Our approach is to grow organically and look for smart, selective acquisitions as well. We are looking to become a more substantial player in the national metal fabrication sector. But everything starts with operational excellence, and with that foundation in place we can expand, innovate and grow into the future."