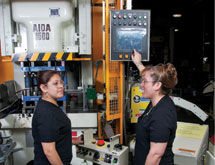 For more than 50 years, Qualtek Manufacturing has been providing metal manufacturing solutions to a number of industries. Since the Fagnant family took ownership of the company in 2000, Qualtek has tripled in size.
Qualtek provides services to medical, clean energy, aerospace and industrial clients. It offers an array of metal manufacturing services in-house, including stamping, heat treating, finishing and wire EDM.
"Having all of our services under one roof is something that makes us unique," CEO Anthony Fagnant says. "In some ways, we are running three businesses semi-autonomously. We have worked for clients from Mexico to Michigan, but the bulk of our revenue comes from the Denver metro market."
Width and Depth
Qualtek is "diversified in depth and in width," according to Anthony Fagnant. Its service offerings represent the width. The depth stems from the fact that the company chooses not to specialize in a single industry.
The company says that 90 to 95 percent of its customers come to Qualtek because they have a problem they need solved. In addition, most of its customers learn about Qualtek through its networking efforts and word of mouth.
"We do some marketing, but our salespeople really end up being problem-solving service agents for clients," Anthony Fagnant says. "That has been one of the strengths of the business. Once you solve a problem for a client, they want to come back to you."
Most of the products Qualtek manufactures are designed for long-term usage. This means it is important for the company to always be on the lookout for new business opportunities. One ongoing trend that has benefitted Qualtek is the fact that many companies are reshoring their manufacturing.
"We've picked up a number of jobs because of that, particularly low- to medium-volume jobs," Anthony Fagnant says. "The medical device market never went overseas, and we're seeing a lot of the technical production type of jobs in other industries coming back."
Qualtek thinks one of the drivers behind reshoring is the desire for companies to make their businesses more sustainable. "They are looking at manufacturing quality and waste, and they don't want to accept poor quality for the sake of low-cost labor and wasted product," says Chris Fagnant, director of energy, environment and efficiency. "The quality issue tends to be driving reshoring, as is on-time delivery performance and being able to deal with people more closely."
Driving Forward
Qualtek is committed to investing in its ongoing evolution as a company. In fact, it has spent roughly $1.3 million in the past 24 months on various capital initiatives. "That is significant for a $7 million company, but we feel it is important to invest back into the business to upgrade equipment and anticipate what our customers need," Fagnant says.
Among the equipment it has brought in is a new vacuum furnace that effectively doubled the capacity of its heat treat department. The company is installing a new pit furnace, which will also expand the heat treat department's capacity.
In the past few years, Qualtek also purchased new servo presses. Those investments helped improve the performance of its stamping department.
Most of the new investment has contained a sustainability component in order to help reduce the lifecycle cost of new equipment.  For example, the new pit furnace incorporated a series of self-recuperation burners to reduce the overall BTU and cost of operation by 20 percent.  The recuperative burners also reduced the temperature exiting the flue stack, lowering the cost of installation.
The company has also been focusing on reducing energy use and water consumption. It invests in ultra-efficient technology, such as Coolerado evaporative coolers to replace traditional A/C, reducing the building's cooling energy load by 50 percent.  Overall, Qualtek has reduced carbon emissions by 20 percent, largely due to its participation in a local wind power purchase program, which allowed the company to lock in stable energy prices for a two-year period.
The company also invested in a 30 KW solar array, which powers additional offices and the company's server room.  Utilizing federal tax incentives and local utility rebates, the company retrofitted its outdated metal halide lighting with longer lasting T-5 fluorescent fixtures that last longer and improve lighting quality while reducing plant lighting energy consumption by 56 percent.
Qualtek's sustainability path was heavily influenced by its relationship with Blue Star Recyclers, a 501c(3) social enterprise to create jobs for people with disabilities and responsibly recycle electronics.  The Fagnant family has demonstrated its commitment to the Colorado Springs community by creating Blue Star Recyclers, and Qualtek helps support Blue Star Recyclers through shared services, resources and employee support. Blue Star Recyclers also developed Vocational Electronics Recycling Network (VERN) to take the concept to other communities.
In the years ahead, Qualtek will look for new opportunities to serve its target markets. Anthony Fagnant says the company is on the lookout for medical device applications with reasonable volume, and is also pursuing the clean-tech, biotech and oil and gas sectors of the energy industry to find new opportunities.
Like any business built for long-term success, Qualtek recognizes it must be lean to compete and provide customers with the best prices. It understands the challenges caused by the fact that manufacturing has shrunk in the United States, and that finding a skilled workforce will be an ongoing issue.
No matter what the challenges, the company says it will continue to devote its efforts toward providing its medical, clean energy, aerospace and industrial clients with the best metal manufacturing solutions possible. At the same time, it says it will remain focused on being a sustainable company that is committed to environmental stewardship and community activism.
"We think a good, profitable business should have a social deliverable," Anthony Fagnant says. "We think that is a strong trend that is in its infancy in the U.S."