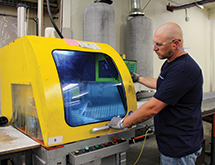 For the first time in history, the residential sector beat the commercial sector in photovoltaic installations in May. A study sponsored by GTM Research and the Solar Energy Industries Association reported that the United States installed 232 megawatts of residential photovoltaic systems that month, exceeding the non-residential market's 225.
The growth in residential solar installations is matched by a drastic reduction in cost to manufacture the technology. "In general, there has been a huge push already to lower the cost of solar panels," says Ron Lloyd, COO of Quick Mount PV. "Panel prices have fallen more than 70 percent over the last five years."
Quick Mount PV is a leading manufacturer of 100 percent code-compliant, waterproof mounting products for attaching solar panels to rooftops in both residential and commercial sectors. Lloyd explains that with the declining cost of solar panels, the focus is now on reducing the cost of the balance of system, and companies such as Quick Mount PV are working on matching that cost-reduction trend with their own products.
"The rest of the system, including soft costs for customer acquisition, design and permitting, are becoming a much larger percentage of the overall purchase," he says. "We expect to see technology improvements that simplify the design time and cost and continue to make the actual installation more efficient for the installers."
A large part of Quick Mount PV's efforts to reduce the costs associated with installing its products involves its design. The manufacturer's "respect the roof" philosophy means that its products are designed to comply with roofing system warranties and do not void the contracts held by building owners. Quick Mount PV has obtained certificates from all major roofing manufacturers stating that proper installation of its products maintain those warranties. Its products also go beyond building codes. Quick Mount PV's patented technology ensures a watertight attachment to the roofing system and Lloyd says the newest trend in the industry further reduces roofing penetration.
"The biggest trend in the solar panel-mounting industry is flexibility in the installation process to have both, rail and rail-free solutions," Lloyd says. "Many installations require rails. However, if a solar array can be installed on a roof without using rails, labor and logistics costs can be reduced. "
Go with the Flow
Paying attention to trends such as these has spurred Quick Mount PV to develop products that address a variety of roofing systems and lower costs with innovative designs that "eliminate much of the material cost and weight of conventional mounts," Lloyd explains.
"There is pressure to reduce production costs and find more efficient ways of doing things," Lloyd says. "Engineering our products correctly and ensuring we manufacture those products efficiently is our job."
Energized to Improve
The company works year-round to incorporate continuous improvements into its manufacturing process. Quick Mount PV maintains in-process inspections and an ISO-9002 control process. It also gains significant benefits from its in-house kaizen initiative "Solarize." For instance, at the suggestion of a production employee, the company recently reconfigured its deburring process to achieve greater efficiencies.
"We get five to 10 suggestions every month from operators on how we can improve our process to remove ambiguity, improve product quality and improve efficiency," Lloyd says. "This has been a very successful program within manufacturing and has been expanded to the rest of the company."
The final tool the company has in reducing manufacturing costs is its employees. Quick Mount PV remains cost competitive by cross-training employees. The company also works with the local county's work program to find qualified personnel and uses a unique training process to find the best employees. "Our VP of manufacturing, Sam Cast, brings prospective hires on to the floor to assemble or package products with the rest of the team.," Lloyd says. "The team gets to observe them work and then shares if they think the person is a good fit. Quality and teamwork in our workforce is tremendously important."