Sliding forward
Quickslide is constantly striving to streamline its products and reinvent itself, as the windows and doors manufacturer recognises the need to be flexible in an ever-changing marketplace
More than 500,000 PVCu sliding sash windows have come out of Quickslide's manufacturing facilities in the 14 years since the West Yorkshire-based company came into being. "It was us who brought this type of window to the market's attention," Sales & Marketing Director, Tom Swallow highlights. "Before we introduced the option to manufacture sash windows in PVCu,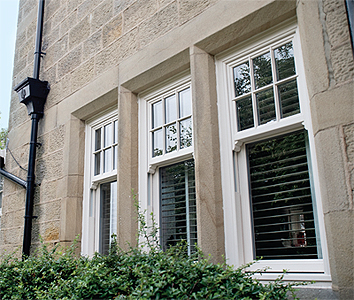 they were typically made of timber, but we came up with a more cost-effective and low-maintenance proposition.
"Today, we are mainly known for the PVCu sliding sash windows, but we have developed a lot of other products over the years, in response to market demands. For example, we added casement windows to our portfolio. The reason we did that, was because our customers started showing interest in buying a complete range of products from us," Tom explains. Quickslide has also made advances in manufacturing its products in aluminium in the last three or four years, again reacting to shifting market demands, with its bi-folding doors having proven especially popular with its customers.
For Tom, offering premium end products has helped the business occupy a niche in the marketplace that allows Quickslide to add true value with its windows and doors. "Timber has ultimately been the highest end product in our industry, but while people still want the look it gives to the window, they do not want the cost and the maintenance that are associated with it. At the same time, they do not want to compromise the aesthetics of the building. These considerations drove us to develop our premium end products, where we would add a woodgrain effect to the PVC and offer a seamless weld to enhance the aesthetics and make the window look as if it is timber."
Having access to advanced machinery has thus been a top priority for Quickslide and the company is in the middle of a major investment in new equipment. Tom sheds light on the latest additions to the factory. "We spent £350,000 on a seamless welder, designed and built our own state-of-the-art colour bonding facility, and also invested £50,000 on our own arching machine, so that we can do curved frames ourselves. We have now directed our attention to bringing in a new glass line, worth about £500,000 and a new cutting centre worth another £300,000."
As Quickslide's activities have been met with success, the company has incrementally expanded its manufacturing site, which now spans 100,000 square feet across four units in the Heaton Industrial Estate in Brighouse. "We started with one production facility only, but as the companies from the neighbouring factories moved out, we took this additional space, so now, we have got the whole industrial estate to ourselves. The scale of our operations is large, but not to an extent that we cannot cope with it," Tom certifies.
"One thing that we pride ourselves on, is the ability to retain control of as many aspects of the production process as possible," he comments, detailing some of the factors that have played a leading role in Quickslide's success. "Alongside bespoke colouring of the windows, we also apply the woodgrain effect using our own laminating line. We have our own delivery fleet, as well, which consists of six 18-tonne lorries. It is very important for us to operate the delivery process ourselves, instead of relying on courier services. We always insist on adding a personal touch to everything we do, hence our preference to take care of all the goods right to the final point of delivery."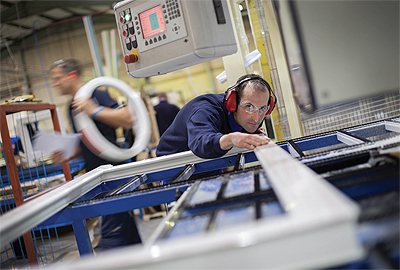 Tom is also keen to emphasise that Quickslide is proud of its origins and believes that the labels 'British-made' and 'Made in Yorkshire' carry a lot of weight in the customers' eyes. "British manufacturers are generally widely respected," he points out. "Unfortunately, the window industry has historically had a certain stigma attached to it, which we have tried hard to overcome. Our firm belief is that we need to focus on doing things right, rather than be purely results-focused and risk doing things wrong, in order simply to achieve results."
This mentality has won Quickslide multiple contracts all over the UK, and Tom admits that it is hard to single out one or two projects, in particular. "We have completed a wide range of works. For example, we recently manufactured 55 bespoke-coloured, mechanical, woodgrain windows, tailor-made for a customer's country mansion. We have also worked on the former Hob Green Hotel in Harrogate and we have delivered bi-fold doors to Chelsea Football Club, too. Another significant initiative we got involved with, was the renovation of the old bank in Pateley Bridge's High Street, where we supplied the PVC windows. The High Street even won the 'Great British High Street' award in 2016," he points out.
Following a succession of years of rapid growth that let the company scoop a number of industry awards, including 'Fabricator of the Year' in 2012 and 'Training & Development Company of the Year' and 'Best Window of the Year' in 2015, Quickslide had a year of sustainment and groundworking in 2017. "Last year, we were focused heavily on restructuring certain departments of the business. For example, we reorganised our sales department to improve the overall customer experience, along with the aforementioned extension of our production capacity. The key thing for us was not to try growing too fast. It was more about getting all our ducks in a row and making sure that everything we offer is at the very best that it could be," Tom clarifies.
"For the rest of 2018, we have got our eye on developing certain market sectors and we are working very closely with builders and construction companies to increase the awareness of the kind of high-end PVC products that we can offer. As with any business, we have to be dynamic and able to react to changes, in order to keep up with market conditions. Brexit will probably continue to have an impact on us, as material costs increase, but we have to do what it takes to be prepared. Only by focusing on our specific targets, will we be able to get to where we want to be," he concludes, outlining what the future holds for Quickslide.
Quickslide
Services: Windows and doors