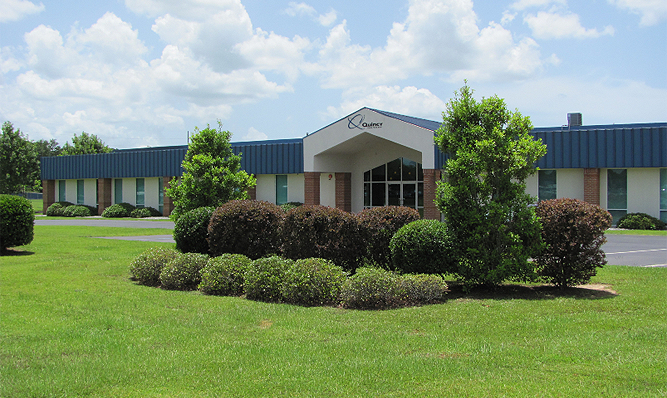 Quincy Compressor nears its 100th anniversary by maintaining a strict dedication to quality and reliability.
It didn't take 100 years for Quincy Compressor to become known for the reliability in its air compressors but even after nearly 100 years in operation, Quincy Compressor is still known for reliability, the characteristic on which the company was established. To this day, Quincy combines its uncompromising reliability with quality performance and ongoing innovation to meet customers' needs around the world.
"In 1920, Quincy Compressor established its reputation for engineered solutions and providing uncompromising reliability," Vice President of Marketing Henrique Triboni says. "The problem to solve during this time was there were air compressors on the market, but they weren't reliable enough for tough, industrial environments. The founders of Quincy Compressor, George Wall, George Gille and John Kathe, decided to create air compressors that were indestructible and reliable, and this is the benchmark we continue today. Quincy vows to be reliable and suitable for both regular and harsh industrial applications."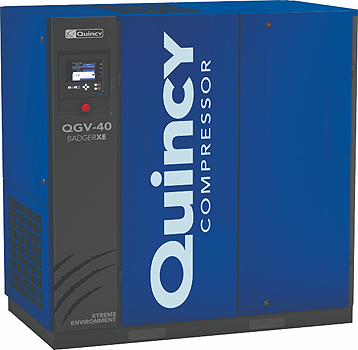 Today, Quincy Compressor's wide range of products are the preferred choice of clients in industries such as automotive, food and beverage, oil and gas, agriculture and dry cleaning. In addition to being the one-stop source for hard-working rotary screw air compressors, the company offers reciprocating/piston air compressors, oil-free compressors, vacuum pumps, replacement parts and fluids, natural gas compressors, air treatment products and air system piping products. Quincy's most popular models come standard with its Royal Blue Warranty, which is known as the "industry's strongest warranty" because of its comprehensiveness.
To continue to meet the needs of its global customer base, Quincy remains focused on innovation, while maintaining the reliability for which it is known. When customers started asking for a more efficient air compressor, Quincy listened. Triboni explains how variable speed technology can achieve the request for more efficiency. Variable speed technology requires delicate electronic components such as a special motor and convertor. These components do not traditionally work well in heavy industrial environments, so Quincy created the air compressor technology that would. Last year's release of the BadgerXE variable speed air compressor provided customers with an option that could withstand rain or even snow.
"The BadgerXE is our variable speed air compressor designed to operate in extreme environments, which features the Quincy Frequency Drive (QFD) electronics which are completely protected from the environment because they are housed in a NEMA4-certified electrical enclosure," Triboni says. "This compressor is tough and resilient in the harshest elements. Customers have the ability to install these variable speed compressors anywhere – we are selling more than forecasted and we've had no warranty issues."
A Strong Passion
Triboni mentions that Quincy has yet to encounter any warranty issues for the BadgerXE but he also explains that if it had, the company would take it seriously. Quincy has a strong system for responding to quality and customer service issues. Keeping quality and reliability as its key values is extremely important to the company, the employees and the customers they serve.
This dedication to quality and reliability is fully present in Quincy's culture. Triboni explains he has been in the compressor industry for 12 years, and when he came to Quincy, he was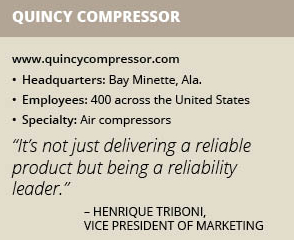 amazed and impressed by the culture. Quincy Compressor operates under three core values: reliability, courage and resilience. "Those are values that we live by every day," It's not just corporate jargon – it's part of who we are. It's not just delivering a reliable product but being a reliability leader. Somewhere between 80 to 90 percent of our sales every month are to existing Quincy customers, so that says something.
"Everybody that has experience with compressors knows the most important thing is reliability," he adds. "Efficiency is nice, but if your compressor breaks down on the 4th of July and you call for help, but no one answers the phone, that is painful. Quincy is a team of passionate people. We stand by our customers. The few times we've run into issues, we are there, we will fix it and we never turn our backs on anyone. We do whatever it takes to fix the issue and have the customer up and running and satisfied. Quincy strives for customer satisfaction, so we do what is right, every time.
"We manage to keep working with so many of our customers because of the people we have," he continues. "Our people fight for what is right, and I am proud of the tenacity and their engagement on doing what is right."