Future proof
By responding to the changing certification standards and testing norms, the Indian subsidiary of the German group R. STAHL is establishing itself as a leading , trendsetting manufacturer of the modern, explosion protection technology-based equipment.
It being currently 137 years old, with over 80 years of experience in the explosion protection technology industry and a global footprint, the Germany-based company R. STAHL has built a name that has become synonymous with explosion protection expertise. Operating under ISO 9001:2008 certification for the QMS, ATEX and IEC Ex approvals for all its manufacturing facilities, the company manufactures world-class components for gas and dust explosive environments ranging from light fittings and junction boxes to control panels and signalling products, and above all, system solutions. In 2000 the company set up its Indian arm, R. STAHL (P) Ltd, which, backed up by comprehensive support from the parent company, has become a centre for manufacturing excellence for the group's worldwide operations.


Managing director of R. STAHL in India, Joerg Fitzek outlines the company's main industries and markets: "From India, we mainly cater to the market needs of the EMEA countries, as well as Asia and a small part of the Americas, mainly through other subsidiaries and distributors of R. STAHL. However, we do serve industries in India as well, including the pharmaceutical, oil and gas, fertilisers and chemicals, off shore and marine, and OEMs."
Sixty per cent of the company's revenue share comes from exports, whilst the remaining 40 is attributed to sales within India. However, Joerg suggests that business within India has been thwarted by a couple of issues that appear to be changing: "One major drawback of the Indian industry is its price sensitive nature and lack of awareness around the advantages of the globally accepted IEC Ex certification," he says. "They are still dwelling in the era of the IS/IEC standards and local Indian certification, and therefore still source the equipment from the Indian manufacturers whose products may not necessarily meet the requirements laid down by the new standards. Despite this there is a lot happening in India at the moment in terms of industrial growth, especially within the pharmaceutical, power, railway, infrastructure, shipping, mining and steel industries. So this could improve the situation."
The strengths of the business centre predominantly around the level of quality afforded to its products and services. "We have a complete service backup team in place," explains Joerg. "This assures a quick response to RFQ's, competitive pricing and reasonable delivery time. We ensure that all our products undergo very stringent quality tests within the Indian facility, and we invite all decision makers from our customers to make a factory visit, so they have the confidence that they are sourcing from a reliable and trustworthy, long-standing manufacturer."
In 2013, the company in India moved to a new site situated in a developed industrial area near Chennai, which includes a spacious, well-designed manufacturing facility equipped with state-of-the-art CNC machines, and the first Silicone foaming machine in India. This combined with new leadership under Joerg and a refocusing of the business attitude has enabled R. STAHL to streamline the business and create a much more productive environment. The site has also enabled the company to develop its research and development team with a new laboratory and associated utilities.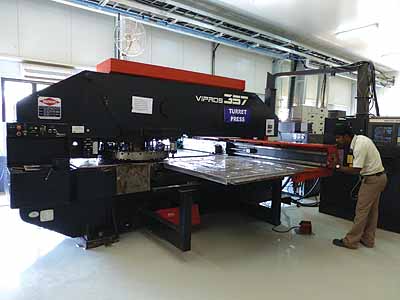 "After this move, we could now follow our company's policy of lean manufacturing much more effectively, because of an improved production layout," says Joerg. The improvements made have led R. STAHL to being the first manufacturer in India to produce in accordance with the latest amended IEC regulations. The shift also brought with it a renewed attention to personnel within the Indian business. Attributing it to part of the business's current success Joerg notes: "We have an HR policy which promises good growth opportunities for our talented personnel around the globe, because of this our employees are perpetually on a learning curve."
With a strong R&D department behind it, and an improved production line the company is able to demonstrate its ability to innovate and meet the demands of an ever-changing market, and this can be seen in its latest development in lighting. "LED lights by virtue of their self-generated thermal energy pose a challenge to the manufacturer particularly when the installation is in a hazardous area," highlights Joerg. "Proper heat dissipation and management of the emitted thermal energy and electronics are key to succeeding in the design. After several years of dedication from our R&D department, the experts in Germany have come up with a design that is proven to deliver a service life of up to 80,000 hours. The lighting is available for use in both zone 1 and 2 applications."
As the company looks forward, R. STAHL has a positive outlook. "Projects in the oil and gas offshore and pharmaceutical sectors are shaping up well and we hope to clinch some major project orders in the coming months," emphasises Joerg. "In the coming year we foresee and are confident in achieving 40 per cent growth as we also develop our product offering further. Over the next five years we have a vision to grow by five times as more and more industries around the globe are switching over to IEC Ex certified products for their plants. We are already working on enhancing our capacity to keep pace with the growing needs of the market, as we also work to become one of the busiest manufacturing facilities in the R. STAHL organisation."
R. Stahl (P) Ltd
Products: Explosion-proof electrical equipment
Sites: Main production locations: Germany (at two locations), India, the Netherlands and Norway; International sales companies include the US, Great Britain, China etc.
Employees in R. STAHL India: 400