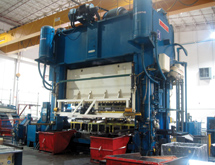 When driving a car, you may be encountering the work of Radar Industries without actually even knowing it. The company manufactures car parts, but "they're not the pretty parts," Director of Sales Paul Graf explains. "[They're] the things under the hood or inside the seat. [They are] the things you don't see as the consumer."
Based in Warren, Mich., Radar Industries specializes in stamping and welded assemblies for the automotive, commercial truck and exhaust markets. Founder Clem Zmyslowski started the company in 1956 as a small tool and die firm.
Over the years, it has grown to "a $130 million stamping and welded assembly provider for the automotive industry," Graf says, noting that its largest client is the Chrysler Group. "We [also] do business with General Motors, Fiat, Mercedes and we are a Tier II supplier to Honda, Toyota, Nissan and Ford Motor Co."
Adding Value
Radar has enjoyed success by serving its niches well and having the ability to evolve, Graf says. For its first four decades, the company found success by primarily specializing in extrusions.
But in 2000, it changed its focus and moved into welded assemblies. "It really changed who we play in the sandbox with," Graf says. "We started playing in markets typically dominated with the big boys, such as Magna, Ogihara and Gestamp."
The company made this transition by making larger parts, Graf says. "It's really tough to make money when you just do stampings," he admits.
"[But when] you get into larger parts, you have a much better opportunity to make money, because you're typically going to also perform a value-add process."
Getting Lean
Radar has adopted lean manufacturing practices, "which really allows us to get rid of waste and concentrate on what we're doing today," Graf says. Previously, the company made parts that often sat on its shelves for two to three weeks at a time before a customer needed them.
Now, "We just run what we need for the next four days to supply our customers," he says. "We will run a part once or twice a week as opposed to once or twice a month. We have a much leaner inventory, so we can concentrate on what we're doing."
Dropping Weight
Radar also has adopted a competency for re-engineering castings and forgings, which is perfect for the needs of the market today, Graf says. "With the government's mandate to get better gas mileage, companies are challenging automotive materials," he says.
The end goal, he explains, is to make car parts lighter and get the miles per gallon higher. For instance, "There is a push towards transitional steel in the marketplace," he says. "They're a hell of a lot stronger than what [manufacturers] were using, so you'll get the same performance but you're cutting your weight down significantly."
Graf notes that a large automotive supplier recently hired Radar to redesign a casting that cost it $12 per part. Radar replaced it with the Clevis, a part that is less than half the cost, bringing substantial savings.
An important factor in providing these solutions, he notes, is Radar's purchase of up-to-date equipment. "You've got to invest in better technology … to build a better tool today than you did years ago," he asserts.
Building a Dream
Radar has two manufacturing facilities and a sales and engineering office in the Metro Detroit region, but recently, the company opened a new plant as far south as Celaya, Mexico. According to Graf, this puts the company in a center of automotive manufacturing.
"[It is] five miles away from Honda's new assembly plant and 16 miles from Mazda's assembly plant," he describes. "Chrysler also has an assembly plant in Toluca, [Mexico] with several Tier 1 customers within an hour's drive."
Graf, who has been with Radar for  over eight years, has been instrumental from the outset of the new plant. "[It was] the first thing that I was asked to take the lead on when I came to Radar in '06," he recalls.
The company had previously experienced demand from its customers for a southern location. Though it contemplated opening a new plant in the Southeastern United States, it chose Mexico after more than a year of extensive research and travel. That research showed we were shipping more and more finished goods to Mexico and that was going to be an area that it thought would be the next major expansion in automotive.
Radar invested roughly $23 million in the plant, which covers 116,000 square feet, and has an additional 1.3 million square feet of land for further expansions. With six press lines, "It's almost booked 80 percent and further investments are being made very soon," he says. "We are actually looking to expand to our press lines here and in Mexico to include using state-of-the-art manufacturing with servo press technology.
"I'm incredibly proud of the efforts we undertook," Graf asserts. "We turned a dream into a reality with the launching of our first global manufacturing plant."
Ready for a Boom
Before coming to Radar, Graf previously sold flat-rolled steel for Worthington Industries for 18 years. "Radar was one of my customers," he recalls, noting that the stampings firm sought him out and hired him in 2006.
He prefers Radar's environment, which has given him more responsibilities. "While I was successful at Worthington, I didn't have any management responsibility," he admits.
"I was looking for more of a challenge to teach, train and lead," he says, noting that Radar has given him more of what he wanted on a long-term basis. "I was looking for more of an opportunity to make a difference."
Graf sees a strong future for Radar's plant in Mexico, which he expects to grow over $70 million in its first eight years. "The demand for the Mexican market is just going to boom," he predicts.
"I believe that's going to be because of the free trade laws," he says. "We're seeing incredible in-sourcing and new growth in the country. That's where companies are spending their money."