Networking the world
By utilising multi award-winning technology, Radio Design's solutions allow the world's largest network operators to achieve maximum data throughput and capacity, through existing and shared infrastructure
It has been said countless times that today is the 'age of big data'. Everywhere we look there is an increasing demand for data, from the ever-more powerful supercomputers being utilised by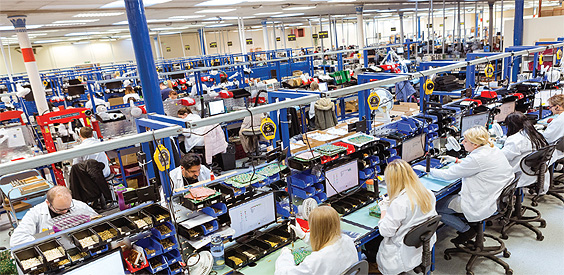 global organisations and governments, to the latest smartphones and tablets being released by the world's technology giants. It is in the latter category where some of the biggest changes are occurring as consumers come to expect the same from their phones as they would their home computers. With this comes an insatiable appetite for data, but one that is tempered by a demand for costs to be kept to a minimum. The resulting conundrum for mobile and telecommunications operators is the need to increase network capacity while keeping costs down.
This is where Radio Design steps in. An award-winning, market leader in the provision of wireless infrastructure sharing solutions and radio frequency (RF) filter systems, this Saltaire-based company is the creation of Founder Eric Hawthorn and a pioneering team possessing nearly 500 years of combined leading-edge RF design, development and volume-manufacturing experience. With a plan to target OEMs, operators and infrastructure companies with the fastest and lowest-cost ways of rolling out their networks, the company has grown considerably in the last decade and now has a worldwide footprint, with additional facilities in Finland, India and China.
"At the time that we were establishing ourselves in the market there was a trend building towards network sharing between the major operators," Eric explains. "Through a combination of good timing, good product innovation and a slice of good fortune, Radio Design found itself in a position to offer elegant, customised solutions based around RF filters that would allow said operators to share antenna, mast and cable infrastructure in order to boost network capacity. This was, in essence, our first big break.
"Around the same time, we also began offering repair services for base station equipment by utilising our strong engineering capabilities to create test solutions for all manner of products that we had not designed originally ourselves. This was the catalyst for the formation of our repairs business and has since been the source of a solid flow of additional income, and provided us with the opportunity to set up in countries like India."
Radio Design's product portfolio is extensive and includes, network-sharing filter combiners, interference mitigation filters, technology-sharing filter combiners and coverage/capacity enhancement solutions. "Our principle manufacturing base is the UK, from where we shipped an average of 7000 units per month in 2017, which is a figure that we are now in the process of ramping up further," Eric continues. "Meanwhile, in India we have been shipping between 3000 and 3500 units per month, with this number also expected to increase in the months to come."
When it comes to its manufacturing processes, this is an area of the business that is continuously evolving and being perfected on an almost daily basis. "In the early days of the company, when we were making only one or two products, our operation was relatively straightforward. The reality is that now, when in any given month we can be producing up to 60 different products spread across 7000 units, we have had to invest heavily in top-of-the-line manufacturing control systems," Eric explains. "This investment has seen us develop our own production control software solution called Control Panel, which allows us to track our processes, measure how long they take and gives us a view of what is happening in our factories at any given time."
Said factories feature a mixture of manual and robotic processes, with approximately two million screws a month being inserted by hand. It is manual operations such as this that the company is now looking at ways to perfect and, where possible, automate. "It is important to note that, in my view, this adoption of automation is not going to reduce employment, but increase it as we ramp up production further still," Eric states. "At the same time, we are conscious of the need to always ensure that our activities are as efficient and cost effective as possible, and that we maximise productivity throughout our facilities."
In November 2017, Radio Design capped off what had already been a successful year with the announcement that, after several years of hard work and negotiation, it had been granted an import/export licence for the import of used equipment into China, which will then be repaired and exported back to the end user. "The granting of this licence is a major step forward for our Hardware Repair Services (HWS) business in China," Eric enthuses. "It will not only create an environmentally friendly alternative to the scrapping of used equipment by extending its working life, but it will also support our plans to develop our Chinese repair centre into a hub from which to support customers throughout the surrounding Asia-Pacific region."
Adding new customers and markets is at the core of Eric's plans for the business in 2018, that and ensuring it achieves increased efficiency from its manufacturing practices. Competition from companies in Europe, China and the United States remains an ever-present, and in response Radio Design continues to deliver innovative new solutions, with a recent example being its RF Router, a revolutionary concept that acts as a single optimised box with multiple input and output ports, and all the necessary routing in between. This new concept has already received strong feedback from existing customers and will be rolled out on a wider scale as 2018 continues.
"We have experienced quite the steep journey in terms of growth in recent years and the outlook is for that to continue so we need to make sure that we keep our nose to the grindstone, as it were, and train our focus on where we want to get to as a company," Eric adds. "The world is a very big place and while we have solid business in the UK, Europe and India, there are huge parts of the world that we have not yet addressed, and it is our job to get there as quickly as we can with what is a niche, specialist capability and a unique, socially and commercially beneficial product set."
Radio Design
Products: Radio frequency (RF) solutions and technologies