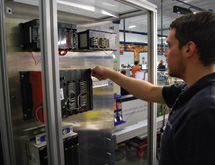 Radwell International Inc.
Radwell International Inc. is proud to be a one-stop shop for industrial equipment and repair needs. "We compete against repair companies, surplus equipment suppliers and industrial supply equipment distributors," owner Brian Radwell says. "Our business model is to provide options; instead of making phone calls to three or more different companies, customers can make one call to us and have a number of options right at their fingertips."
The Lumberton, N.J.-based company is the largest provider of new and used surplus industrial electrical and electronic control equipment in the world. Radwell, through its PLC Center brand, stocks an inventory of more than $1.5 billion worth of surplus equipment acquired from plant closings, auctions and inventory overstock. More than 20,000 brands and manufacturers are available through PLC Center's website, www.plccenter.com. All surplus parts are reconditioned and certified by Radwell staff, warrantied for one year, and are discounted well below their original price.
"Nobody else carries as much inventory as we do, or is able to be as versatile," Radwell says. "If a customer's machine stops running, we are able to support it either by selling a brand-new component or piece of equipment, repairing the part or providing surplus equipment."
For Radwell International's customers, buying products from the company can save them a significant amount of money. One customer recently saved $500,000 by purchasing reconditioned surplus equipment versus brand-new equipment, he adds.
International Growth
Radwell International Inc. sells and repairs timers, counters, photoelectric sensors, circuit breakers, motors, speed controls and other industrial electrical and electronic control devices. The company's clients include automotive manufacturers, chemical plants, food-processing facilities, municipalities and other government agencies, bakeries, power plants, steel plants and plastic molders.
Formed in 1979 as Speck Industrial Controls and incorporated under its current name in 2005, the company operates a 97,000-square-foot distribution and repair facility in Lumberton. Radwell International partners with several freight carriers to ship its products on a same-day or next-day basis.
Radwell International's footprint has expanded beyond the United States in recent years, with more than 30 percent of its products sold outside of the country, Radwell says. The company in 2010 opened its first repair and distribution center in the United Kingdom, and added Canada to its market reach in 2012 when it acquired repair company Enterprise Automation, now known as Radwell International Canada. Canadian operations were enhanced when the company opened a new repair and distribution facility in Stoney Creek, Ontario, in January.
Current expansion plans include a new distribution center in California now under construction, and the addition of 25 field customer service representatives.
Improvement Processes
Radwell International's investment in new staff and facilities reflects the company's belief in continuous improvement. An internal operations team is responsible for examining all company processes and implementing both automated and manual changes.
The team uses process quality management and improvement (PQMI) to review all internal processes. Operational changes are inputted into a formal change-management system, evaluated, prioritized, implemented, measured and further improved, the company says.
"Measuring performance of all internal processes is paramount to our continuous improvement initiatives," the company adds. "We have measurement tools in place and data is continually monitored. This data is then analyzed and improvements are made based on it."