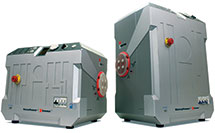 President and CEO Justin Mortimer says the company continues to lead the way in the industry with the most innovative new products on the market while simultaneously holding true to the values and core principles that have made it a success since the 1940s.
The company was founded shortly after World War II by a pair of engineers who worked on developing the first radar systems during the war. It was during that time they discovered the effect high-frequency radio waves had on metals, heating them without the need for a heating element to come into contact with them. This made radio waves an effective, efficient and flexible means of heating metals, conductive materials and many others such as plastics, sapphire, and glass for manufacturing purposes, and soon Radyne became a leading provider of induction heating equipment. Three decades later, the company opened its doors in the United States for the first time.
Today, the Milwaukee-based Radyne specializes in equipment used by manufacturers in a wide variety of sectors, including mining, construction and aerospace. Mortimer says the diversity of the company provides it with one of its greatest strengths, namely a level of stability that protects Radyne against a downturn in any one sector. "We operate in essentially every sector," he says.
As Radyne gears up for FABTECH, Mortimer says the company is excited to show off some of the latest advancements it has made in its technology. However, he adds that no technology can take the place of a strong leadership team and a commitment to customers.
Strong Principles
In addition to the company's engineering expertise and global manufacturing base, Mortimer says some of the company's greatest strengths lie not on the drawing board or on the production floor, but in the principles each employee embodies every day. First and foremost among these is the company's ownership structure, which Mortimer says provides Radyne with a strong foundation of financial support to stand behind the services it offers customers. "We're privately held, and we have owners who believe in being the best in the business," he says.
That support allows Radyne to do what it does best, Mortimer continues, which has earned it the respect of the industry and its customers. "We're trusted and respected for our process knowledge and our corporate principles," he says.
Among those principles is Radyne's commitment to building solid, long-term relationships with its customers. Mortimer says building and maintaining those connections with customers is a primary focus for the company. As part of the Inductotherm Group, Radyne's network of thousands of skilled employees worldwide provide a strong base of knowledge to help customers meet their induction needs. "Customers profit from our team of professionals," Mortimer says.
Radyne positions itself as the premium brand in induction heating equipment by providing its customers the best total value through the quality of its products, services and the additional process engineering and automation support it offers. "Our customers have a level of confidence, security and peace of mind when they choose to work with the best in the industry," Mortimer says.
Continuous Improvement
Another of Radyne's core principles is its dedication to continuous improvement in its product line. Mortimer says the company works to consistently incorporate advances in technology into its products, and its engineering knowledge base has made Radyne's products some of the best and most effective in the marketplace.
One of the most exciting new developments is its new Digital-iQ™ Control systems for Induction Power Supplies. Mortimer says the new control software and electronics were designed to function in equipment of varying frequencies, something that had not been possible before. Now one type of control design can be utilized across multiple types of products, while providing customers with virtually unlimited programmability, faster response, expanded monitoring and integrated communications throughout their entire production line; not to mention the cost savings due to lower cost of ownership that Digital-iQ™ Control systems represent.
"Standardization allows us to purchase on a scale that lets us bring more advanced features to a wider range of products," Mortimer says.
The Right Team
Looking ahead after the FABTECH show, Mortimer says Radyne will be focused on recruiting and developing the next generation of professionals to help it keep up with the rapid growth it has experienced. He says the company expects its U.S. operations will export significantly more globally in the near future, creating the need to put the right people in place in production, service, sales and engineering to support that business.
"We've built a great team and need to continue to grow with a great team," Mortimer says. "We are the elite force in the industry."