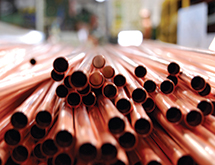 RAE Corp. strives to always perform better tomorrow than it did today and works towards this goal by demanding excellence in its people, relationships and products. In an effort to continually evolve, the company formed "vertical teams" last year to help it stay ahead of market changes and provide the best products and services to its customers.
The Pryor Creek, Okla.- based company has been family owned and operated since its start in 1971.
"In 1970, the industry of air conditioning and refrigeration consisted of standardized products," co-founder Jim Swank explains. "We wanted to make custom equipment to meet the specifications of each customer."
Today, RAE designs and builds products in four corporate divisions: Century Refrigeration, RAE Coils, Refrigeration Systems and Technical Systems. The privately held company has been dedicated to manufacturing compressorized equipment and heat transfer coils for the HVAC, refrigeration and industrial markets. RAE's products are marketed nationwide by more than 120 sales offices maintained from coast to coast.
RAE's equipment can be found in many facilities, including food and beverage storage, wineries, data centers, sports venues, high-rises, oil and gas, mining, water treatment, power plants and offshore platforms and vessels. "Our customers cover a wide spectrum from Fortune 500 companies to small contractors," Vice President of Plant Operations Jerry Salcher says. "At RAE, quality is defined by our ability to provide expertly designed equipment and maintain a low cost of ownership for our customers."
Staying Ahead
RAE had been structured along horizontal lines since its inception, Salcher explains, until last year when it decided to create cross-functional teams that are led by a vice president and made up of individuals from different departments. "I was in charge of production and that's what I worried about," he says about his mindset before the teams started. "I didn't get involved much in sales or engineering, for example. We got in our work silos and didn't appreciate each other's perspective or understanding of the customer."
The goal of the vertical teams is for employees and vice presidents to get involved in other aspects of the business that may be outside of their comfort zones. RAE says the teams help provide the best product and service to its customers. It's an effective strategy at tackling the changing needs of its customers and creating opportunities for success in the company.
"We talk and meet with the customer a lot more in teams, which gets everyone out of their silo for work to understand the customer's perspective," Salcher explains. "We now see what the needs are and then work on product improvements. With a greater understanding of what the customer needs, we make sure we are building products to match those needs."
Fulfilling Needs
RAE's manufacturing plant is split into four areas: coils, sheet metal, unit coolers and equipment. Operations run day and night with a total of about 275 employees. The sheet metal for all of the company's products is fabricated in the sheet metal department. RAE also produces coils for its own equipment, other manufacturers and for field replacement parts. Equipment comes in a variety of shapes and sizes and is available in three- to 500-ton units. "We have standard products, but also do some specialty designs," Salcher says. "Production has to be flexible and able to work on a variety of projects."
The product mix changes frequently in RAE's manufacturing process, Salcher explains. Each manufacturing employee is cross-trained to work in many different areas, depending on which department has the highest workload. Training at RAE involves new employees working alongside a seasoned employee to learn the job requirements.
Staffing has been one of RAE's greatest challenges because of increased competition in the area due to the boom in oil and gas production. "Oklahoma's unemployment is slightly above four percent, so it's a challenge to find good employees and keep them," Salcher says.
To get in front of this problem, RAE partners with local universities and trade schools to get students interested in the manufacturing industry and interning at the company. RAE employees will give tours, offer tutoring services and speak to classes about the industry and company. "We are in a rural area, so we want to target local kids attending trade schools and universities who don't want to leave the area," Salcher adds. "We always have something going on to keep that door open."
Staying Successful
RAE plans to continue growing and create more opportunities for its employees to advance. "We ask employees what they want to do with their life and everyone's different," Salcher says. "Everyone needs to advance and have opportunities available. We want people who are ambitious and want to grow, but I also need people who want to work production and be committed to it for five to 20 years. It's a demanding job, but we need people who are willing to stay."
Continuous improvement will always be a focus for the company. RAE incorporates lean philosophies and Salcher believes that whatever philosophies work best for the company should be followed, but it should also never lose sight of striving for continuous improvement.
"Manufacturing in this country has struggled in the past decade due to international outsourcing," he says. "It has been a challenge to survive as a successful manufacturer. But we have been around for more than 40 years and we continue to get better. We find ways to improve efficiencies, venture into new markets and look for new customers while retaining current ones."