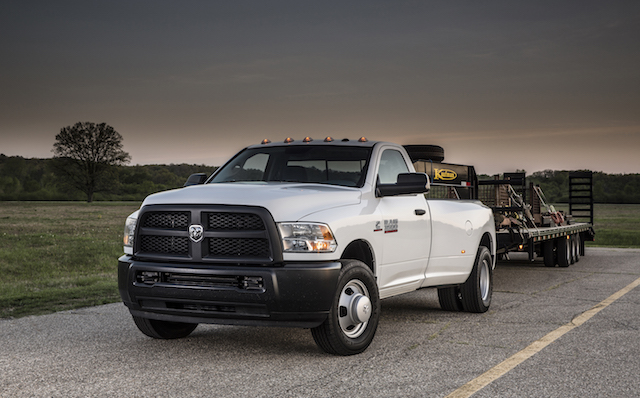 Ram Trucks' commercial vehicles have a broad reach, with major clients including the United States Postal Service. David Sowers, head of Ram commercial truck marketing, says the manufacturer last year delivered 10,000 Ram ProMaster Vans to the postal service.
Auburn Hills, Mich.-based Ram is part of Fiat Chrysler Automobiles (FCA) U.S. LLC. Ram began as part of the Dodge brand, but became a stand-alone brand in 2009.
"When other brands were consolidating together, we separated the Ram brand out," Sowers recalls. He explains that this allowed Ram to focus on its customers' needs with its own cross-functional team, which includes its design, engineering and marketing groups.
Ram refined its focus in 2012 with the introduction of its Ram Commercial brand, which Sowers oversees. "That allowed us to get even more focused on the commercial truck customer," he says.
Today, its commercial clients range from private businesses to large public companies to government entities. Ram's vehicles fill needs such as transporting onboard compressors and generators to work sites, or towing trailers and delivering goods.
Product Pride
Ram's Commercial line includes the Ram 1500 pickup truck, which is available in many trims. These include the Tradesman, which features "the most towing capacity of any of our half-tons," Sowers describes.
The Tradesman has a maximum gas towing capability of 10,640 pounds, as well as the RamBox Cargo Management System, which provides drivers with more storage. "It's a built-in toolbox that's an industry exclusive," he says.
Sowers also highlights Ram's heavy-duty trucks, including its Ram 3500, which has a towing capability of 31,210 pounds. "It's an incredible increase from what was available," he says. "We also have a payload that is over [3,700] pounds."
Ram's ProMaster van is based on the Fiat Ducato vehicle offered by FCA in Europe. The ProMaster features front-wheel drive, allowing it to make tight turns. "That would be a great advantage in a delivery situation," Sowers says.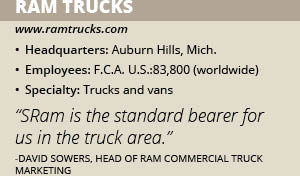 The ProMaster also features a load floor that is six inches lower than that offered by Ram's competition. Not only does this make the vehicle easier to load, but it also "makes it easier to get in and get out of the back," Sowers adds.
Another model, the ProMaster City van, is intended for commercial customers in urban environments. "It has the highest payload of over 1,800 pounds and the best highway fuel economy rating of any small van on the road," he says.
These attributes are not typically combined, but Ram's strategy has paid off. "In 2016, we set sales records for our large vans, small vans and our chassis cabs in selling our product to commercial customers," Sowers reports.
Wise Investments
FCA has invested $6 billion in its U.S. facilities since 2009, including $1.48 billion for its Ram plant in Sterling Heights, Mich. "That investment is going to convert the plant over to be able to build the next generation of Ram 1500 trucks," Sowers explains.
The facility, Sowers notes, previously manufactured Chrysler 200 sedans. "That production ended in December of 2016," he says. "There's going to have to be some changes inside the plant."
Ram also has invested in improving its vehicles' fuel usage. With its Ram 1500 product, "We get up to 25 miles per gallon with the Pentastar V-6 powertrain," Sowers says, noting that this is a significant advancement.
"A few years ago, the maximum fuel economy was 20 miles per gallon," he recalls. "That powertrain is now adequate for towing and hauling with the pickup."
Its EcoDiesel engine also can get up to 29 miles per gallon on highways. "That's easily best-in-class," Sowers says. "It's really become known as an efficient, capable engine and it can tow over 9,000 pounds."
Setting the Standard
Ram will appear at the NTEA Work Truck Show in Indianapolis in March. "It's our premier show of the year," Sowers states, explaining that the company engages with consumers and other businesses at the event. "To be able to work with those upfitters and manufacturers is what that show is all about."
Ram plans to address the topics those businesses care about, Sowers says. "We're going to talk about [how] we're going to be easier to do business with. That includes our dealers and consumers and will help us show how Ram Trucks meet the needs of the commercial customer," he predicts.
The company plans for long-term, continued growth since FCA has refocused its business on the truck and SUV segments. "Ram is the standard bearer for us in the truck area," Sowers says.
Ram has an opportunity to sell more units and enter more segments. "We've done a lot of things both on the product side and the business side to make it easier to do business with us and capture a higher segment of the marketplace," he says.