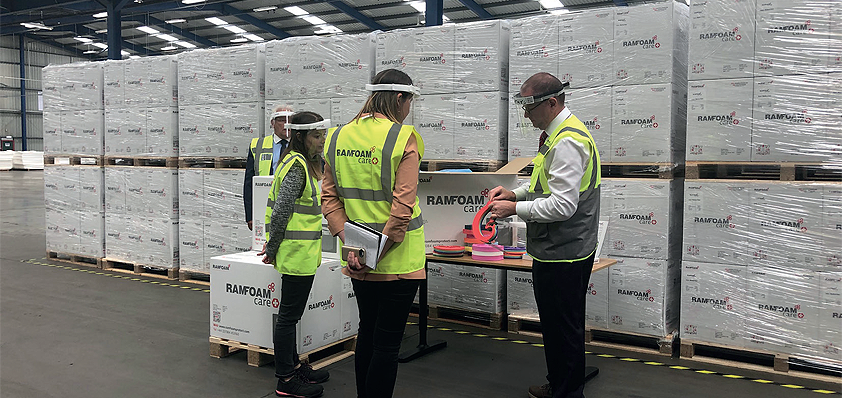 Engineering innovation
By nurturing loyalty and sustained growth, Ramfoam offers unparalleled expertise in foam conversion, from design and prototypes, through to high-volume supply
Established as a privately-owned SME in 1995, Ramfoam is the UK's leading manufacturer, converter and supplier of closed cell polyethylene and open cell polyurethane foam. "We specialise primarily in the conversion of expanded polyethylene-grade foams for use across a diverse range of UK and international markets, from healthcare and automotive to aerospace and leisure," states the company's Group Sales Director, Timothy Mulqueen.
Covering a total work area of 90,000-square-feet, Ramfoam's main facility is based in Oldbury, in the West Midlands, from which it serves customers in the UK, Europe and ROW. It is here that the company also sought out a new, 100,000-
square-foot building in which to install new machinery and manufacture its new and market eading RamfoamCare+ Protective Visor. In addition to these sites, Ramfoam also has a facility in Dubai, UAE – called Ramfoam Repackaging Services LLC – which opened in 2016 to serve its Middle East and Africa-based customers.
"Our manufacturing processes range from the simple splitting of foam sheets, to highly complex CNC machined components, while our vast array of products and applications include everything from product case inserts, medical accessories and exercise mats, to buoyancy aids, construction insulation and cushioning, and automotive door and roof systems," Timothy continues. "What sets us apart, is our continual investment into the latest and most advanced manufacturing technologies, which allows us to be world leaders in the conversion of polyethylene foams. As a business, we are constantly adapting and evolving to meet the ever-changing needs of the industries we supply, and this rapid adaptation is what enabled us to become one of the primary suppliers to the NHS.
"When the UK first went into lockdown in March as a means of suppressing the virus, Ramfoam – like many other manufacturers and processers globally – had no choice but to face the titanic challenge of quickly adapting," Timothy highlights. "We knew immediately that we wanted to support the NHS, particularly amidst a growing and pressing shortage of PPE products, so we rapidly joined the ranks of the 16,000 other businesses who applied to assist.
"This decision, coupled with existing experience in medical markets and our ability to design and test our protective face shield in a matter of weeks, led us to be awarded a DHSC contract to supply three million RamfoamCare+ visors each week to the NHS. As a direct result of that contract, we've been able to create over 500 new jobs and safeguard in excess of 1000, either directly with Ramfoam or throughout our wider supply chain."
Elaborating on the above achievement, Timothy explains how the company already possessed significant experience in converting medical-grade foam products for the healthcare market in numerous applications, and therefore knew that it was more than capable of creating a market-leading product that would help to protect frontline medical workers. "We had previously been approached by a number of companies to supply foam strips for face visors, and with input from our existing NHS contact base, we were able to create the RamfoamCare+ Face Visor in record time," he says.
"In early April 2020, we set out to develop something that could offer the maximum amount of protection in the most comfortable, sustainable and cost-effective way, and that didn't cause painful sores or open wounds around the ears after long periods of use. We wanted to create a visor that was manufactured from world-class modern British materials, with the least number of components possible (just two), to allow easy self-assembly in seconds using replaceable and recyclable components, and finally to create high-volume production capabilities. After a very intensive period of design and testing, the team was able to develop the RamfoamCare+ Protective Visor in a matter of weeks."
Now that production is fully underway, Ramfoam has made its visors commercially available beyond the NHS and is currently supplying schools, retailers, private healthcare bodies and hospitality venues throughout the UK and rest of the world. It is also proud to offer its premium face visors in fashionable colors with fun sticker accessories, direct to consumer via its customer facing brand UltimateVisor.
Ramfoam benefitted greatly from already having a highly multi-skilled workforce that had recently taken part in a reskilling process before Covid-19 hit, which meant that it held a comprehensive skills matrix in-house. "When we recruited for the extra jobs created by the NHS contract, as well as the usual qualities of diligence, adaptability and attention to detail, we sought out staff who would have the same level of commitment and dedication as we do," Timothy continues. "Every member of our team at Ramfoam is incredibly proud to play a role in helping to protect the NHS. Every one of us who comes to work in the morning knows that each visor we manufacture is a chance to stop the spread, lower the transmission risk and ultimately even save someone's life – and there is absolutely nothing more motivating for us as a workforce and a business.
"Meanwhile, from an infrastructure point of view, we had also previously invested heavily in the automation of some of our equipment, including press machinery and wrapping, which meant we were able to ramp up production quickly.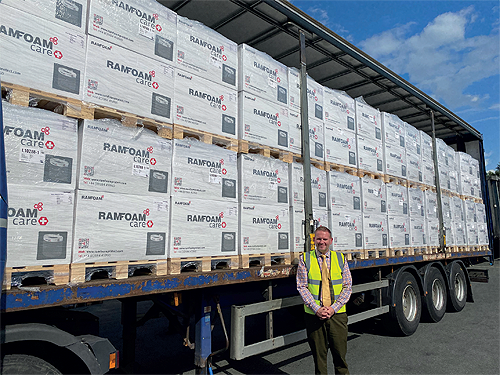 Additionally, we sought the support of Warwick Manufacturing Group's High Value Manufacturing (HVM) Catapult who, along with the team from the Department for Business, Energy and Industrial Strategy (BEIS), added significant value by helping us with factory modelling, mapping and automation. WMG assembled a team as part of their Digital Innovation for Manufacturing project to support our highly ambitious scale-up plan. Their use of 3D shop floor simulations helped us to test its layout and process assumptions digitally, prior to moving into our new facility, which – along with the help of Nissan Motors UK – enabled us to de-risk our scale up plans."
This year – 2020 – marks the 25th anniversary of the company, and this milestone gives Timothy the opportunity to not only reflect on the whole team at Ramfoam's success to date, but also what the coming years may hold. "We are firm believers in the necessity for adaptability in manufacturing. If we hadn't been able to continually identify new trends and needs in our key markets, our business might look very different today. The quote that sums up our premise most succinctly is Charles Darwin's observation that 'It is not the strongest of the species that survives, nor the most intelligent. It is the one that is most adaptable to change.' Aligned to that is our ethos that when the team pulls together, everyone achieves more.
"As with most organizations, our initial medium to long-term plans have had to flex to accommodate the new normal that is life with Covid-19. However, we remain keen to continue to positively impact our customers and extended community wherever possible. As part of our plan to venture into new markets, we are actively investing in the business by expanding our operational leadership along with the creation of a new in-house design team using state of the art software to offer 3D visualization of products, and an enhanced service offering to our global customer base and partner network, along with additional hiring across sales and related support functions in the business. We strive to be the international partner of choice for foam related solutions – and we will achieve this by entering new countries and markets, enabled by dedication, hard work and team effort."
In concluding his thoughts, Timothy has one final, important point to make, and it refers back to the success that the company has had with its RamfoamCare+ Protective Visor. "We would strongly encourage all trading sectors to explore the use of protective visors as an addition to traditional face masks – and the benefits that these can add to your business in terms of protecting staff, ensuring consumer confidence and showcasing corporate branding," he enthuses. "Visors protect the most vulnerable areas, such as the eyes, nose and mouth from splashing or spraying, while the anti-fog visor and the latex-free foam headpiece are washable and recyclable making them highly cost effective. As we move through what could be a difficult winter, we want to help protect as many staff in as many sectors as possible and halt the virus, and in addition let's make Great British manufacturing great again."
Ramfoam
Services: Foam suppliers, manufacturers and converters
www.ramfoam.com