In the green
A pioneer in turf care Ransomes Jacobsen boasts an unrivalled understanding of turf maintenance and a solid reputation for quality, innovation and green initiatives
With innovation at the very core of its activities since its inception in 1789, Ipswich headquartered Ransomes Jacobsen has produced a number of the industry's most important 'firsts' over the years; these include the world's first lawn mower in 1832, the first steam plough in 1856, the first petrol lawn mower in 1920 and the first self propelled high work rate ride-on triple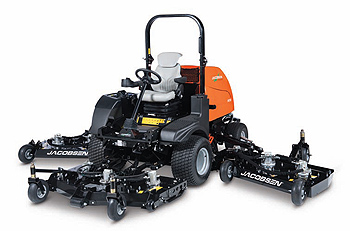 mower in 1974. More recent innovations for the firm include the first hybrid pedestrian greens mower in 2007 and the first hybrid ride-on greens mower in 2009 as well as the first triplex mini flail mower in 2013.
Today, trusted to maintain some of the world's most prestigious fine turf areas, such as palace lawns, legendary golf courses, cemeteries, stadia monuments and football pitches, including numerous FIFA World Cup pitches, Ransomes Jacobsen operates in 28 countries around the world. Serving its global customer base with an impressive portfolio of products that include rotary mowers, golf cars, utility vehicles, tractors, blowers, bunker rakes and sod cutters, Ransomes Jacobsen takes pride in providing superior quality turf maintenance equipment to customers around the world. "Between our three manufacturing locations in the U.K. and the U.S.A., Ransomes Jacobsen manufactures a full range of turf maintenance equipment," begins Alan Prickett, Managing Director of Ransomes Jacobsen. "This machinery is broadly split into three sectors: golf, commercial and consumer; in the golf sector we design and build machines for mowing tees, greens, roughs and fairways, as well as specialised vehicles for moving people and materials around the course and a range of aeration and spreading equipment.
"In the commercial sector, we specialise in heavy cylinder and rotary products, such as the new MP range; municipal customers require high-performance, robust and stable units for use in roadside verge maintenance, park and housing estate mowing and sports fields. The consumer part of the business, Dixie Chopper, based in Indiana, in the U.S., currently manufactures zero-turn rotary mowers for the U.S. and APAC markets. Our latest platform is now being developed and utilises many of the principles contained in the hugely successful MP-series of products that we launched two years ago."
Indeed, recent additions to the portfolio include the Jacobsen HR700 and HR800 rotary mowers, which are ideal for maintaining large parts of semi-rough and rough areas on golf courses and on municipal maintenance contracts. Powered by rugged and reliable 65hp and 74hp Kubota diesel engines respectively, the HR700 is the world's first and only wide area rotary mower with 14-foot cutting width. Additionally, the mower complies with European Stage IIA emission regulations thanks to the direct injection 65hp Kubota diesel engine, therefore avoiding complex emission controls.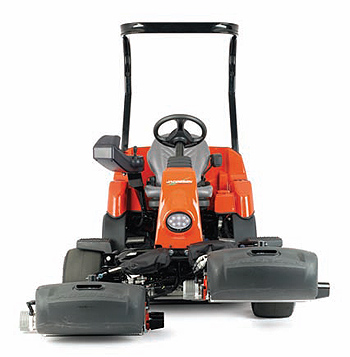 Ever committed to innovation, the company recently completed a major five-year project to launch a new batwing mower, as Alan notes: "The MP Series was developed around a common platform, which allowed us to greatly decrease the number of parts used across the distinct models. The MP is now available in a wide-area rotary format configuration with 49hp engine or high-specification 65hp version. Airconditioned cabs are also available as options. As we continue to develop the line a single-deck out-front and flail derivative are being worked on now. The MP has given us a big sales boost over the last 24 months and is a testament to the value of new product development to sustain businesses."
Another development for the company has been its conversion to hybrid drives instead of diesel driven products; discussing the importance of delivering energy efficient products, Alan says: "Ransomes Jacobsen, in common with our competitors, are having to constantly stay one step ahead of the emissions regulations in various parts of the world, and the selective use of hybrid systems allows us to reduce the size of diesel engines as well as being able to provide innovative new drive systems."
By focusing on innovative developments that respond to market trends or customer demands, Ransomes Jacobsen has ensured it willremain profitable during economic difficulties in the sector. With an R&D programme in place, further innovations are due to be launched over the next 12 months and in the future as the company continues to bring out products that not only leverage new technologies, manufacturing techniques and materials, but also satisfy customer needs.
"Generally speaking, the golf economy and municipal grounds maintenance sectors are fairly flat at present, with minimal growth in most regions. New products are key to staying relevant and we have had some real wins with our recent launches. Moving forward, the next platform under development will give us a range of new golf course maintenance products, which will benefit from the same design principles as the MP. Next generation technologies, particularly hybrid drive systems, will be utilised in some versions and the range will allow us to reduce the number of distinct product lines as well as the total parts used. This allows far more efficient after-sales cover and ensures that our manufacturing efficiencies are improved year-onyear. The first models will launch during 2017," concludes Alan.
Ransomes Jacobsen
Products: Turf maintenance equipment