Strimming along nicely
A pioneer in turf care, Ransomes Jacobsen boasts an unrivalled understanding of turf maintenance and a strong reputation for quality, innovation and green initiatives
With innovation at the very core of its activities since its inception in 1789, Ipswich headquartered Ransomes Jacobsen has produced a number of the industry's most important firsts over the years; these include the world's first lawn mower in 1832, the first steam plough in 1856, the first petrol lawn mower in 1920 and the first self-propelled high work rate ride-on triple mower in 1974. More recent innovations for the firm include the first hybrid pedestrian greens mower in 2007 and the first hybrid ride-on greens mower in 2009 as well as the first triplex mini flail mower in 2013.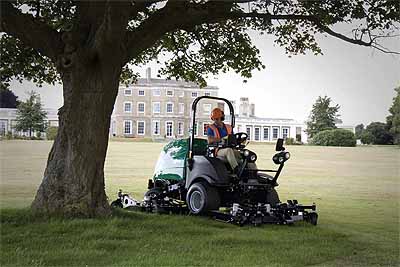 "Ransomes Jacobsen's long history begins in 1789 when Robert Ransome invested the princely sum of £200 and started an iron foundry business in Ipswich, Suffolk, manufacturing plough shares for the local farming community. It was 40 years later in August 1830 that Edwin Beard Budding lodged the patent for the world's first lawnmower, and, in 1932, Ransomes built the 'Budding Patent' under licence from the inventor. The way grass was maintained was thus changed forever," begins Managing Director of Ransomes Jacobsen Alan Prickett. "Today, thanks to an unrivalled understanding of turf maintenance equipment, we are trusted to maintain some of the world's most prestigious fine turf areas; these include palace lawns, legendary golf courses, cemeteries, stadia monuments and football pitches, the latter of which includes those at numerous FIFA World Cups."
Thanks to strong industry knowledge and long term experience, Ransomes Jacobsen operates in 28 countries across the globe and has an enviable portfolio of products available to customers; these include rotary mowers, remote controlled mowers, golf cars, utility vehicles, tractors, blowers, bunker rakes, aerators and sod cutters. Recent additions to the portfolio include the Jacobsen MP493 and MP653 rotary mowers, which are ideal for maintaining large parts of semi-rough and rough areas on golf courses and on municipal maintenance contracts. Powered by rugged and reliable 49hp and 65hp Kubota diesel engines respectively, the two rotary mowers also feature three all new rotary decks, one out-front and two wing decks.
As the lightest mower in its class, the Jacobsen MP493 will benefit from significant fuel savings thanks to its reduced weight. Additionally, the mower complies with European Stage IIIA emission regulations thanks to the direct injection 49hp Kubota Diesel engine, therefore avoiding complex emission controls. The mower's maintenance free direct drive decks, which are manufactured from high steel strength, offer customers a choice of width when it comes to cut options to enable the highest productivity in all environment. Meanwhile, Jacobsen's SureTrac four-wheel drive control system ensures superior traction when climbing or cutting side slopes, while four-wheel drive in reverse ensures sure-footedness when reversing uphill.
As the more powerful 65hp version of the MP, Jacobsen MP653 has the latest European Stage IIB turbo-charged common rail diesel engine, which provides customers with cleaner running and the ability to use advanced electronics for more precise control. On top of this, the Jacobsen MP653 has enough residual power to support a fully air-conditioned cab and boasts three selectable drive modes: automatic, manual and creep. Automatic mode has a fuel saving system activated when the machine comes to a stop to reduce fuel consumption, while manual disables all automatic functions so the mower reacts and drives like a standard mechanical over hydraulic drive machine. Creep, meanwhile, disables the cutting units and reduces the transport speed to eight kilometres per hour, which is ideal for those wanting to manoeuvre in tight areas such as workshops or loading ramps.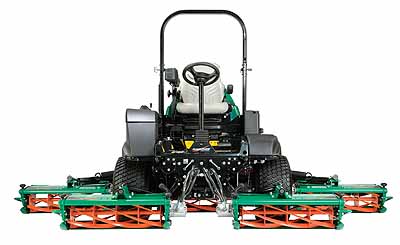 "Aimed at the municipal and golf markets, the new product has replaced a previous machine that had been in the range for many years and its launch has generated sales at three times the previous levels. Our engineering team has done a great job that leverages new technologies in the control and operation areas, while our ISC team managed to integrate a complex project in line with tight launch time frames. This machine adds new levels of productivity due to a wide range of cutting widths and engine options," says Alan.
A more recent product to be launched is the all-new HR700 wide-area mower, which features an industry-first 14 foot wide cutting width that enables it to cut up to 25 per cent more grass than traditional 11-foot rotary mowers. Launched in February 2016, the HR700 wide-area rotary mower combines the manoeuvrability and agility of a smaller mower with the productivity of a 14-foot cutting width, which will allow turf managers to mow up to 13 acres an hour.
This wide-ranging portfolio has enabled the company to accumulate a customer base that is split into three key categories: golf courses and golf resorts, municipal grounds maintenance departments and the grounds-care contractors that serve them; the company also serves high-end homeowners. Although this diversification has enabled the company to remain strong financially, the company is currently facing some headwinds due to issues such as exchange rates and government cut backs, as Alan continues: "In terms of market conditions, austerity in the public sector is probably our biggest challenge at present, with many grounds maintenance budgets being cut back. Furthermore, growth in the golf market, which previous was evident for many years, has now slowed; this development has provided us with another challenge to maintain growth. However, on the other end of the scale, we do see significant growth in the Asia Pacific region in the golf sector and continue to build our business down there with a team based in China, Singapore and Australia."
To remain profitable during these economic difficulties in the market, Alan says Ransomes Jacobsen is continuing with its R&D programme, which will result in new innovations: "The objective is always to bring products to the market that leverage new technologies as well as manufacturing techniques and materials, which will ensure we not only remain competitive in the global market, but also satisfy our customers' needs. A good example of product development is our Eclipse range of hybrid greens mowers, which completely remove potentially damaging hydraulic oil from the machines and guarantee the best possible cut on golf greens."
Through ongoing innovation and product development, the grass will always be greener for Ransomes Jacobsen as customers from across the world seek out optimum quality solutions from the highly experienced and customer-orientated firm.
Ransomes Jacobsen Ltd.
Products: Turf maintenance equipment