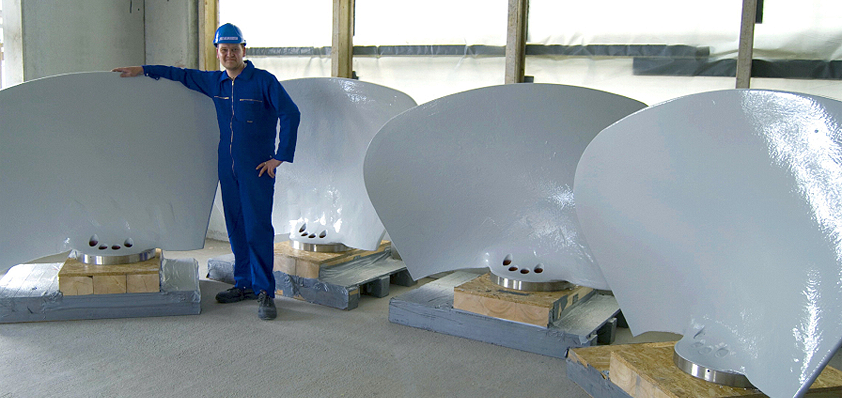 RCS is a coating company based in Sterling Heights, Mich., about 30 miles north of Detroit. The company offers series of coatings, both of which are formulated to bind permanently with anything except glass or nonporous materials like glass.
Though the company mainly coats metal surfaces –steel, aluminum, stainless steel, zinc, brass and copper – RSC can also coat:
Plastics – polyamide, epoxy, ABS, FRP, POM, Plexiglas
Composites – epoxy ceramic, polymer-concrete
Stone – concrete, marble, limestone, brick, gypsum
Foam – Styrofoam, polyurethane foams
Elastomer – Synthetic and natural rubber, acrylics, PUR, polyurea, Linatex™, PVC
Wood – Plywood, hardwood
Paper – Cardboard
Textiles – cotton, polyester
About 60 percent of the company's business involves coating of parts used in assembly lines for automobile manufacturers. RCS also works with the aerospace, packaging, food and beverage, automation and accessories sectors.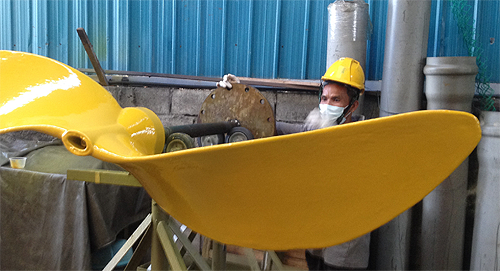 President David Kember founded RCS in 2015. Kember was building a machine for a customer who wanted it to have a proprietary coating which, at that time, was only available in Germany. Kember was intrigued.
"I went to Germany and convinced them to license us to use the material," Kember says. "We brought that material back to North America."
Kember then formed RCS, becoming the sole distributor and applicator of that line of products in the United States. "There are a lot of coatings but no coating like this," Kember says. "There is no one else we bump up against."
As such, the company has little competition and is compared to only two or three companies in the United States. "It's a pretty open market for us," Marketing Director Leah Peach says.
The coatings are elastomers, a type of elastic substance resembling rubber. There are two types:
Series 1700 – designed for extremely rustic situations like the bottom of bolt holes and objects that go into salt mines. "The 1700 is robust," Peach says. Kember agrees" "The 1700 series is more of a crude application."
Series 1500 – Used in multiple layers for specific tolerances. "It is a more precise application for jobs that need more attention to specific detail," Peach says.
The most common form of elastomeric surface linings are still a glued, screwed or vulcanized rubber line with seams. RCS, in contrast, uses a proprietary cartridge-based spraying process.
That process allows for a seamless protective coating that is individually adjusted to the relevant wear conditions.
The primary aim of a protective coating is to protect the surface it covers from losses of material, static strength, functional suitability and efficiency. The coating will wear out over time and have to be renewed. However, the cost of a coating tends to be much less than the cost of the machinery it coats, resulting in a cost savings for the OEM or other customer.
The coatings provide an immediate return on investment, Peach adds. In the automotive industry, for example, the RCS coating is reducing scrap rates, which in turn saves automakers money.
Protection from Destruction
When items being produced by an (OEM) strike a piece of equipment – for example, a bowl feeder – that creates a destructive energy that can damage equipment over time.
There are two ways to handle destructive energies: either through a surface hard enough to deflect energy, or a surface soft enough to absorb energy. Think of it like a shock absorber – the energy is absorbed in the coating, stopped and absorbed.
The coating of the elastomer has to be thick enough to absorb the energy of impact. Thickness ranges from 1 to 6 mm. The appropriate thickness is determined by the item impacting against the coating, its speed, angle, altitude, whether it is wet or dry, the presence of any chemicals and possible re-bouncing after impact.
Elastomer is highly resistance to impact, collision, abrasion, erosion, cavitation and scratching. As such, the coating can be used for scratch and non-marking protection.
Kember recalls a customer, an automotive supplier, that was inspecting parts and then setting those parts down on a bench. "The bench they were setting them down on scratched the parts," Kember says. "We designed a table coated with our material that protects the parts and was still functional as an inspection device." RCS later designed a line of inspections tables.
Fast or Slow
By the use of additives, the elastomers used by RCS can be adjusted for surface friction, color and thickness, anti-static and UV stabilization.
The most common concern is for surface friction. Generally, the softer coatings have higher static friction or "stickiness" and the harder coatings have decreased friction. Clients can get coatings that offer different levels of hardness. The Series 1500 offers hardness of 60, 80, 90 durometers and 98 Shore A.
"We tailor coating choices to our client's goals," Peach says.
Take, for example, a vibration feed bowl used to feed parts through a conveyor system at regular intervals. "We coat for rates of speed," Peach explains. "Working with companies to make the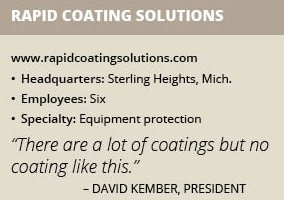 best decisions for coating based on the friction rate they're looking for, what materials they're trying to protect, protecting the life of the bowl and cutting down on the production noise."
Noise Resistant
The series 1500 has a noise-deadening quality, which is be beneficial with vibrating feeding situations. The maximum noise level reduction is up to 5 dB(A). The total amount of noise reduction depends on several factors including the total weight of the object contacting the coating, its flexibility, material, welded or bolt construction and surface structure.
The coatings have good chemical resistance within the pH range of 3 to 11 at room temperature. They are resistant against oils, gasoline and diesel that spill or splash against equipment but not for unlimited amounts of time like in a storage tank. The 1700 series has greater resistance.
The elastomer coating can be applied with a surface smoothness and quality that is similar to paint. This means the coating is easy to clean. Cleaning should be done with water-based household cleaners without coloring additives. Isopropyl can be used for disinfecting. High pressure steam cleaning up to 212F can also be used.
The elastomers can withstand temperatures of 284ºF or more in dry conditions. The coatings start to melt at 392F and should not be exposed to temperatures that high. The coatings can resist cold temperatures as low as -58ºF.
Other Benefits
RSC coatings are versatile and can address multiple areas of concern. Clients will approach RCS looking for one benefit and will gain additional benefits, Peach says.
Benefits include adhesion – if the coating is bent or deformed and then left alone, it will return to its shape and adhere to the surface.
While a ceramic-based coating might break off or crack, the elastomer coating will mechanically seal the cut.
Because of its spray application, the series 1500 coating offers a more constant thickness.
The Series 1700 has much greater resistance to impact than epoxy ceramic coverings. The coatings are lightweight, which generates energy saving on rotating equipment. The coating are smoother than, for example, a cast iron surface, which offers great efficiency in some applications.
The series 1700 is among the best erosion-resistant coatings available, the company says. When appropriate, water can act as a coolant and lubricant, minimizing the impact of the items touching the coating.
The coating has been designed for long-term saltwater immersion and can be used to depths of 765 yards.
By encapsulating metallic components, the coatings can help to prevent corrosion.
The coating is nonporous whether used under wet or dry conditions and has electrical insulation and anti-static properties.
Five-Day Turnaround
RCS offers a five day turnaround on most of its orders. Items are air dried after being coated. Items that are in contact with food must dry for five days. Other surfaces vary in their drying though lower hardness coatings need more time to dry and higher hardness coatings need less.
Helping People
The biggest challenge for Rapid Coating Solutions is educating people on what its products can do in terms of protection and other attributes. The company attends trade shows and leads training sessions in client facilities, Kember says.
"We have an innovative solution to reduce costs and produce solutions for our customer's products," he says. "We help people."
Sidebar — Every Job Unique
RSC coatings can be used in numerous applications. An incomplete list includes:
Tool and nest coatings
Abrasion protection
Gripping devices
Vibration trays, hoppers and chutes
Material handling
Roller coverings
Supply storage
Forging dies
Underwater applications
Conveyors
Work holding fixtures
Pharmaceutical and food applications
Fans and rotors
Mixers
"Every job we get is unique," Marketing Director Leah Peach says. "We have to take fresh eyes to every job."