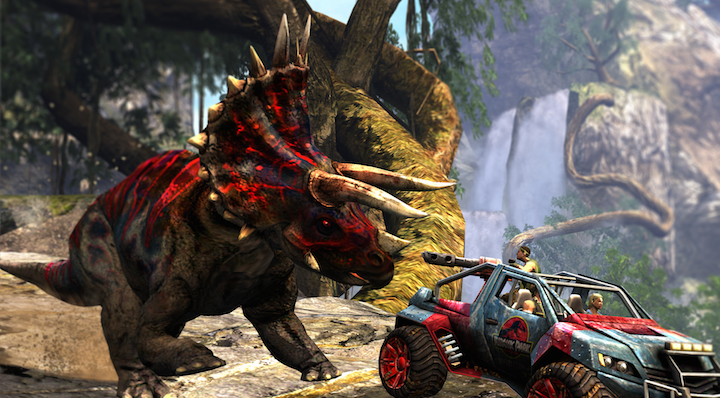 It's not common for a job to ask you to get in touch with your inner child, but the people at Raw Thrills Inc. do that every day, President Eugene Jarvis says. "We have to put ourselves in that mindset to see what is exciting, what is entertaining and what is fun," he says.
Based in Skokie, Ill., Raw Thrills develops arcade video games. Jarvis co-founded Raw Thrills in 2001 after working for Midway Games. But the firm started operations during a tough time in the arcade business, due to the boom in video game consoles that could be played at home.
"I remember waking up three weeks after we started the company in a cold sweat, saying, 'What are we doing?'" Jarvis recalls. "The XBOXes and PlayStations were killing us."
Raw Thrills' industry has enjoyed a strong turnaround since then. "We realized we had to provide a unique experience not available in the home. There's a universal appeal to playing a game with physical elements like driving pedals, steering wheels, a motorcycle you can lean on and a ski game where you're jumping around instead of sitting on the couch," he explains.
"It's allowed us to create much more compelling games," he says. Over the years Raw Thrills has developed over 40 games, including its latest releases, "Jurassic Park Arcade" and "MotoGP."
"MotoGP features all the real tracks and racing teams of the legendary worldwide motorcycle road racing circuit, and an amazing motion simulator that lets kids of all ages feel the rush of a world class motorcycle race," Jarvis says.
Satisfied Customers
Raw Thrills' customer base is different today from the one that existed in the earlier days of video games, Jarvis notes. "The classic, old school arcades have closed down," he says, noting that many of Raw Thrills' games are in family entertainment centers such as Dave & Buster's and Chuck E. Cheese's.
"The arcades have become bigger and bigger," he says. "People just want more fun and the total extreme mega-experience."
Raw Thrills' games also are featured in movie theater multiplexes. "People get into the games so much that sometimes they're late for the movie!" he says.
The company has to take into consideration both the players and the venues when it is creating a game, he notes. "The players want to have a great, fun experience, while the location is interested in the game being reliable and the price being cost effective in terms of return on investment," he says. "Everybody has to be thrilled with the game."
Creating Experiences
Raw Thrills makes sure it uses the best technology within its games. For instance, "We've moved from CRT screens to the LCD screens, which are brighter, much more reliable and pretty amazing," Jarvis says, noting that it has recently pioneered 10-foot LED displays in "The World's Largest Pac-Man" which it made for Bandai-Namco.
"It's truly a mind-blowing experience!" he says. "They really help people get immersed in the game. We also just finished the Angry Birds arcade game with our partner ICE, that features a gigantic mechanical catapult – combining physical with interactive video play."
The company helped players get immersed in the world of the "Jurassic Park Arcade" with additional features. "[We] provided a sensual experience, not only with audio and video, but with vibration and pneumatic motion mechanics," he says.
"We're working on some new projects doing crazy haptic feedback and squirting water on people," he says. "We're exploring multi-dimensional experiences."
Raw Thrills also is exploring virtual reality attractions. "We're working to perfect that technology," Jarvis says, noting that it has applications both in and out of homes. "That's going to be a big driver in the industry."
Making Great Games
Raw Thrills maintains quality in its products through constant vigilance, Jarvis says. In addition to achieving industry certifications, "You really have to look at everything you're building and constantly have inspectors on the lines, making sure everything is perfect," he says.
"It's almost like running a restaurant," he says, noting that the company also exhaustively tests every game. "You never assume something works until you verify it."
It's also essential for Raw Thrills to have the best partners, such as Partec Inc., their contract manufacturer based in Franklin Park, Ill. "We love working with them," he says. "They're a huge part of our team."
He also praises Betson Enterprises, a Carlstadt, N.J.-based distributor. "They're the key to our sales success," Jarvis says. "Betson handle distribution, sales, and service for us, so we can concentrate on making great games."
Big Opportunities
After 15 years, Jarvis is proud of what Raw Thrills has accomplished. "It's so much fun to go out to an entertainment venue and see people having fun with our games," he says. "The second thing [that makes me proud] is having a great bunch of employees who love their job, and are excited to bust their ass to try and make some great games."
Raw Thrills is prepared for more changes in its future, Jarvis says. "We're in the entertainment industry, so there's [going to be] dramatic shifts," he says, noting that these represent opportunities for the company.
"We always have to have our ear to the ground for what's hot, what's happening now. We're keeping our eyes out for great game ideas, and new technologies, like our giant LED display."