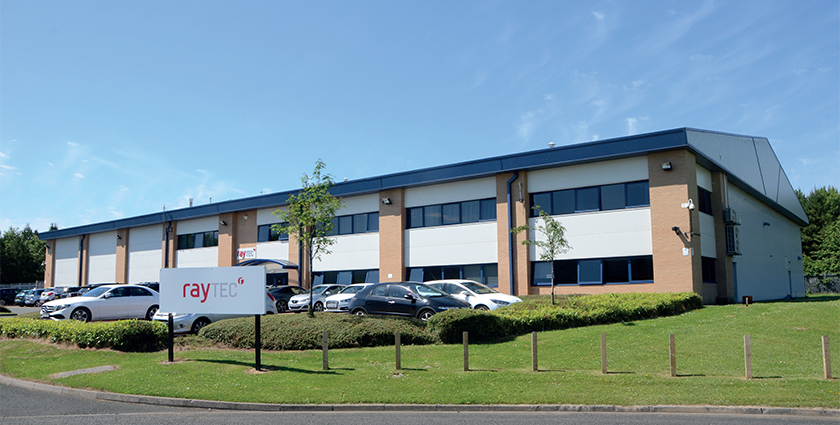 Performance is everything
As the world's leading supplier of premium LED solutions for security and surveillance purposes, Raytec is lighting the way by always putting performance first
With products installed in diverse locations such as the isolated Arctic Circle and the verdant jungles of Borneo, Raytec has created a brighter and safer global environment by expertly pairing innovation with illumination. Founded in 2005, the LED pioneer is headquartered in Ashington, UK and holds an office in Ottawa, Canada to facilitate its growing sales in North American markets.
By combining cutting-edge technologies with the highest levels of performance, Raytec has garnered a strong reputation for innovative explosion protected, security and heavy industrial lighting products – all of which are designed and manufactured in-house at the company's Ashington base.
From the beginning, Raytec has been committed to Ashington, an area steeped in industrial history, and though it has upgraded its facilities numerous times, it has always stayed loyal to the town and its people. Most recently, Raytec entered a new 30,000-square-foot facility, and it has now grown its employee base to nearly 90 across its UK and Canada sites.
Less than five years after Raytec graduated from its business incubation center, the LED startup had become the world's chief manufacturer and supplier of LED lighting for the security and surveillance markets.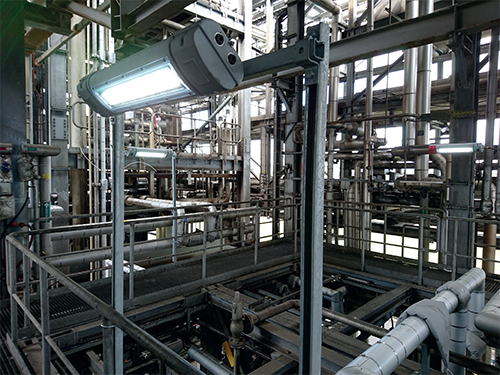 In conversation, talking us through the company's growth, is David Lambert, Managing Director at Raytec. "Whether you buy an LED light in Brazil or North America or the UK, the premium brand will always be Raytec," he begins. "Following continued success in the security industry, where we lead the way in lighting used for video surveillance and in transport applications including numberplate capture and truck tolling, we entered the hazardous area lighting market where our luminaires improve safety and visibility within dangerous areas that show a potential risk of explosive gases and dust.
"All LEDs and electronics within these areas must be certified for hazardous environments," explains David. "Our approach is to merge our background in high power LED lighting with a deep understanding of the hazardous certification requirements. We use the latest LEDs and bespoke LED drivers all protected by a silicone potting compound and robust and durable housing meaning the device can't ignite any hazardous gases or dust if electrical sparks do appear. Though it's a niche market, there's plenty more room for growth – and the opportunity is global. By tapping into this, we aim to deliver the same high-value, high-quality solutions for critical markets that we've been recognized for."
Raytec sets itself apart from the competition by designing, manufacturing, and testing all products at its Ashington facility. Indeed, not a single product is brought in or supplied by a third party; each and every product is bespoke, created in-house to guarantee performance in demanding and dangerous industries.
"From a manufacturing perspective, we decided very early on that we'd commit to two things: Ashington and full on-site design, assembly and testing," explains David. "Subsequently, we have full control over our manufacturing process and all our products are assembled by hand by highly skilled staff. As heavy-duty lights, the illuminators all use large metal heat-sinks but the casting, machining, and painting processes are all handled off-site by specialists in these areas.
"We have a brilliant relationship with specialist suppliers and subcontractors – most of whom are based in the UK, and many are local to Ashington," he details. "They're part of the process, too. We lean on them for their input; for instance, if we employ an extruder, a CNC machinist or an injection-moulder, then we invite them into our design process. We don't expect to be the best at everything, but we rely on our suppliers to contribute to our success. We want our supply chain to influence the final product to the benefit of the supplier, manufacturing and most importantly, the customer. It's a fundamental Raytec practice that just wouldn't be feasible if we used suppliers from far flung parts of the world. From the very start of the business, we wanted to be a high-performance manufacturer of world-leading lighting products; cost was never a main driver. That means we want control over our products, manufacturing on a smaller scale to achieve the best quality. In security and hazardous markets, control over your supply chain is essential. If the product goes wrong or there is a defect, then you're either talking about a serious security breach or lives being lost. Therefore, performance is everything – and that means keeping it local."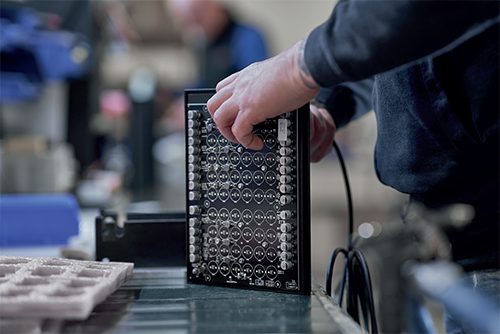 Through this local footprint, the LED leader has created well-established industry standard products like the SPARTAN range of LED luminaires for hazardous areas; the VARIO range of high performance luminaires for video surveillance; award winning PULSESTAR products for automatic numberplate recognition (ANPR) applications and WARRIOR, a range of luminaires for heavy industrial applications. Raytec has consistently delivered high performance illuminators for its niche markets that offer the maximum performance, durability, flexibility and intelligence.
For its flagship range of VARIO illuminators, moreover, the company has been awarded numerous accolades at industry-specific events all over the globe, including IFSEC, an annual trade fair and conference for the global security industry, and ISC West, a prominent security exposition hosted in Las Vegas, Nevada. Distributed to more than 70 countries worldwide, Raytec's groundbreaking LED products not only offer high-quality images, but also boast a ten-year lifespan, low running costs, and zero maintenance.
Raytec isn't resting on its laurels, though. In fact, the market leader has already identified its strategy for future growth. "Our direction of travel is towards smart lighting," asserts David. "Within video surveillance, we already manufacture the smartest luminaires in the world; for example, our full-network VARIO IP illuminators, which are typically installed in vast security sites like prisons, allow for individually IP-addressable lights that can be controlled individually or in groups either from one central control room or from a pre-programmed series of responses to given scenarios. But we also want to bring smart lighting into the hazardous location market where easy maintenance and remote control are key. The smart technology will also flag maintenance needs and any on-site issues. In hazardous environments, this is crucial; often lights need to have an emergency back-up power because if the power on, say, an oil rig isn't entirely reliable, then short periods of disconnect (called brown-outs) are common. Smart technology needs to pivot around these issues to ensure consistent coverage.
"As an example of our global footprint, we recently provided a hazardous area lighting solution at a huge project in Papua New Guinea," he explains. "We issued a complete, smart lighting system using SPARTN hazardous area luminaires for a 58-megawatt power station in Port Moresby, installing more than £200,000 worth of equipment. Raytec were brought in as the plant operators wanted longer-lasting safety lights without increasing maintenance requirements. Fortunately, our intelligent emergency lights are self-testing, self-charging, and cycle fluid, meaning they require much less maintenance than standard emergency luminaires. Our direction of travel in everything we do is towards smart; that is to say, more intelligent, easier to manage, easier to control and less hassle to maintain."
As products become smarter, however, they typically require more research and development (R&D) time as the technology leaps are larger. To that end, Raytec is currently making big investments in R&D, bringing more development and test facilities on-site to shorten development times, speed up testing and evaluation of prototypes and to facilitate customer led product modification.
However, as David reveals, the pursuit of "smart" goes beyond product development: "To help achieve our global growth ambitions we need to be smart in how we deliver the best customer service experience to our customers. Crucially, we want to lead with our digital footprint: We can't have a sales person in every country around the world, but we can reach all of our customers digitally. Focusing on digital service allows us to offer the same level of quality service and support to any of our customers, whether in Germany, Brazil, or Peru. All of our customers should have the best access to product information and specification tools via, our soon to be launched, new website and every customer will have access to live chat, live video calls and video demonstrations from our show rooms in Ashington and Ottawa. Between the two offices we have most time zones covered."
Raytec is now aiming to optimize its operations and grow its global footprint – both digitally and physically with the bulk of growth expected to come from hazardous area lighting. "We will keep pivoting to become a more and more hazardous-focused business as that is where we see the opportunity for Ratyec," concludes David. "As it stands, we're looking for a 15 percent revenue growth in that market over the next three years, which will undoubtedly be achieved through robust R&D investments. We're committed to technologies rather than processes, and that means we'll always be at the forefront of the industry. Within five years, I'm confident we'll have more elements of our manufacturing process brought in-house, we will have continued to build our sales profile globally, and our office in Ottawa will continue to develop our footprint in North America."
Raytec
https://www.rayteccctv.com
Services: LED lighting for security and hazardous industries