Since the invention of the bow and arrow, success on the battlefield has been determined by technology as much as strategy. Armies that bring the most advanced weaponry to bear have held an enormous edge throughout the history of warfare, and when the stakes are high an army needs to be absolutely positive that its technology will not fail it in the heat of battle. As the world's largest manufacturer of missile systems for the United States and its allies, no one understands the importance of reliability on the battlefield better than Raytheon Missile Systems.
The missiles built by Raytheon Missile Systems feature the most advanced technology in the world, but their effectiveness on the front lines also depends on the technology the company leverages before those missiles are deployed. As Vice President of Operations Kim Ernzen explains, Raytheon Missile Systems has made a concerted effort to ensure that the technology in its design and manufacturing facilities gives it as much of a technological edge as the finished product gives soldiers in the field. "We produce very complex systems that support our warfighters, and in order to be able to keep up with the demands from a technology perspective, we continually look at how we can infuse technology into changing the way we design the product as well as manufacture the product," she says.
Through the integration of advanced technologies like virtual reality, 3-D printing and robotics, Raytheon's manufacturing process today resembles something that would have been considered science fiction just 20 years ago. The company's engineers are able to collaborate on a missile design in the same room even though they are thousands of miles apart. Automated assembly systems can perform the most detailed tasks endlessly without error. And precision components can be printed to specifications even the most sophisticated tooling can't replicate. These technologies have driven out cost for Raytheon Missile Systems and reduced cycle times significantly, but most importantly, they have helped to ensure that Raytheon's products never let troops down.
"Our systems can't fail," Director of Public Relations and Community Relations John Patterson says. "The stakes are sky high, and we have to make sure everything is built to the highest standards."
"No pun intended, we literally get one shot," Ernzen adds. "So we have to be sure that our products work every single time."
The integration of automated manufacturing systems and information technologies into a so-called "smart factory" is being called the fourth Industrial Revolution, or "Industry 4.0." By embracing and adopting the newest and most advanced technology into its own processes, Raytheon is ahead of the curve and ushering in tomorrow's manufacturing environment to the present day.
Virtual Vision
Many of the advanced technologies being utilized today by Raytheon Missile Systems are light-years ahead of what you might find in a typical manufacturing or engineering environment, but they would seem familiar to anyone who has seen a blockbuster superhero movie in the last decade. In the case of the company's Immersive Design Center, a combination of advanced 3-D modeling, virtual reality and remote collaboration has created a design and engineering environment where the hero of "Iron Man" would feel right at home.
"A lot of our engineers joke that Tony Stark wished he had this lab," says Kendall Loomis, center manager for the Immersive Design Center at Raytheon's Tucson, Ariz., facility.
In the "Iron Man" movies, Tony Stark designs his armored super-suits with holographic 3-D models he can manipulate with his hands as if they were right there in front of him in real space. The Immersive Design Center is as close to this concept as current technology will allow, utilizing nine 3-D projectors, virtual reality headsets and advanced motion tracking technology to allow Raytheon engineers and other personnel to feel as though they are seeing one of the company's missiles right before their eyes, down to the last detail.
Through this technology, Raytheon employees enter a space known as the CAVE (Cave Automatic Virtual Environment), where they can look inside a virtual model of a missile prototype before anything is assembled in the real world. This allows them to see how the designs will translate into a physical product. Loomis says this gives the company the ability to identify potential design flaws before any assembly is done, and operators on the assembly floor can provide feedback that can make for a smoother manufacturing process. According to Loomis, this can create substantial efficiencies for Raytheon. "My grandmother taught me how to sew long ago, and she told me that you always want to measure twice and cut once," she says.
Employees can manipulate the model with controllers or through motion-tracking, giving the experience the feel of an immersive video game. "We joke often that it's where Hollywood and PlayStation meet missiles," Loomis says.
The Immersive Design Center also resembles a video game through its ability to connect users in different locations. Much in the same way video game players can compete against others through the Internet, Raytheon's multiple Immersive Design Centers makes it possible for engineers and operators to review the same design and collaborate in real-time from their respective CAVEs. Loomis says Raytheon employees at its Tucson and Boston facilities can participate in collaborative events within the virtual realm through the CAVE as easily as if they were all in the same room together. "You could be talking to the guy next to you or into the microphone over your head, and the experience is the same," she says. "It's been a very unique way to engage our larger engineering base."
Creating an environment more conducive to collaboration was one of the primary goals of the Immersive Design Center program when Raytheon first initiated it about seven years ago, Ernzen says. The Tucson CAVE is located in the middle of the company's main manufacturing hub, providing a prime location for engineers and operators from the factory floor to meet and share ideas. "We wanted to create an environment in which we could bring cross-functional teams together and allow them to collaborate on designs," Ernzen says.
Beyond the CAVEs in Raytheon's facilities, the technology in the Immersive Design Center can be taken almost anywhere with Raytheon's "backpack" setup. Through the use of a laptop, a portable projector and 3-D glasses, Raytheon can set up a virtual collaborative environment at any of its own locations or at a partner's facility. Loomis says recently the company was able to coordinate a six-hour design review with the employees of its factory in Arkansas without having to fly them all to Tucson. "I can have one of my guys hop on a plane with a backpack and take that technology anywhere in the world," she says.
Ernzen says the technology has done a lot to reduce lead times in the production of new missile systems, which has been a high priority for Raytheon as the threats to soldiers on the battlefield are evolving rapidly. "One of the things that thrust us into this was that we were really looking at how we could speed up the time to market," she says. "We have seen in some of our recent designs 30 to 40 percent reductions in cycle times."
Seeing missile designs in real-time 3-D isn't the only application for the technology on display in the Immersive Design Center. Ernzen says the virtual modeling also has helped Raytheon plan its facilities and improve workflow. By laser-scanning its facilities and modeling them in the virtual space, the company can test out different configurations and create models for optimized factory environments.
"On top of that, we can also look at how the products are going to flow and design workstations that are more ergonomic for our workers," Ernzen says, adding that the company's new facility in Alabama was designed from scratch through the Immersive Design Center, which saved the company three months of construction time and millions of dollars.
"When we find problems on the virtual end, it saves us millions of dollars," Loomis says.
Another application for virtual reality technology at Raytheon is in training, Loomis says. She says the company has had good results from training operators in a virtual environment rather than simply having them read manuals. The experience employees gain from learning how to operate equipment in the virtual space means they retain more and are better prepared when it comes to the real thing. "They are literally standing looking at a virtual workstation with virtual equipment," Loomis says. "That type of Tony Stark environment is where we're going with our training."
Complete Control
Designing and collaborating in the virtual realm has been a game-changer for Raytheon. But when it comes to actually realizing those designs in the real world, the company has leveraged advanced automation to deliver products more effectively and efficiently. Although automation has been a substantial component of the company's manufacturing processes for years already, Ernzen says the robotics systems of today are even better at handling some of the extreme-precision tasks that go into one of Raytheon's missile systems.
For example, Ernzen says, new automation systems have allowed the company to streamline its testing process, which traditionally has been one of the more expensive and time-consuming aspects of the company's processes. She says precision automation has made it possible for Raytheon to put multiple products through distributed test stations with greater efficiency. "It has saved us and our government customer millions and millions of dollars from an infrastructure cost as opposed to having to go out and acquire more testing equipment," Ernzen says, adding that this system also allows operators to concentrate on building hardware instead of manning test stations.
"Our operators are skilled workforce, so we want to leverage their skills," she says.
The company's advanced automation capabilities also have proven useful in testing the small satellites that make up a portion of Raytheon's product mix. These smaller satellites are used by the Department of Defense's Defense Advanced Research Projects Agency (DARPA) to provide rapid imaging of terrain for U.S. ground troops. Raytheon utilizes automated robots to put those satellites through flight simulation tests, moving them around in three dimensions to test them and ensure they can withstand the conditions.
Senior Manager in Operations for Advanced Manufacturing Bob Erickson says automation also has done a lot in recent years to reduce the burden of material handling for workers on the production floor. Thanks to the advances in automation technology over the last several years, missiles can be moved safely between workstations to reduce the potential for human error and create a safer working environment for Raytheon's employees. "Those two areas are where we focus our automation," Erickson says.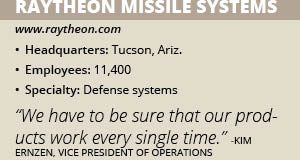 According to Ernzen, Raytheon's Tucson facility utilizes automated guided vehicles to move materials and components from kitting stations to work stations. Once these vehicles arrive at a workstation, they sync information about what is on them with the workstation, letting the operator know exactly what is on the cart and ensuring that the material is at the correct workstation at the correct phase of production. Because the vehicles and workstations are linked together, there is no chance of variation in the production process, meaning the finished products are free from defects and operators are protected from the more dangerous aspects of the complex processes on the production floor. "The more that we can protect our people from the potential dangerous outcomes for people, the better off we are," Erickson says.
The amount of automation in Raytheon's manufacturing process has increased in recent years, and that is due to the advancements that have been made in robotics technology. Erickson says not only has robotic equipment become more precise and sophisticated in the last decade, but it also has become more accessible from a price and ease-of-use perspective. "Automation has come a long way over the last generation," Erickson says. "It's starting to make more sense from a manufacturing integrator's perspective that we use those technologies."
Automation technology has become so advanced that Raytheon has been able to implement it into areas of its production that were not feasible before. "I would say the precision of automation, being able to get that automation into very small spaces but also able to handle the very large items, has advanced tremendously," Erickson says.
For example, the advanced precision of automation technology now allows Raytheon to use robots to perform minute tasks such as applying glue to small lenses used for missile guidance systems. Erickson notes that automation is much cleaner than in the past, allowing Raytheon to utilize it in cleanroom environments where products must be kept free of outside contaminants. "We have to do it in a very controlled and very articulate way with very high quality requirements," Erickson says. "Those two areas have really helped us to be able to implement automation."
The integration of more automation into Raytheon's manufacturing processes has gone a long way to help the company overcome some of its most recent challenges. "I think the key challenge becomes that at the end of the day it's really about moving manufacturing left in the lifecycle," Erickson says.
That means incorporating the manufacturing element of the product lifecycle earlier in the process by completing the engineering portion earlier and ensuring operators and engineers are engaged in the work. Erickson says Raytheon has been careful to stick to the basic principles of lean manufacturing and made sure its processes are built around the knowledge base of its personnel so that automation is implemented in such a way that it benefits the processes and the people who facilitate them.
New Dimensions
In terms of technologies that can have a positive impact on the manufacturing process, there are few that have the potential that 3-D printing does, and Raytheon has been on the leading edge of implementing that technology for a long time. However, recent developments in that technology have taken it in exciting new directions that could have significant benefits for Raytheon in the near future.
Although Raytheon was one of the first to implement 3-D printing in a large-scale manufacturing environment, the fact that the technology was limited to plastic materials meant it could only play a small role in the production process. Within the last few years, however, 3-D printing using metal has become a reality, and Erickson says that promises to have a substantial impact on what is possible for the company. "3-D printing is a whole new manufacturing capability that has existed for the last 20 years, but is really starting to connect because of the new materials," he says. "It has had a large impact on Raytheon because of our ability to prototype, but now it's becoming more mature and allowing us to look more seriously at making production-level units with it."
Ernzen says 3-D printing has the potential to be a paradigm shift for Raytheon as the demands of warfare have made it necessary for products to be made with high precision but in increasingly short timeframes. Traditional machining can produce high-precision components, but the cycle times with those processes can be extremely long in many cases. "With additive manufacturing, you can grow those products in weeks as opposed to months," Ernzen says.
The ability of 3-D printing to produce high-precision components in a fraction of the time of traditional machining could be especially beneficial for Raytheon's next generation of products, which have much higher demands on them than previous generations. For example, Ernzen says, some of Raytheon's next-gen missiles need to travel at speeds of up to Mach 5, requiring extremely thin edges and some unconventional aerodynamic profiles. She says Raytheon's precision machining shop in Dallas is looking at the potential applications for 3-D printing on systems like those as well as structures that support advanced radar systems. "We're also seeing it in our radars and some of the other platforms," she says.
According to Erickson, Raytheon anticipates being able to get production hardware out of a 3-D metal printing platform in the very near future. Once the company is able to incorporate that technology successfully into its processes, there's no telling where the ceiling is. If Raytheon will one day be able to print an entire missile for one of its customers to the same high standards of quality and reliability as today, Erickson says, that could very well be a possibility.
Adapting to Change
Although new ideas and technologies can bring with them tremendous benefits, they also can bring some challenges along with those benefits. Ernzen says Raytheon has not been immune to some of the common growing pains that often come with the adoption of new technology. "Anytime you're looking at implementing a change, there's always dynamics that go into that," she says. "The biggest challenge is always that something new is always scary and exciting."
Part of that challenge is convincing customers of the benefits these technologies will provide them. Ernzen says its customers view Raytheon as the leader in the technology space, and as a result the company has the credibility to allay their reservations. She also notes that the company has a strong reputation for allowing its employees to help drive solutions, which goes a long way to providing it with that credibility. "One of the things that we also pride ourselves on is that we really leverage our employees to give us ideas," she says.
Thinking Ahead
The futuristic technology Raytheon is utilizing in its manufacturing and engineering processes today is only the beginning, and the company continues to look for ways to refine that technology. Erickson says the next step for Raytheon as part of Industry 4.0 is to create a fully digital manufacturing environment where the Internet of Things connects the digital portion of the process with the physical work together in a more seamless way. "We are now able to feed back into design activities what some of our manufacturing outcomes are, so that whole convergence in a very timely way is very exciting," Erickson says.
One of the most recent examples of Raytheon refining its technology is the refresh the company completed on its CAVE in Tucson. Loomis says the company worked closely with its engineers to determine what they wanted to see in the next iteration of the environment, upgrading from a four-wall system to an eight-wall system for greater immersion. "It's a one-of-a-kind system," Loomis says.
Ernzen says much of the technology being employed by Raytheon is commercially available, so the company is working closely with leading technology companies to get a handle on the latest advances in areas such as wearable technology and the Internet of Things to see how they can be applied to its processes. She says the company has experimented with technology like Google Glass, but some of those technologies still need to mature to a degree before Raytheon can utilize them to their full potential.
Loomis says that by leveraging some of the latest technological advancements in industries including movie-making and video games, Raytheon is putting itself in a strong position to remain at the forefront of technology for a long time to come. "It's very exciting times for Raytheon," she says.