Committed to aerosols since 1968
Reabrook Limited understands how important your brand is
Reabrook Limited has been creating innovative products since 1968 when it traded as Arrow Chemicals. The company grew under the Arrow brand and in the 1980s it started acquiring other businesses. "We acquired a brand called Nielsen, an automotive brand and also started selling the spare capacity that the manufacturing facility had for customers fitting our abilities," explains Tony Brealey, Managing Director of Reabrook Limited.
In 1987 the company was purchased by a PLC called Yule Catto, a company specialising in coatings, building products, adhesives, plastics, PVC and other industries. In 2006 three of its directors Tony Brealey, Malcolm Watkins and Shaun Bowden did a management buy out, then in 2008 Tony and Malcolm acquired Shaun's share of the company. The two directors now solely own Reabrook Ltd. "We are an independent and privately owned company. Since the buy out we've really concentrated on developing the business by putting a lot of our resources into new manufacturing capabilities at our 14-acre site here in Moira in Derbyshire," explains Tony.
Today the company has nearly 50 years' experience behind it, designing and manufacturing 1500 aerosol and liquid products from its comprehensive contract manufacturing facility. The brands Arrow and Nielsen are part of the company's success story and are still owned by it. Both Arrow and Nielsen are distributed worldwide. Arrow provides products to businesses with a focus on degreasing products for specialist maintenance, while the Nielsen brand has built a reputation for developing innovative and high quality products for the automotive and transportation industries. "In a very broad sense we cover cars, ambulances, caravans, motorbikes, coaches, lorries and tractors," highlights Tony. Reabrook Limited also manufactures speciality chemical products for personal care, automotive, industrial and household markets on behalf of private label customers.
As the gap between requirements for personal care customers and other customers widens, Reabrook has invested in specialist filling and blending areas whilst employing teams dedicated to personal care. Reabrook runs this operation under its brand Reabrook Health and Beauty and is committed to leading innovation within this market segment to meet the growing needs of its customer base.
Thanks to innovation and investment the company has increased its capacity to five aerosol lines that fill standard aluminium and tin-plate aerosols and some glass EDT and PDT products for own label customers. "We've installed a clean room area to enhance the blending and filling side of the business and included a state-of-theart smaller pack bottling line and a tube filling line into it to assist with an already astronomically busy facility. Previously we supported the aerosol side of the business with four-batch flammable blending or ethanol based products and some large water based blending areas for branded products. It's all done under one roof," explains Graham Sanderson, Sales Director of Reabrook Limited.
A massive increase in distribution led to the launch of the business in China under the name Arrow Solutions in 2016. Within three months of trading it secured contracts with the Aviation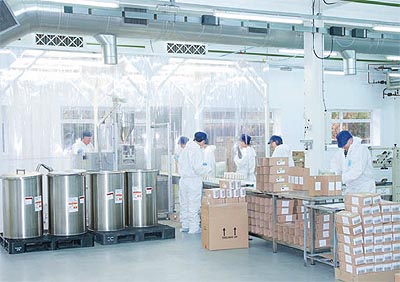 Industry Corporation of China (AVIC) and Beijing Metro with the Arrow grease and oil remover product range. The company is aiming high and predicting £1 million sales in its first year of operation. "We are selling more products internationally because a lot of manufacturing has moved outside of the UK to places like China. We are seeing really good growth on the Arrow product range, because manufacturing in China is very strong," says Graham.
There seems to be no stopping the company as it moves one step closer to expanding into the Middle East. "We are entering into a joint venture in Saudi Arabia to manufacture and distribute the Arrow product range. Our target customers are associated with the oil sector; it's the degreasing products that are used in the oil industry that we are marketing in Saudi Arabia. Arrow distributors already supply our products in the country. We also distribute Nielsen products to the Middle East, but it's Arrow that is grabbing the attention," explains Tony. "I think that one of the assets that Arrow has is that it has a lot of endorsements from some major manufacturers."
Reabrook Ltd is keen to stay ahead of the industry by developing innovative new products. It is currently working on compressed air aerosols. "We've spent a lot of time working on aerosols that work using compressed air and we are working on a number of new products that will be powered this way. We'd like to let people know that we can now offer aerosols powered purely by compressed air and recently won a Sustainability Award from BAMA (British Aerosol Manufacturers Association) for the technology. The technology has got environmental benefits and safety benefits as it's less flammable," highlights Tony.
The team at Reabrook Ltd has spent the last five years focusing on shaping the business to get it ready to move forward and become the industry leader that it is today. "I think we will start to see results from the business investments into China and our new manufacturing facilities here in Moira, for the private label side of the business. We can see the business growing from this point on," concludes Tony.
Reabrook Limited
Products: Designs, manufactures and packs aerosol and liquid products for its own labels and private label customers