Reagan Equipment Co. Inc.
Longevity is a great measure of success because it demonstrates a company's ability to adapt and thrive through changing times. This is especially evident in today's economic climate, as some corporations with decades of history are locking their doors and shutting off the lights on their operations.
This has not happened to Reagan Equipment Co. Inc. When the company felt like it was not at the level of performance it should be, it decided to adapt its practices to the new realities so it would be more successful in the market. Reagan Equipment recognized that to survive, it would need to execute a complete culture change.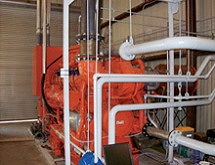 "We were suffering to a certain degree in our strategy and abilities to continue to grow and take the next step," Director of Sales Victor McCullough explains. Vice President Bernard Capello changed Reagan's culture to allow the company to move forward into new markets and create new revenue streams. "The company evolved into a sales-driven company," McCullough says.
The sales department was completely overhauled to eliminate overlap in areas of production and fix a lack of accountability from the de­partment being spread out through different branches of the company. The entire sales force was centralized and trained so that each member could sell any of Reagan's products.
McCullough says it took on a new slogan "everybody sells everything, everywhere. The sales staff was asked to step up their abilities and understand all aspects of Reagan," he explains. Geographic sales territories were eliminated, and Reagan worked to ensure new hires understood the new culture.
McCullough says Reagan began to take on a new corporate outlook and changed its mentality from that of a small organization to that of a big company. He says a new excitement was felt throughout the company with the new focus. Also, deciding to make a culture change put Reagan in a good position during the collapse of the economy. "We didn't suffer like most companies," McCullough says. "There were few layoffs and we continued to employ."
One Source, One Solution
Reagan was founded in 1946 in Natchez, Miss. It was originally Reagan Tool Company, a machine shop providing oilfield components such as drill pipes, draw works and steam boilers. The company later expanded to become the exclusive dealer for Waukesha engines in Mississippi.
The expansion continued as the company gained more territory as a Waukesha distributor, changed its name to Reagan Equipment Co. and relocated to Jefferson, La. The company developed an extensive branch network in the Southeast and says it began to set the standard in fabrication of power packages in the oilfield industry. It also provided 24/7 service personnel, which is a practice that continues today.
Reagan prides itself on being a one-source, one-solution company. Along with its distribution of Waukesha and John Deere engines, Kilo-Pak marine generators, Capstone Microturbines and Baldor generator sets, it says it has any part needed for a power package, and service technicians with the latest tools and monitoring equipment. "We have the capabilities, equipment, resources and talent to handle your project from start to finish," it says.
Its machine shop can handle the largest gas and diesel engines and is equipped to completely re-machine an engine block. It can perform align boring, resleeving and recutting packing ring bores, connecting rod and rocker arm re-bushing, as well as cylinder head, manifold and crankcase resurfacing. "We also offer complete compressor equipment overhaul and repair including compressor piston removal and installation," it says.
As an integral part of its commitment, the technical support department educates and trains both Reagan employees and customers. "We recognize the importance of staying ahead of the latest industry trends and mastering the newest technologies," it says. Training seminars are taught in classrooms at branches, headquarters and customers' facilities. Lectures and discussions are followed by hands-on exercises. "Our instructors have developed a comprehensive curriculum that cover nearly all aspects of power packages," it says, noting that every trainer has at least 20 years of industry experience.
Forward Evolution
Reagan understands that it is a changing world and the company needs to adapt to keep up. It has placed new focus on updating its technology and its employees' ability to handle the new technology.
McCullough points out that there is still growth in energy equipment, but it has become more advanced. "Technicians used to open a toolbox; they now open laptops," he says. He notes that 100 percent of Reagan's field staff and 80 percent of in-house staff can handle new computer and other processing technology that is driving power packages. "A company is able to call on us and know we have sophisticated staff trained in today's products," he says.
Creating sustainable products is another area in which Reagan is evolving. "Providing environmentally friendly products is cost-effective to us and the client," McCullough says. He believes Reagan has a corporate responsibility to help conserve natural resources, and with government subsidies for environmentally safe services, the company will gain greater success.
An example is the work Reagan provided for a Florida hospital, which McCullough reports was spending $100,000 per month for power. Reagan built an on-site power plant with Capstone micro-turbines. Built through government subsidies, McCullough says the $3 million project will pay for itself in less than three years and bring the hospital's overhead cost of operations down 80 percent. The hospital will decrease its carbon footprint and will not be affected during a power outage on the local grid.
Working Together
McCullough describes Reagan as a place where employees enjoy their jobs and management appreciates the work that is done. "If I'm ever having a tough day, I make my way as quickly as I can to the shop," he says. "I watch the care given by a technician who has been doing it for 27 years and still enjoys it. I'm proud of those who work for us and for their commitment to the company."
When an employee was celebrating his 45th year with the company, President Tom Reagan left his Florida vacation to be there. "Tom came back to personally thank and hand over the plaque," McCullough says.
It's that commitment that McCullough says sets Reagan apart in its field. "What we do is important, people need consistent, clean power," he says. "We do not ask why it won't work, but how can we get it to work."