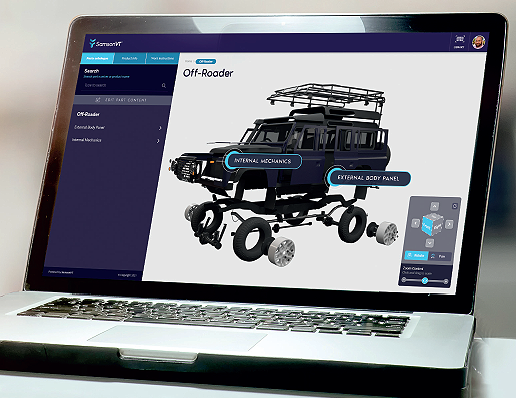 Manufacturers can derive huge benefits from sharing product information they hold in their systems with their customers – the challenge is to unlock that data.
Currently, manufacturers commit enormous resources to serve their aftersales market. This includes the creation of endless product servicing guides and parts catalogues, which often need to be translated into numerous languages.
It can be a highly complex, time-consuming and expensive task. With product models and parts changing all the time, providing engineers with up-to-date information that offers clear guidance is a significant challenge.
Most of the key information required to do this currently remains locked in licensed technical documentation software, such as AutoCAD and SolidWorks, for example. Even if you were permitted to provide customers with access to these solutions it wouldn't be much use to them. Essentially, it would require them to make sense of a huge stack of images used to illustrate every single machine component. The learning curve would be enormous, rendering it completely impractical as a solution.
Historically, the alternative has been to use the information held in this technical documentation software to provide engineers with a flat composite image, in the form of a printed pdf, showing a piece of machinery and the component parts. This is far from ideal for engineers carrying out repairs though.
Anyone who has ever put together flat pack furniture will have had a small taste of how painful it can be to wrap your head around instructions in this format.
This problem is then regularly compounded by the fact that engineers are often having to rely on old documentation, created for previous product models. When this happens, it usually results in confusion, and lengthy delays to the repair process.
Going interactive
The quick solution for this version control issue is to make the latest documentation available to engineers via the internet (although this is still not common practice). But, in an age of digital transformation, if we want to make it easier for engineers to follow instructions, we need to be far more ambitious in our thinking.
After all, it's entirely possible to take technical documentation software data and convert it into an interactive 3D model. This allows engineers to move images around, view them from every angle and match them to the view of the machine they are looking at.
Engineers should also be able to look at a piece of machinery and pull apart the 3D model, in order to isolate and inspect individual parts separately. Better still would be if this instructions platform provided engineers with animations that showed how individual parts fit together.
If you do have the potential to isolate individual parts within the instructions platform, the next logical step is to then integrate with an organization's ERP system. This would enable manufacturers to live stream their supply chain information, such as price and stock levels, so it could be viewed alongside each component.
This would result in the creation of a far more fluid aftersales parts market – allowing engineers to order spare parts faster and have greater confidence that they are always ordering the right component.
Harnessing more advanced technology has to be the direction of travel within the aftersales market. And while it's all possible today, the speed the aftersales industry is moving in is not as fast as it might be – and there are reasons for that.
Greater awareness needed
The first is a lack of awareness that this level of aftersales service is even possible. But, it is, and the more this type of solution is made available to engineers, the more they will demand it. It has the potential to create massive efficiency savings in the repairs and maintenance industry, and manufacturers will be able to greater enhance the relationships they have with their service partners as a result.
The second reason is the perception that a 3D modelling platform is expensive for manufacturers to implement. But, when you compare the price to the cost of employing a team of people to constantly produce new pdf documents, the potential savings are huge. When you also consider that an interactive 3D model can be understood in any language – the cost of translating documentation into multiple languages alone is significant.
Of course, that doesn't even factor in the economic and environmental savings to be made, when organizations are no longer having to print chunky pdfs.
There's no doubt the aftersales market is changing – and the faster we can unlock the data already held in manufacturers' systems, the faster we will all realize the benefits. It's only a matter of time before this information helps businesses cut costs, drive efficiency in the aftersales market and enhances the level of customer service they can provide.
Sam Burgess
Sam Burgess is CEO of SamsonVT. SamsonVT was born of frustration with the status quo, where aftersales management is treated as an afterthought. SamsonCORE empowers engineers by replacing traditional technical manuals with easy to follow, interactive 3D models that are always up-to-date. This ensures maintenance can be carried out as efficiently as possible, saving businesses from costly delays.
https://samsonvt.com/