An injection of innovation
Leading contract development and manufacturing organization Recipharm explains how streamlining its business operations has brought better service for its consumers, and better performance for some of its key brands, none more so than drug delivery device manufacturer Bespak
Founded in its current form in 1959, Bespak Europe (Bespak)'s initial focus centered around the manufacture of disposable products for the consumer market, supplying bottle dispensers for the likes of Unilever and Proctor & Gamble. In 1968, Bespak launched its first pharma product: a pressurized metered dose inhaler (pMDI) valve, in what would turn out to be the first step in the company's transition towards becoming a pure-play pharmaceutical drug delivery devices company, a move confirmed in 2002, with its exit from the consumer market.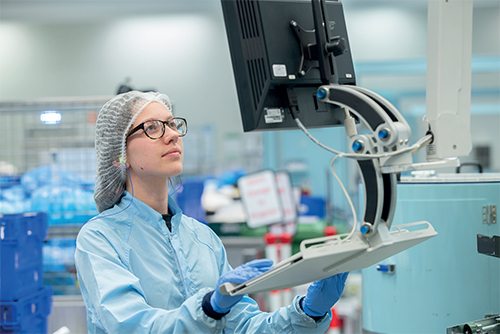 A public company since 1982, Bespak was acquired by leading contract development and manufacturing organization, Recipharm in 2020. Drawn to its wide range of products and services, including device design, development, and manufacture, the acquisition allowed Recipharm to provide integrated services for drug/device combination products.
"With this integration, there's now a focus on exploring the synergies between Recipharm's range of services and product supply capabilities, in order to create value for its customers," says Sebastian Bauer, Programme Management Office (PMO) Director for the Advanced Delivery Systems (ADS) business unit. "As a Group registering over €1bn in sales, and with a 9000-strong workforce, we're leveraging that scale to create a greater level of integration."
A key manufacturing center for Recipharm's ADS business unit, is the company's facility in King's Lynn (UK), where devices are designed, developed and manufactured under the Bespak brand, along with proprietary pMDI valves, actuators, and further components for use within the healthcare sector. In addition to King's Lynn, the site in RTP (North Carolina) develops formulations and analytical methods for inhaled pharmaceutical dosage forms, and the site in Holmes Chapel (UK) produces clinical material in a pilot facility, together with filling and packaging finished dosage forms at commercial scale.
"As a medical device manufacturer, we operate under the strictest regulatory controls," emphasizes Darren Hodkinson, King's Lynn Site Director. "We currently have programs underway to fine tune, focus, and reignite a Lean Six Sigma discipline of manufacturing, and we're constantly reviewing our operations in line with best practice. Predominantly, our manufacturing units run 24-5, while our valve business and some of our healthcare operations run 24-7.
"We have plans to invest significantly over the next two years in capacity to address growing demand from customers as well as in transferring our innovative new products into commercial production scale," he continues. "As part of that, we'll be transitioning our valve business into a fully digitized manufacturing organization."
For Sebastian, the reorganization of Recipharm's business better serves its customers' needs. "Traditionally, customers would come to Bespak asking to develop a custom drug delivery device," he explains. "But when the customer paired that with their desired formulation, it wouldn't quite deliver the performance they wanted – we therefore had to iterate the device over a period of time.
"By putting the formulation and device development together within the Recipharm ADS business unit at the earliest stage, you can reduce the development lead time," Sebastian continues. "Under a single entity, it's also easier to manage the regulatory approval process, and the day-to-day integration of the teams. The benefits to the customer are significant. Seamlessly, we can put the whole thing together and provide our customers with a perfect product, managing regulatory risks and time to market with significant patient and financial benefits with much faster product launches."
A recent technology added to the Recipharm portfolio is the novel Resyca Soft Mist Inhaler (SMI), which falls within Recipharm's range of proprietary technologies. Resyca is a joint venture between Recipharm and spray nozzle manufacturer Medspray. "The Resyca SMI brings together the portability of a handheld inhaler device, with a gentle aerosolization method," explains Peter Hirst, Head of Commercial for the ADS business unit. "The high forces at which many aerosolization devices operate tend to degrade large-molecule products, which lose their activity as a result.
"With the Resyca SMI, that's not the case," Peter continues. "The gentle aerosolization method means that the device is compatible with many large molecules. The Resyca SMI is a very convenient delivery system for patients, particularly those who aren't keen on receiving large-molecule products by injection. For those large molecule products that do need to be administered by injection, Bespak has also developed a novel type of auto injector, allowing patients to self-administer challenging viscous formulations through very fine needles, thereby minimizing discomfort.
"Our innovation teams have excellent links with the early-stage development teams within pharmaceutical companies," he goes on. "As soon as those companies start to work with us to develop a new product, we'll conduct initial feasibility studies through collaboration with our innovation group. As the device moves through development, we then think about pilot scale manufacturing and further industrialization. Our New Product Introduction group will then act as a bridge to bring the commercial production up to speed in King's Lynn, as we look to move towards full-scale manufacturing."
Underpinning Bespak's reputation for innovation is the company's team of industry experts. "People are at the core of everything that we do," Sebastian reflects. "It's our multi-skilled teams of people who create value, whether it's intellectual property, the design of the device, or the manufacture of the product. Within the last ten years, we've done a lot to encourage professional development within the organization, with a focus around improving the quality and service levels that we can offer to our customers and their patients.
"Under the Bespak brand, Recipharm makes life saving products," Sebastian reflects. "That's a fantastic mission and a great motivator. We're in the fortunate position where what we do is important: delivering products to patients that help them lead better lives. That generates the required engagement and motivation in the work we do as a team."
With such a vital role, it was essential that Recipharm was able to continue production throughout the turmoil of Covid-19. "We were able to work constantly, thanks above all to the huge focus we put on ensuring our processes and procedures guaranteed the safety of our employees and contractors," reflects Bob Rose, Head of Strategic Programmes. "We kept each of our product streams separate, and we implemented home working where applicable. It was a steep learning curve, but one we managed well."
But products aren't the only way that Recipharm is making a positive impact. "We've got a very powerful environmental health and safety sustainability program underway," Bob insists. "Last year, we set out our Net Zero strategy, which we call 'BZero'. We've put a detailed roadmap in place to drive our focus across the business, and to help us achieve that end goal.
"In the medical device world, and with our customers, there's a huge focus now on sustainability and environmental impact," Bob explains. "We're looking at sustainability across all our product ranges, considering everything from transport to packaging, to power us. We've recently installed electric car charging points across our facilities, and we're actively reviewing how we can reduce our raw materials footprint."
"ADS is a key component to Recipharm's growth plans," as Sebastian explains. "Within the ADS business unit, the Bespak brand brings a lot of equity through its portfolio of commercial products together with a range of pipeline products that will support future growth. We have a fantastic opportunity for growth in our respiratory products, be it oral, or nasal, and the same is true for our autoinjector based products.
"To continue our growth, the priority is to remain focused on our customers and patients, becoming an even more customer-centric organization, while also driving innovation and improvement in everything that we do," he concludes. "If we continue our investment, we can provide improved products and services to our customers, and optimize how we do things internally. For us to push forward and build even greater success, that's what is needed."
Recipharm
www.recipharm.com
Services: Pharmaceutical manufacturing solutions