On a winning curve
With volume requirements increasing for Red Arch Manufacturing as a result of winning new business, the components and accessory parts supplier has introduced key improvements to its manufacturing processes
Many exciting developments have taken place at Red Arch Manufacturing since the automotive OE small/medium volume component and accessory parts specialist last appeared on the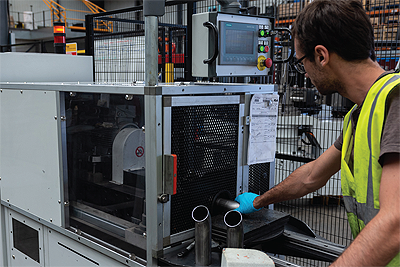 pages of Manufacturing Today Europe three years ago. Growth in sales has walked hand-in-hand with infrastructure improvements and, ultimately, new product development and a number of high-profile projects the Northamptonshire-based company has undertaken in recent times.
"2017/18, in particular, was an exceptional year for us, topped by record sales of £14.7 million. We also opened a new storage and distribution facility, and expanded our capacity at the production site by around 80 per cent to cope with the increase in demand for our products," Red Arch's Managing Director, Mike Theaker, begins.
Listing some of the major highlights for the company in the past couple of years, Mike notes that Red Arch has evolved from producing prototype titanium exhaust systems for development purposes to becoming the UK's largest titanium exhaust manufacturer producing parts for four OEM customers in volumes of up to 800 pieces per year. "To this end, we set up a dedicated titanium facility, including three argon welding chambers with vacuum ante-chambers, dedicated cleaning, drying, and de-gassing facilities. Admittedly, it was a steep development curve, as we had to adapt the existing technology for automotive use, but we succeeded in achieving this task and titanium exhaust systems are now fully integrated in serial production at Red Arch," he explains.
Among the customers that the titanium facility now serves, are reputable names such as BMW, Jaguar Land Rover, and Lotus. One of the first projects that enabled Red Arch to showcase its newly-developed capabilities saw the manufacturer work on BMW's M5 model. The utilisation of its lightweight technology resulted in an optimised exhaust gas routing that has been developed to reduce back pressure and enhance the powerful V8 TwinTurbo sound, also reducing the vehicle's weight significantly.
"Also during 2018, Red Arch embarked on its first project with Jaguar Land Rover Special Vehicle Operations – the Project 8. This low-volume supercar exhaust system pushed the boundaries of all that is possible in exhaust technology with high-temperature ASNEX titanium valved rear mufflers made from thin-wall material and employing several novel manufacturing techniques," Mike passionately discloses some of the details around another of Red Arch's latest works.
Given the prestigious contracts the company has in place, it is just logical that it found a place on the Sunday Times Virgin Atlantic Fast Track 100 list for a second year running, as well as on the WorldFirst SME Export 100 league table. "We are one of the few automotive companies included in the Fast Track again this year," Mike comments. "This accolade increases our profile and provides confidence to our customers and suppliers. We are incredibly grateful to our team, whose skill and dedication in designing, developing, and manufacturing high-quality products, have made these recognitions possible."
Its sustained success has enabled Red Arch to place some sizable investment into its dedicated Advanced department, whose mission is to develop new products and manufacturing processes, and keep the company ahead of the competition. Mike elaborates: "We have significantly improved our internal acoustic simulation code and testing capabilities, benchmarking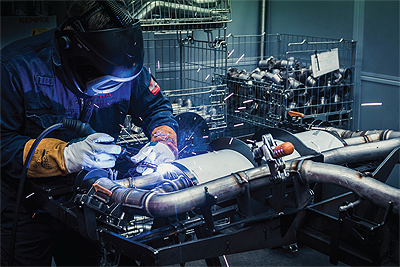 in-house code with commercially available software. The use of a newly-commissioned muffler transmission loss test rig allows us to characterise all development mufflers prior to vehicle testing, reducing development time and cost.
"As a company striving to do everything better than we did before and keen on challenging conventional thinking, we have made further investment in equipment. This included the purchase of a new Crippa 100HE full-electric CNC multi-stack boost bending machine, a Mille Miglia DTR-70E fully-automatic cut off saw, an Adige SC425 rising saw, and a Ling Dynamics Systems (LDS) V726 air-cooled vibration system with LDS DPA-4 power amplifier and B&K control system," he continues.
Moving on to discuss the current state of the market and the opportunities and challenges lying ahead, Mike expresses his satisfaction that demand for Red Arch's niche product has been growing by about 25 per cent year-on-year. "This trend is set to remain as lively as ever in the short to medium-term. Our business plan, particularly from 2021 onwards, looks extremely strong as the business continues its journey to becoming a medium-volume production supplier.
"In the long-term, however, we are fully aware that the move towards electrification and the social, political, and economic changes across the world will transform the automotive industry. Environmental objectives are clearly key drivers for future technologies, even though I believe that we will still require IC engines for a while longer," he analyses. "The key thing, however, is that, over time, we have continuously evolved to meet the new demands of our customers and, to us, maintaining this flexibility will be even more important in the future, as we tackle upcoming industry challenges."
During the next 12 months, Red Arch is committed to launching several new products and further expanding its capabilities. Mike discloses the company's intentions: "A new low/medium-volume heatshield facility will be unveiled shortly, followed by an advanced hydroforming capability. Then, 2020 will see the release of our innovative active sound and AVAS system. What is more, advances in lightweight, high-strength, and composite materials are also in planning right now.
"Crucially, we will continue to implement the change to gasoline particulate filter (GPF) into every product within the factory, addressing new industry requirements. All in all, we are confident that new customers and new markets open up plenty of opportunities and revenue streams, as we move towards our goal of reaching a turnover that exceeds £20 million by 2022," Mike concludes.
Red Arch Manufacturing
Products: Components and accessory parts