The drive for success
Red Arch Manufacturing (RA) is the UK's leading automotive OE small/medium volume component and accessory parts specialist
Incorporated in 1996, Northamptonshire, the UK, Red Arch Manufacturing (RA) celebrates 20 years in the business this year. Established in response to the growing trend for vehicle individualisation and greater diversity in mainstream automotive production, the company saw the opportunity to support this new 'small series' or accessories market and has not looked back since. "Red Arch was responsible for the first John Cooper Works tuning kits," states Mike Theaker, Managing Director of Red Arch Manufacturing. "Approved by BMW and sold through MINI dealers, worldwide sales topped 15,000 units and kick-started the market, which in turn opened the eyes of many vehicle manufacturers to the potential in this sector.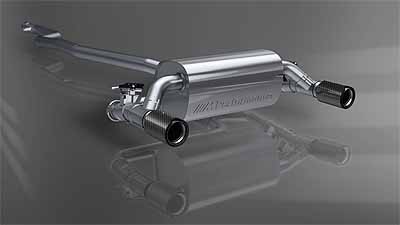 "Market figures indicate growth of 25 per cent year-on-year with a worldwide market totalling 15 billion euros; products in this sector sit within a band of 100-30,000 pieces per year. Within the automotive industry, most suppliers are geared for either much higher volumes of over 200,000 pieces or much lower volumes of less than 100 pieces; Red Arch is aiming to plug the volume gap in the market place."
Beginning operations as an engineering company that only conducted design, development and quality activities while parts were manufactured via suppliers throughout the UK and Europe, RA made the strategic decision to begin manufacturing its own parts in 2013. Two years on the company opened its new production facility in August 2015, which currently employs 36 people in the production, quality, material planning and accounting areas of the business. "With more than £1 million invested during 2015/16 the facility is a state-of-the-art production plant that is designed to be configurable and flexible, with a capacity of 20,000 plus exhaust systems per year and more than 100,000 components," highlights Mike.
"Designed primarily as a tube manipulation and final assembly facility for exhaust systems, exhaust trims and components, quality and continuity of supply was the key factor in its inception," he continues. "As such, Red Arch decided to buy the very best, cherry-picking the latest in machine technology from the best factories across Europe and the world. High quality bent tube is produced on the Crippa 980LE fully electric CNC tube bending machine. With a capacity of 80 mm and 1D bend radius, it provides fast, repeatable and high quality bends."
Initially scanned using a Faro platinum laser scanning arm to check directly against CAD data, the results are used to correct the bending machine settings as required. The scan also determines the length to be cut from each end of the bend; this data is then fed directly to the Mille Miglia DTR-70E saw, which provides safe, fast and burr free cutting. "This technology, along with the tube end forming, slotting and canning machines employed within RA are found in the biggest exhaust factories in Europe at the likes of Eberspaecher and Boysen," explains Mike. "The key drivers for the new facility were quality and continuity of supply. Within the existing supply chain RA found it difficult to support these two critical requirements as the market for this type of product grew. The new factory addresses these issues and provides us with a firm basis for sustained growth and future development."
With more than 400 unique products in its portfolio and a cutting edge factory, the innovative firm is wholly able to meet the evolving needs of its demanding customer base that includes BMW, MINI, Overfinch, Rolls Royce and Aston Martin. In fact, since its plant opened, RA has been delivering almost 10,000 exhaust systems and 80,000 specialist trims and other components annually. "Current products include the latest incarnation of John Cooper Works Tuning Kit, which features RA patented Bluetooth control technology, a system that has proven incredibly popular with all of our customers," says Mike. "The new BMW M2 exhaust also features this technology and is manufactured within the same facility."
Aware that innovation is key to the company's continued success, RA heavily invests in the development of new products and processes and is driven not only by market trends but by customer demands. This strategy of operating has proven highly fruitful, with the company's recent innovative developments – Bluetooth 4 and lightweight material technologies – resulting in 80 per cent growth for the business in 2015/16 alone. Indeed, RA has championed the use of lightweight technology through new materials and new applications for existing materials for a number of years alongside Loughborough University, which has resulted in RA producing 25,000 pieces of one component in 2015 for a major automotive manufacturer. Alongside this innovative development, the company has also reduced overall exhaust system weight by around 20 per cent since 2010, which typically equates to an estimated CO2 saving of up to 1g/1km.
With a brand-new facility in place and a solid returning customer base, RA is prepared for the future demands of the automotive industry, as Mike concludes: "Within the next five years I believe we will start to see the shift in our product range. I think we will be producing more electronic components and systems and less traditional powertrain components. We are already planning for this and see great opportunities within the emerging market sector. The management team at Red Arch are very positively focused on taking the business to the next level, we have very ambitious plans which will further cement our position as a supplier of choice in the exclusive automotive OE market."
Red Arch Manufacturing
Products: Small/medium volume component and accessory parts for automotives