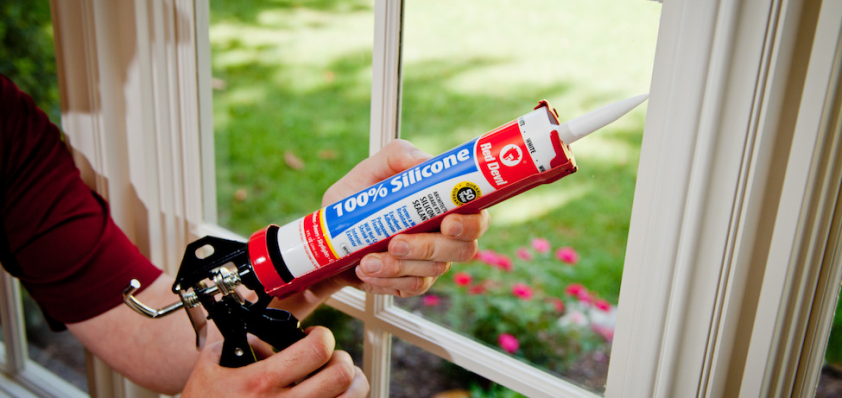 Red Devil Inc.'s ability to quickly meet the needs of its customers has made it a leading manufacturer for more than 145 years.
"I think that what helps us the most is the fact that we can turn on a dime," says Alan Crupper, vice president of marketing for the Tulsa, Okla.-headquartered company. "For example, we are the only caulking and sealant manufacturer in the United States that makes its own caulking cartridges. This capability is one of the things that helps us turn products around within a day or two as opposed to taking two to four weeks."
Several of the company's customers had come to it to manufacture custom products after being turned away from larger manufacturers. "We've had people ask us to match our acrylic caulks and sealants to different colors of siding, and we were able to do that when no one else wanted to," he adds.
Red Devil focuses on providing benefits to its customers that their competitors may not offer. The company's in-house graphics department allows it to give private-label customers a fully finished product.
The graphics department can create original artwork or use art provided by clients for private-label products. "We are in a marketplace with companies that are 10 times our size, so we need to find ways to compete with them," he adds. "We find niches and offer a level of service our customers can't get from a larger company."
Red Devil prides itself on being responsive to all of its customers and providing them with quality service. "We don't differentiate our clients by size – they are all of equal importance to us, and that is hard to find these days," says Ranson Bradford, director of business development for commercial construction products. "Our customers can contact us and we can normally get them an answer to a question within an hour."
Diverse Markets
Red Devil's adhesive and sealant products are sold in both the consumer and commercial markets. Its consumer-facing products are available through retailers, while its commercial products are sold to construction and other professionals through distributors. The company's flagship spackling products are available in more than 60 countries.
Recently, Red Devil has placed a focus on marketing to the home improvement and repair professional. "We've been able to adapt to market changes by diversifying," Crupper says. "For years, many consumers thought of us as a do-it-yourself product and we were strong in the remodeling business because of that, but as time went on we realized we were missing out on engaging the professional marketplace. We have opened up new sales channels by selling into the commercial and residential construction markets. If one of our main markets starts to decline, the other one typically takes off," he adds.
'From Pellet to Pallet'
Red Devil's ability to manufacture small runs of private-label and custom products distinguishes it from its larger competitors.
"Many adhesive companies have gotten to the point where their minimum order is 100,000 or more units," Bradford says. "We have the ability to flex our manufacturing to service smaller customers, and that brings us a lot of opportunities."
The company has the ability to mix its products in batches ranging from 50 gallons, which equals 600 tubes; to 1,000 gallons, which yields 12,000 tubes. "Most companies don't mix in batches of less than 1,000 gallons," Bradford adds.
Red Devil is capable of manufacturing its products in more than 300 different colors. "Our smaller manufacturing lines might change out eight to 10 times during a shift, while our larger lines change an average of twice a day," Crupper says.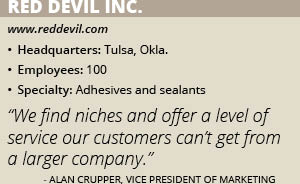 In addition to its batch mixing processes, Red Devil also operates automated packaging and palletizing lines. "We have the ability to go from pellet to pallet," he adds. "Plastic pellets are melted and molded into cartridges. Then they are typically printed, filled, and shipped without ever being touched by human hands."
The company operates injection molding machines to produce caulking cartridges. Offset printers are used to place simple text directly onto cartridges; digital printers are used for more complex photos and graphics.
Red Devil partners with its suppliers to ensure its product levels are properly maintained. Several suppliers use our tank telemetry system to monitor and manage raw material levels in the company's storage tanks. They can then ship out raw materials when levels get low, Crupper notes.
Continuous Production
The company operates multiple filling machines that coordinate with each of its mixes, giving it the ability to run several lines at once. "We could be filling one color or type of product while mixing another batch at the same time," Bradford says. "We are set up to continuously manufacture our products."
Red Devil is able to fill products at a rapid rate. "We are considered a high-speed filler in many of the markets we serve," Bradford says. "For many of the products we manufacture, our competitors are not able to fill at the rate we can.
"While other companies could be filling two products every five seconds and filling 100 to 120 products in a minute, we can fill five times that amount," he continues.
All of Red Devil's product batches undergo extensive quality checks before cartridges are filled. The company operates laboratories in its mixing area and research and development departments. In these laboratories, raw materials are checked to make sure they meet manufacturers' specifications before going onto the production floor. A sample of each completed batch is also kept for one year in case quality complaints are received, Crupper says.
Quality is also stressed in the company's training program for new employees. "Quality is of the upmost importance to our company," he adds. "Our employees learn how to manufacture products correctly and safely. Having a number of long-term employees as well as automated processes helps us be productive and continue to provide customers with the best products possible."
Red Devil's manufacturing operations adhere to ISO 9000 standards, though the company let its formal certification lapse several years ago. "We reached the point where our customers were no longer requiring the certification, but we are still committed to following the [ISO] standards," Crupper says.
Underwriters Laboratories' GREENGUARD Environmental Institute certifies many of Red Devil's products to have low chemical emissions, making them safe for use in schools and public facilities.
History of Innovation
The company was founded in 1872 as Smith & Hemenway Company Inc., in Smith, N.H. Initially, the company manufactured blacksmithing tools including the patented "Woodward Wizard" glass cutter, which featured a tiny wheel for scoring glass and could also be used as a glass breaker, can opener, corkscrew, knife and scissor sharpener and tack hammer. The company soon earned a reputation for quality and reliability based on the "Woodward Wizard" and its other tools.
The company began using the Red Devil trade name after its founder, Landon P. Smith, heard a blacksmith refer to "little red devils" after sparks from a forge burned his arm.
By the early 1900s, the Red Devil brand was most closely associated with tools for professional and DIY projects. In 1932, the company acquired Vesco Tools Company's line of wood scrapers, the first of several acquisitions that would expand the Red Devil brand into painters' hand tools. The company during the 1930s would also move its hand tool manufacturing business to New Jersey.
In 1963, the company acquired the Schalk Chemical Company, adding a line of adhesives, cleaners and sealants to its growing product line. Chemical products quickly became a big part of the business, as the company would eventually develop innovative products including ONETIME® Lightweight Spackling, the first lightweight spackling product on the market; and LIFETIME® Adhesive Sealant, the first siliconized acrylic sealant guaranteed to last a lifetime.
Red Devil expanded its chemical product business in 1972 when it built its 125,000-square-foot factory in Pryor, Okla. The facility today is the company's only manufacturing plant.
Strong Support
Now in its fourth generation of family leadership, Red Devil continues to introduce innovative new products including a new line of high-quality HVAC duct sealants. "We have extensive research and development department that helps us be knowledgeable about specific applications for potential new products, and we can innovate with regard to any particular product we make," Bradford says.
Crupper and Bradford credit the company's R&D staff as well as its other departments with its continued success. Several employees have worked there for more than 20 years, a few have been there more than 40 years, and one employee recently passed the 50-year mark.
"We are very proud of the relationship we have with our owners," Crupper says. "The support our owners show to the company and our employees is phenomenal."