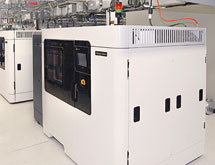 Ask Jeff Hanson, business development manager at RedEye On Demand, and he'll tell you the factory of the future is headquartered in Eden Prairie, Minn. Hanson helped launch the digital manufacturing company in 2005 after working for parent company, Stratasys, for more than 10 years and explains how RedEye is leading the future of manufacturing.
RedEye On Demand of Stratasys is an innovative force of nature. It is the world's largest provider of additive manufacturing (3-D printing) and direct digital manufacturing (DDM) services. RedEye is the source for creating low-volume, high-quality complex models and working parts made from one of the largest selections of real, durable thermoplastic materials, including ABS, polycarbonate, PC-ISO certified PPSF and ULTEM.
From digital 3-D CAD files, RedEye quickly builds models and parts of any size and from anywhere in the world with precision, speed and accuracy. According to Hanson, this ability provides product engineers the freedom to design and innovate for multiple iterations throughout the product design and development process without penalties, it supports green manufacturing and increases the bottom line for customers by mitigating risk and saving time and costs to market. RedEye is able to achieve this by leveraging unique R&D efforts with Stratasys, as well as its own global network to apply innovative Internet Communication Technologies (ICT), and a real-time quoting engine.
Global Capacity
Here is how it works: The manufacturer customer uses RedEye's online quoting engine, specifying real-time delivery dates of multiple parts to enable proficiency with supply chain management and global production orders. The implications of this are enormous as tightly predictable scheduling provides greater control for the customer, along with significantly less waste.
As an example, an OEM assembling various plastic parts may use various mold shops and molders to coordinate deliveries, but with RedEye's digitally predictable production, the OEM can use just one supplier and can choose the timing that all components or parts appear. This reduces work-in-process inventory and eliminates mold tooling inventory.
In addition, "With RedEye's global network, custom parts can be produced anywhere in the world, including, the closest possible point to assembly plants," Hanson explained. "This helps avoid shipping and global transportation fees or taxes and increases speed of delivery."
RedEye helps product engineers eliminate cost increases and time delays associated with modifications and redesigns, which account for over 60 percent of product designs submitted. "RedEye brings design and innovation to the forefront with additive manufacturing," Hanson says.
This gives engineers the freedom to design multiple iterations simultaneously with minimal additional costs, so companies do not have to tolerate design flaws that come with amortizing the cost of the manufacturing tool before starting over. This yields big rewards for manufacturers, including compressed production schedules, better products, more product designs and, ultimately, more products.
"RedEye's model for a factory of the future is emerging," Hanson says. "Companies are just beginning to see how transformative additive manufacturing is for producing low volumes of complex prototype and production parts fast."
Hanson explains that additive manufacturing is a bridge to traditional subtractive manufacturing to get production parts to customers faster and cheaper.
"Product development engineers can use additive manufacturing technology in lieu of the capital investment into tools and the constraints put on the design by the traditional methods," he says.
Hanson sees the company's customers pushing RedEye's growth. The company has more than 130 systems it manages in North America, Turkey, Australia and Europe, and plans to make an incursion into South America by the end of 2012. RedEye's not stopping there; the company has already begun adding more capacity and expanding offerings to support customers' rapid prototyping and manufacturing needs through the entire product development cycle.
In 2012, RedEye has added cast urethane molding services, injection molding services and has earned ISO 9001:2008 certification and AS9100C certifications for achieving quality management standards in aviation. RedEye has also added a new thermoplastic material – ABS-ESD7 – for its static dissipative properties, and has increased global manufacturing capacity by 50 percent by adding over 40 machines in network facilities in Belgium, Turkey and Brazil.
Many industries have taken advantage of RedEye's fast and accurate manufacturing process, including aerospace, automotive, electronics and healthcare. "We serve all vertical industries," Hanson explains. "We have grown to be a product development solutions provider, customizing parts that help companies develop their own products."
It's About Speed
The company's versatility and short turnaround times attracted a large government contractor in the optics field during the war in Afghanistan. The contractor needed a large number of flashlights that would be mounted on weapons, and it needed them fast. The customer's previous supplier required 12 weeks to turn around this order, so the contractor approached RedEye to expedite the process.
"They asked us if we could make the parts on demand faster," Hanson explains. "We received the first file, produced the component and shipped it to the optics contractor for revisions the same day. They reviewed it and found they had to make some design changes, so they manipulated the design and re-sent the file."
All this was completed in a couple of days, according to Hanson. RedEye was able to complete a 1,000-piece order within two weeks, shipping the pieces in intervals. During this timeframe, the contractor detected a design flaw. RedEye was able to help the contractor improve its design while maintaining its on-time delivery promise.
Once product development engineers and traditional manufacturers understand how they can apply additive manufacturing to transform processes, it becomes easier to envision what factories of the future will look like, Hanson adds.
"Ten years from now, additive manufacturing will have caused so much disruption in the supply chain, that it will be a widely used tool among manufacturers to boost productivity," Hanson says. "What's exciting is that these factories of the future and the capability exist today."