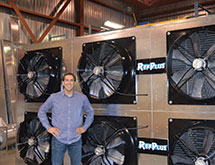 Founded in 1994, RefPlus has grown into a leading manufacturer of commercial refrigeration and precision cooling products. Having evolved from its roots in the Quebec marketplace, it now sells coast to coast in Canada, the United States, Mexico and Western Europe.
"We are heat exchange and refrigeration equipment specialists," President Mathieu Cardinal explains. "We have complete lines of commercial and industrial refrigeration equipment and precision cooling equipment."
From its beginnings, RefPlus has focused on offering high-quality, efficient products and responding to client needs. The company's customization capabilities allow it to offer client-specific solutions. It has state-of-the-art manufacturing facilities along with design and engineering talent located in St-Hubert, Quebec, a suburb of Montreal.
"We have more than 100,000 square feet of manufacturing space and approximately 200 employees," Cardinal says. "We commercialize and sell our products throughout North America and have some overseas European clients."
In June 2012, Phoenix Partners, a buy-out fund funded by a group of Quebec-based entrepreneurs and the Fondaction, a Quebec-based institutional investment fund, acquired RefPlus. At the same time, the investment group acquired Ecosaire, a leader in precision environmental cooling systems equipment with more than four decades of experience. Today, this combined portfolio is committed to the delivery of industry-leading quality products and the highest possible customer support.
Product Depth
RefPlus offers a complete line of refrigeration products, from the small standard units to large, complex systems. Today, its products range from coils, condensers, evaporators, condensing units and fluid coolers to compressor rack systems, heat reclaim units, air handlers and precision air conditioning for server rooms and switching stations. RefPlus' catalog of products can be used in a variety of applications, including food retailing, food transformation and processing, warehousing, industrial process refrigeration and data room cooling.
"Our strength is in intelligent refrigeration equipment, as we are at the forefront of technological development," Cardinal says. "We strive to offer the most energy-efficient products for our customers by being at the leading-edge of R&D. We offer a complete line of standard products that we stock in our warehouse and with our wholesaler clients that distribute to the refrigeration contractors.  We also specialize in customization more so than most of our competition as we have developed internal processes that allow us to treat every order according to specific client needs."
RefPlus serves its markets directly, as well as through a network of reps and distributors based in various North American locations. In Canada, the company works with nationwide independent wholesalers. Its process of reaching the market in the United States is similar, but RefPlus also sells directly to large contractors. To work with wholesalers and end-users, RefPlus must offer a complete line of products to provide refrigeration contractors with all of the options they need.
"This is why we must continue to develop our line of products to cover the complete spectrum," Cardinal says. "The product line needs to be updated every few years so it is the most economical and efficient in the market, and [we] also want to make sure we offer the best service to wholesalers from the time they spec a job to the time a sale is complete, as well as with aftermarket support."
In addition to working with top-quality distributors, the company looks to work with the best possible suppliers. It looks for vendors that can provide service in a timely manner and allow RefPlus to offer the best prices to customers.
"As an OEM, we are careful in selecting suppliers known for quality, good lead-times, and the right pricing," Cardinal says.
Improvement Initiatives
RefPlus is always looking to bring improvements to its products so they are less costly, more efficient and always using the latest technology. The company's R&D team is very active, looking into what suppliers are doing so it can bring in the latest options. The company is also looking for ways to improve production efficiency so it can reduce lead-times and be more responsive to customer needs.
"We work with consultants to continuously improve our lean manufacturing processes, and we also itemized some of our manufacturing operations," Cardinal says. "Last year, we purchased a piece of machinery for tube bending that allows us to automate one step further our manufacturing process. That new robotic function not only reduces man-hours, but also improves the quality of our products. We are continuously looking to improve quality control, looking for pieces of equipment that can help test products at the end of the production cycle."
RefPlus recently purchased equipment to better test its products such as condensing units, compressor racks, condensers and evaporators for refrigerant leaks. In addition, the company has been proactive in investing in the CO2 trend. It added new machinery that expanded its ability to produce equipment that can provide refrigeration using CO2, which is part of a green trend in the industry.
"Governments are looking to eliminate the use of refrigerants that are harmful to the ozone layer, which puts more pressure on customers to look into natural refrigerants like CO2 and ammonia," Cardinal says. "Grocery chains, for example, are now building new stores that utilize CO2 refrigeration equipment. That is why we have been investing in new equipment and started to offer CO2 gas coolers and evaporators in the last few years."
With deep product offerings and a commitment to industry leadership, RefPlus has its sights set on growth in the coming years. "Our growth opportunities lie in expanding our reach in the U.S.," Cardinal says.
"We are already strong across Canada and have solid distribution channels, so most of our potential for growth exists in acquiring more clients in the U.S. market and being a larger player there," he adds. "We face many challenges as most companies do and our industry is a competitive one. To overcome these challenges, we will continue to invest in R&D to be at the cutting-edge of technology and we will continue to recruit the best employees to execute our strategic plan. As our industry continues to evolve technology wise and as governments are implementing new regulations to better protect the environment, we are looking forward to the coming years and our continuous development of new products to address these new opportunities."