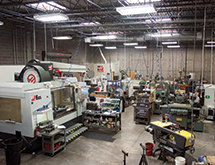 Founded in 1979, Reid-Ashman has become the world's leading supplier of mechanical solutions to the semiconductor test industry thanks to its commitment to quality and customer satisfaction. Founded in San Jose, Calif., and now based in St. George, Utah, Reid-Ashman can design and develop equipment and customize products in ways that meet the challenges of its customers' test-floor environments and test-system applications.
Reid-Ashman designs and manufactures test head manipulators, electrical interfacing products and mechanical interfacing products for the semiconductor test industry. As a vertically integrated organization, Reid-Ashman maintains control of the entire manufacturing process. Its administrative, production, engineering, quality assurance, shipping and receiving, machine shop, crating and paint shop are all housed in two buildings on the company's five-acre site in St. George.
"Rather than outsourcing, we brought everything in-house when we moved to Utah," President Mark Reid says. "We own our facilities. All of this has given us a lot of control over the production process.  The only things we outsource are sheet metal, welding and commercial items like bearings."
Ready and Able
The company is capable of providing innovative, cost-effective manipulator and interface solutions to the semiconductor test industry. It has a staff of experienced mechanical and electrical engineers that can provide creative, safe, and reliable custom designs that exceed industry standards.
"Our customers are the companies that test the silicon wafers before they get onto a printed circuit board," Reid says. "You can't solder together a printed circuit board and find out a chip is bad. Our customers are the big memory chip and system-on-a-chip testers. They come to us for manipulators that are integrated to fit their needs."
Reid-Ashman's manufacturing department is focused on everything from innovation, collaboration and lean process development to continuous improvement and customer satisfaction. Its machine shop, paint shop and crate shop are all outfitted with state-of-the-art machinery and software. All of this allows Reid-Ashman to provide value to its customers.
In addition, its quality assurance department keeps a close watch on projects throughout the production cycle, from inspecting incoming parts to a final inspection prior to shipment. This includes periodic audits of suppliers to ensure the highest possible quality of parts coming into the plant.
Outside of Utah, Reid-Ashman has sales and service personnel located around the world. The company has service representatives based in the United States, Germany, the Philippines, Taiwan, Japan, Korea, Singapore, the United Kingdom and Israel. This footprint allows its field service department to provide customers with world-class service by quickly assisting with issues when and where they occur.
"We have customers all over the world," Reid says. "When the company first started, most of our customers were within driving distance of our original location in San Jose. As the company and the industry evolved, we moved to Utah and now most of our customers are in Asia."
On the Move
Reid-Ashman has continued to evolve by keeping on top of the direction of the semiconductor industry and looking for other opportunities as they arise. For example, the size of semiconductor test heads has continued to increase over the years. Reid-Ashman has had to keep up with those size increases.
"Test head manufacturers want to get more into the test head, so it keeps getting larger and larger as they try to fit everything into the smallest possible footprint," Reid says. "Customers want to be able to move a heavy test head around and do it safely. We can hold up to 3,000 pounds in our test head manipulators; the more than 3,000-pound capacity of our test head manipulators will be important."
Reid-Ashman also understands the nature of the semiconductor market. Reid says it is either hot or cold with no in between. Regardless of the market conditions, Reid-Ashman wants to maintain its staff, so it looks for contract manufacturing opportunities as needed.
"Right now, we have a customer in St. George that is building natural gas tank assemblies for large trucks," Reid says. "They had outsourced some engineering to an engineer who used to work for us. When they moved into building the prototype, the engineer directed them toward us. We started building and painting some parts and now we are building the tank assemblies, painting them and procuring parts."
But the semiconductor test head market will continue to be the core of Reid-Ashman's business. As the company looks forward, it will strive to maintain its position as the world's leading supplier of mechanical solutions to the semiconductor test industry. Reid says the industry is evolving and a transition to 450 mm wafers is likely to occur in the near future.
"We've been focused on research and development so we can be the manipulator manufacturing leader," Reid says. "The 3,000-pound capacity of our test head manipulators will be important as those wafers hit the market. We need to make sure we can hit the ground running with equipment that can handle test heads needed for bigger wafers. As the switch occurs from smaller to larger wafers with bigger yields, that will spur growth in the industry and we must have the equipment needed to handle the larger test sizes."
Keeping watch on the semiconductor industry, finding contract manufacturing opportunities as necessary and continuing to improve its already impressive capabilities will ensure that good times are ahead for Reid-Ashman.
"We own our own property, pay cash for everything and try to manage our growth," Reid says. "That has helped us stay out of debt, which has helped us succeed when times get lean."