Remee Wire and Cable COO Eric Muhlrad likens his company's flexibility in manufacturing its namesake product to being a speedboat – it can immediately change direction when needed. Many of the company's manufacturing peers, however, he compares to oil tankers – large and less easily maneuverable.
"We always tell people that we're large enough to handle volume, but small enough to react to their needs," he says. "We can handle million-foot runs, but if you have a small drop or something unique, we can do it. My competitors wouldn't take the time to plan that out."
Founded in 1971 by Muhlrad's father, Al, Remee Wire and Cable manufactures Ethernet Category 5, 6 and 7; coaxial; direct burial; fiber optic and other cables. Cables and wires manufactured by the company have a variety of uses including in local area networks (LAN), data centers, control/security systems, home automation and multimedia systems and fire alarms. "We can manufacture all low-voltage cables – anything that doesn't require a circuit breaker, we can provide," Eric Muhlrad says.
Remee Wire and Cable prides itself on providing personalized service to its customers. Distributors are the company's main customers, though it also often works directly with end-users or contractors on major projects. "We're proud of being nimble enough to work with our customers to design and develop a cable that satisfies their needs," Muhlrad says.
The company's project-specific capabilities include working with clients such as hotel chains to determine their wiring and cabling needs. Remee Wire and Cable can then manufacture cables that contain different conductor components – such as coaxial, Category 5 or Category 6, speaker wire or component video cable – under a single jacket. This allows the cable to perform multiple functions including providing signals to cable televisions and security systems. "The cables will take up less space, and when the end-user does installation, they can save installation time," he adds.
Muhlrad credits Remee Wire and Cable's flexibility and overall capabilities to his father, the company's president. "He has been the driving force of this company," he says. "He has a strong desire for us to stay in front of our competitors with the newest designs, and enables us to be nimble enough to come out with designs others might not have thought of themselves."
At the Forefront
Remee Wire and Cable's ability to manufacture multi-function cabling reflects its focus on keeping up with changes in technology. The company adapts to technology and market changes in part through its membership in the Telecommunications Industry Association. The association sets the standard on category cables.
One technology that has evolved during the company's more than 45 years in business is fiber-optic cable. The company is growing its capabilities in providing single-mode glass fiber-optic cables, which are used in long-haul applications such as on telephone lines.
The glass used in such cables to transmit data is in short supply nationally, but Remee Wire and Cable maintains a steady supply of it thanks to the efforts of its suppliers. "We have a six-week lead time on those, while our competitors take about 15 weeks," Muhlrad says.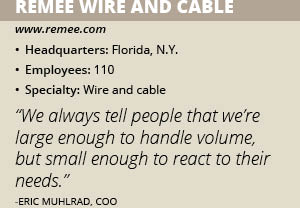 The company is also improving its capabilities to produce fiber cables, which can handle higher bandwidths than many copper-based cables; power over Ethernet cables, which can run power over a data cable; and cables used in distributed antenna systems, which are used as the backbone of large wireless systems.
To keep up with these new technologies, Remee Wire and Cable invested in new machinery and equipment. The company's newest machines allow it to extrude or wind 2,000 or more feet of cable a minute. "Our existing machines can build these new cables, but new machines can do it faster and with greater efficiency, allowing us to build efficiencies of scale," he adds.
Under One Roof
Remee Wire and Cable manufactures all of its cables in a 200,000-square-foot manufacturing facility in Florida, N.Y. The company is ISO 9001 certified.
"We have competitors who have the breadth of operations that we do, but make different types of cables in multiple factories – we do it under one roof," Muhlrad says, noting that this reduces shipping and lead times. "We have found that being under one roof creates a dedicated team constantly working to exceed our customers' needs."
The company's manufacturing process begins with running inner cable components such as optical glass or copper through an extruding machine, which melts the cable's outer jacket over the components. After extrusion, cables are wound together and then packaged. "Depending on the cable we're combining, we can then take other components, apply another jacket to it and run it through extruder again," he adds. "Everything in our manufacturing process is based on extrusion – it's just a matter of what's going under the jacket."
Remee Wire and Cable operates 18 extrusion lines, giving it the capability to run several different types or lengths of cable at the same time. The company produces cable in a variety of standard as well as custom lengths.
Each cable is tested in an on-site laboratory after each manufacturing run. "That's how we make sure our quality is consistent throughout the process," Muhlrad says. Incoming materials are also inspected, and quality control is performed throughout the manufacturing process.
Remee Wire and Cable's employees are trained in how to use every type of machine in the facility. "We have built very good processes over the years to get the most efficiency out of our machines, and we've done that because of the experience of our people," he adds.
Training emphasizes quality, service and value (QSV). "It is our mission to combine quality, service and value into each product so that it creates an enhanced benefit through our channel partners to fulfill customer needs, while exceeding their expectations," the company says. "Quality, service and value are woven throughout our organization. Our QSV program is part of every employee's responsibility."