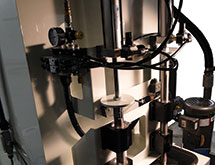 Barney has looked for and found the same characteristics in others as the company morphed into what it is today – an ensemble of proud employees, all of whom are experts in their respective fields, and all who are working in unison to handcraft a collection of parts washers of all types.
Those parts washers address every need, from a one-man auto mechanic style operation to a production line style set up needed to wash, rinse and dry small or large materials in a timely manner either once a day or around the clock.
While there is a stable of Renegade machines to choose from, the troop is always excited and ready to explore, as well as expand what it offers. With a mechanical engineer on staff, Renegade has in recent years expanded successfully into the custom style parts washer market with the introduction of its iSeries.
Global and domestic companies producing high volume machined parts in the transportation, aerospace, oil and gas industry and industrial construction industries have sought out Renegade with specific needs for a production cleaning system, and the Renegade crew has designed and fabricated the right machine for each of their unique needs.
Helping those companies get to the finish line on these projects is an expert sales staff armed with a knowledgeable and friendly support staff that can direct a customer to the correct machine, based on size of parts needing to be cleaned or, in these cases, specific cleaning requirements or clean specs. The company's sales staff takes pride in being able to listen carefully and understand the client's needs thoroughly. The ultimate goal of not only sales but the entire Renegade team is to ensure that they do not under-produce or over-produce a machine which could drastically alter the effectiveness and the cost of the machine.
But one thing stays true no matter which type of machine the company turns out, says Barney, and that is the pride and persistence of its employees that is embedded in every step of the manufacturing process.
"We check the parts and equipment through every stage of manufacturing," Barney says. "In fact, a part cannot go to the next stage before it is inspected. When parts are cut and formed and sitting in a pile, our engineer goes through and measures them. Then, parts are welded together and after the welds are done, they are tested again to make sure they are watertight and inspected before going into painting. After painting, the parts are inspected again."
Once the parts have made their way through the inspections, the machine can be assembled with an engineer keeping a watchful eye on the process.
The next stages are no less thorough. The electrical crew works to put together everything from the basic heating and operating processes to other specific functions based on the needs of the client.
Perhaps the biggest significant changes in the production have come in this area, and in recent months it has grown from regular wiring on machines into a true nerve center for Renegade's most recent models, as the manufacturing crews work in conjunction with the engineer and, if needed, outside experts for the installation of computerized programmable logic controllers (PLC) units and robotic functions, as well.
Each custom machine brings different needs and issues to overcome and the Renegade team welcomes these challenges. Whether it's an in-line conveyor system, robotically loaded and controlled system, or simply a matter of programming a PLC unit for maintenance and trouble shooting, the engineering staff at Renegade can design, fabricate and build a machine specific to each customer's unique needs.
However, the pride and persistence continues after the machines are built, Barney says.
"After all of the inspections, we test the equipment for a minimum of three days and up to two weeks," he explains. "The length of testing depends on the sophistication of the unit. Production cleaning is a very critical task, so we thoroughly test the system as if it is going through a regular operation."
Although the ever-advancing custom machines create new and exciting challenges, the Renegade staff also knows its roots and puts the same attention and care into building all of its machines, from its largest models right down to the same polyethylene manual machines that the company was built on.
"Designing, building and shipping our parts cleaning systems is just the beginning of our relationship with each customer," Barney says. "Our customer service is second to none. All customers get follow-up calls six to eight times per year to make sure the equipment is working well and everything functions as planned.
"We take a proactive stance toward maintenance and customer service," Barney continues. "The customer shouldn't have to look us up. We actively let them know we are here to help on a regular basis."
So while the company still retains its legacy of manufacturing systems for maintenance and repair operations that need automated cleaning equipment for automotive, farm, construction, truck, locomotive and light industrial components, Renegade is quickly being recognized as a bona-fide competitor in production cleaning.
The Renegade team gladly welcomes potential customers to contact them for their next production cleaning machine. The company is confident that each new customer will experience firsthand the difference that Renegade's pride and persistence can make not only to a finished machine, but also to a customer's bottom line. mt
For more information on Renegade Parts Washers and the various machines included in its lineup, visit www.renegadeclean.com or call 800-774-7900.