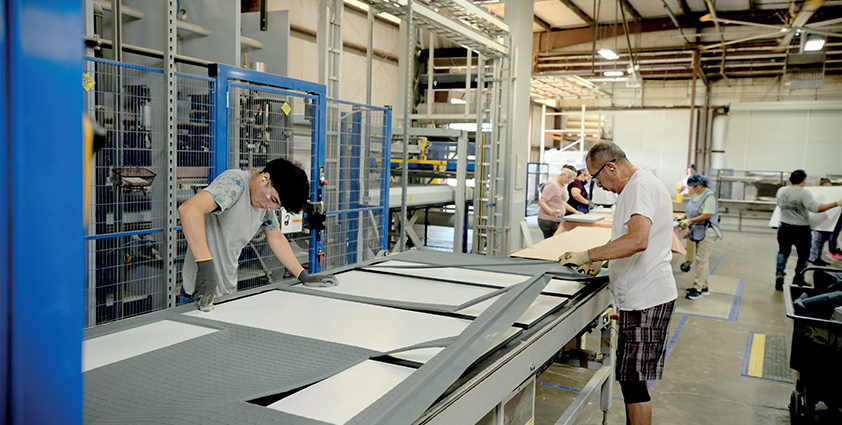 Interiors with an elite edge.
With its wide range of cabinets and countertops, Republic Elite sees enduring success in the multi-family home market.
With 50 years of cumulative experience in the design, production and installation of multifamily kitchens and bathrooms, Republic Elite continues to provide unparalleled service to customers across the US. Having enjoyed rapid growth over the last five years, the company continues to drive success through innovative product design and investment in people and processes.
As the product of a major merger between two of the most trusted names in multifamily interiors, Republic Industries and Elite Multifamily Interiors, Republic Elite has a long and impressive history behind it. "The company was founded in Texas in 1975. At the time, it was largely focused on manufacturing traditional framed cabinetry in the Marshall, Texas plant," details Chief Executive Officer at Republic Elite, Duane Pekar.
"We've had a long and exciting journey since then; some of the highlights include the expansion of our product line in 1999; 2017, where we introduced a range of really up-and-coming designs into our portfolio; and the acquisition of Elite Multifamily interiors in 2015," Pekar continues. "With that acquisition, we were able to start supplying customers high-grade, natural stone and quartz countertops, matched with our classic range of cabinets."
Pekar added that over the past five years, the company started growing rapidly. Republic Elite began expanding its footprint outside of Texas, investing heavily in facilities and connections on the East Coast, from Florida all the way up to North Carolina. There were also other areas of focus, such as Colorado, where it established a presence through a network of sales and service personnel. He emphasized that the company is; "still growing today, with over 50 percent of our revenue now coming from outside the state of Texas.
"Our story is really one of strategic growth that leveraged our honed and proven skills to expand outside of our home state. We very intentionally replicated the success that we saw in Texas in new markets, and it's really paid off for the company. In 2021, we were able to open a brand-new manufacturing facility for cabinetry in Georgia, which will continue to support our Eastward expansion efforts."
With decades worth of industry experience, Republic Elite continues to stand out from the crowd. Pekar believes there are several things that set the company apart from the competition. "For one, we don't view ourselves as a cabinet and countertop company – instead we define Republic Elite as a project management organization, offering specialist turnkey interior solutions, from design to installation, for all of our customers.
"Second, we focus almost exclusively on large, multi-family projects that cover at least 100 units, and we work primarily with new-build construction. We invest heavily in our service teams, because they are our main point of contact between the manufacturing/operations side and the construction/installation side."
Pekar also discussed Republic Elite's experience managing a range of challenges on site, and its heavy investment in field service capability, expertise and qualification means that installation teams can consistently provide a fast, reliable, and high-standard service. "Going that extra mile allows us to fulfil the promises of our brand, with worry-free installation for all customers."
Alongside its comprehensive service offering, Republic Elite continually designs and develops a range of innovative new products for its customers. "On the other side of our operation you have our design and manufacturing process. We invest heavily in product innovation, which allows us to stay ahead of the curve in the rapidly changing multi-family market.
"We know how important contemporary, eye-catching kitchens are. As one of the most prominent elements of an apartment, kitchen counters and cabinets are incredibly important to prospective renters. We understand that if someone falls in love with the kitchen, they will typically rent the unit, so it's our mission to make those spaces as appealing and inviting as possible."
To that end, Republic Elite has launched its own private label brand of quartz, called 'Catalina Quartz' which means it is able to continually provide customers with unique countertop designs.
"More recently, we have added a series of accent colors to our cabinet line, these give the final product a unique finish, which can be semi-customized to give the entire unit a sense of bespoke charm. Additionally, we have been working to add to our offering with a new range of non-porous, shower-surround material. This material looks like a high-end marble, offering a fresh alternative to conventional tile and those hard-to-clean grout lines. We have seen a lot of success with this line, so we plan on launching several new finishes for it in the next year," Pekar enthuses.
The company's extensive capabilities are supported by its advanced network of manufacturing facilities. Significant investments in people and equipment combined with Lean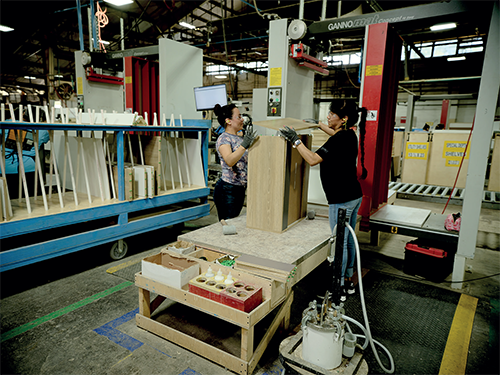 Manufacturing principles, have helped optimize Republic Elite's operation in recent years, as Steve Garwood, SVP of Operations, reveals: "We have invested in state-of-the-art technologies including automated machine loading/unloading equipment, automated cut on demand material packaging, cutting saws, edge banders and machining centers to reduce waste and increase capacity.
"As we invested in the equipment, we also changed the plant layout to leverage Lean Manufacturing principles transforming our facility from a batch shop to single flow throughout the entire operation. From material arrival to shipping, we have a cohesive flow of material and activity, greatly reduced non-value-added workload of our associates which drove down lead times and improved the quality of our product for the customer."
This dedication to continuous improvement has given Republic Elite the opportunity to establish its presence from coast to coast. Garwood provides insight into the company's future, as it continues to gain momentum: "Republic Elite continues to be known for its continued geographic expansion and exceptional service. We expect 2022 volume and revenue to be up 15-to-20 percent year-over-year, and we anticipate that level of growth again in 2023, based on the large backlog of projects we currently have booked."
In the long-term, Republic Elite will continue investing in its people, and working towards an established national presence. As Pekar concludes: "One of the things that is very important in a business like this is having disciplined growth to create market density. We have a lot of well-trained resources on the field service side of our operation and having an intentional footprint allows us to be more effective, proactive, and profitable as a company.
"In three-to-five years, we will have continued to drive Lean Manufacturing, not just in our factories but in every area of our business. We will also continue to get better at everything we do across the company and expand as a result.
"At the end of the day however, this business runs because of the people behind it, so we will continue to do everything we can to support our employees, from online training courses to a tuition refund program. Those extra elements make Republic Elite a great place to work and prepare it for whatever the future may hold."