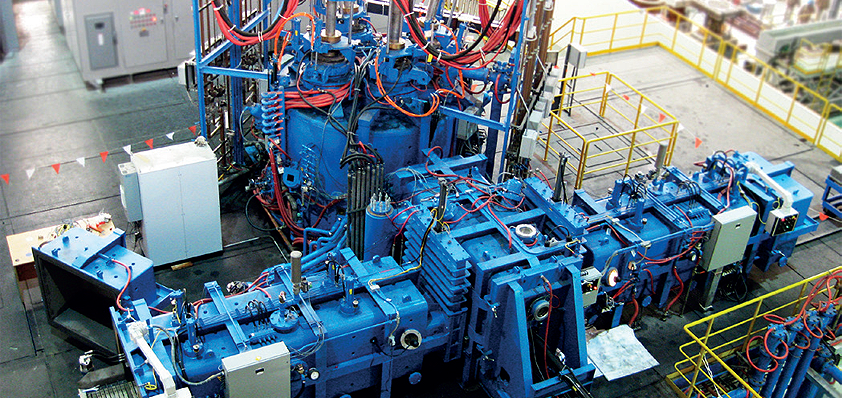 Innovation on the East Coast
Backed by fresh investment and benefitting from its recent relocation to Buffalo, New York, Retech Systems continues to operate as a global leader in the supply of vacuum metallurgical processing equipment
A reliable, respected supplier of vacuum metallurgical processing equipment to highly demanding industries and ever-changing markets, Retech Systems is widely considered the most fully-integrated custom furnace manufacturer in the world. Providing cutting-edge R&D, engineering and manufacturing equipment used for melting, refining, casting, and atomizing of reactive and refractory metals (like Titanium), the firm has dominated the market since its inception in 1963.
Founded in Marin County, California, Retech became part of the SECO/WARWICK Group of companies in 2011, helping the business to further expand its manufacturing presence around the globe. Additionally, Retech established and maintained the industry standard for customer service and support.
"Our key products include Plasma Arc Melting (PAM), Vacuum Induction Melting (VIM), Vacuum Arc Remelting (VAR), and Electron Beam (EB) melting systems. As such, we address both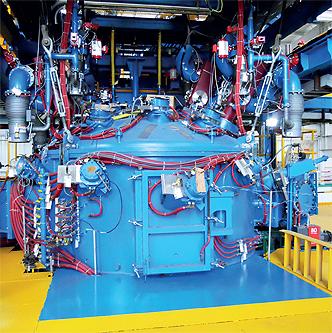 new capital equipment and aftermarket needs at Retech, as both are important aspects of our business," explains President and Managing Director Earl Good. "Servicing equipment, both ours and our competitors, as well as providing parts for refurbishments or rebuilds is a big part of what we do as our customers look to us to keep their systems in operation and performing well."
Though Retech has always had a global reach, the company's relationship with SECO/WARWICK has enabled it to open up additional manufacturing operations closer to its customers. This means that, alongside growing demand in the US, Retech is now able to take advantage of more opportunities for localized manufacturing in Europe and Asia.
"SECO/WARWICK has a strong furnace presence through its vacuum heat treat, CAB (controlled atmosphere brazing), aluminum heat treat and other business areas such that we are able to piggyback on their strengths," Earl says. "Today's global economy means certain countries prefer products to be manufactured locally and our relationship with SECO/SystemsWARWICK helps there too. If a customer wants something made in Europe, for example, we can leverage our parent company's extensive capabilities to make that happen. As our integration has strengthened over the last few years, we have been able to work together with SECO/WARWICK to collaboratively deliver a number of quality systems to customers worldwide."
In October 2020, Retech marked the beginning of the new decade with one of the most significant moves in its history. The company opened up a new office and manufacturing facility in Buffalo, New York. Located amongst a number of highly respected engineering establishments, such as the University of Buffalo, Penn State, Cornell and Rochester Institute of Technology, the new site provides Retech with adjacency to both core customers and new recruits.
"A location on the east coast means we are close to the old rustbelt, so we are now within a short drive of key companies and institutions," Earl states. "We still have our office out in Ukiah, which is home to a number of engineers, designers and product directors, but Buffalo will make it a lot easier for us to employ new staff and build stronger client relationships.
"We also have the ability to carry out manufacturing and assembly in our new 40,000-square foot space here in Buffalo," Earl adds. "We are doing production and assembly work in our shop right now, so that's a big plus for us as well."
Strengthened by its new base in Buffalo, Retech continues to evolve. For the last three years now, the company has benefitted from a program of investment centered around upgrading its capabilities and developing its products.
"For many years there wasn't much investment in our company. However, since 2018, we've rectified that as we are frequently improving our equipment and facilities," Earl remarks. "Digital services are also becoming increasingly important so, most recently, we've started modernizing our website, developing a mobile app, and publicizing our ties to SECO/WARWICK."
Alongside software upgrades and the purchase of new manufacturing equipment, including CNC machines, Retech is also channeling a large portion of its funds towards diversification. As part of efforts to discover different materials with which it can support its customers, Retech is looking to establish its own metal powder production business geared towards equipment sales followed by the potential for the sale of niche metal powders.
Retech's continuous quest for improvement means that Research and Development has become a crucial component for the business, and its work remains instrumental to the company's success today. With one EB furnace and two plasma furnaces reserved for R&D and materials testing, as well as a VIM furnace installed at SECO/WARWICK, Retech sits at the very forefront of the industry's pursuit of progress.
"A lot of customers come to us asking if they can use our furnaces to produce small batches of material, or sometimes a few tons of material. The fact of the matter is that we are adding to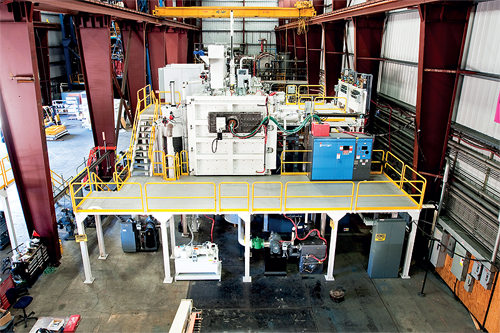 this capability and it is something we are looking forward to doing more of in the future," Earl points out. "Covid meant we couldn't get those furnaces relocated from Ukiah to Buffalo very easily. However, we are now having them installed and we are hoping to have one up and operational in April. We have a nice backlog of customers looking to do test work. It's an ability that sets us apart as our competitors don't offer that opportunity prior to purchasing a furnace."
Of course, a business is more than just processes and equipment. Retech is keenly aware of this fact and, consequently, the company invests as much in its workforce as it does in new technology.
Since 2017, when he first arrived at Retech, Earl has worked tirelessly to create a customer-value centric, team-focused atmosphere across the business. An important upshot of Earl's effort is an organizational culture built around teamwork and communication, making Retech a company where employees thrive as a group, but where individuals still have the opportunity to stand out.
"I think people are vital. I think they define any business. The relationships that your employees develop both internally and externally are extremely important to the outcome of any company," Earl claims. "Over the years, our employees have been critical to our success. We have a great team, of which I am very proud, and they have some of the best product knowledge and engineering expertise in the world.
"Retech's strength is in providing custom-designed furnaces for our customers and you have to have a skilled team to do that. We have been bolstering our workforce in recent years and I think we can be very encouraged by the people throughout this organization."
Speaking to Manufacturing Today almost exactly twelve months since the outbreak of Covid-19, Earl looks back on a year in which, despite some existing projects being delayed, Retech was able to win 80 per cent-plus of the contracts it bid on. This put the company in a strong position entering 2021, handing it asolid backlog of work to carry across the rest of the year.
"Some of these projects are showing real promise. When they come to fruition, it will help secure our future and allow us additional investment in new products and new services for our customers," Earl reports. "Though the worst of the pandemic is hopefully now behind us, the impact of it still lingers and we probably don't yet know the full impact it could have on the business. However, we are confident about some of the things we have on our horizon. We are optimistic that demand for our equipment services will remain promising for the foreseeable future."
Retech continues to experience meaningful annual growth with each year's financial results being better than the one before. Earl believes that the company can continue on this trajectory over the next half-decade and he is bullish about the opportunities on the horizon.
"We want to have some of the new powder products we are working on out in the market and available as soon as possible because we feel like we can forge a strong presence in that sector," Earl asserts. "Elsewhere, I think it is important for us to build more partnerships with different companies and universities around the world because we can't do everything ourselves as there are people and technologies out there that would be a great fit for us."
As Retech evolves and expands in the coming months and years, the company hopes to support its growth with continued investment in its people and resources. In addition to capital equipment projects and aftermarket services, Earl would also like to develop the company's material production activities. Whatever the future holds, the heart of Earl's vision will remain the same; For Retech to retain its position as an industry leader with superior engineering, product knowledge, and a reputation for excellence across the globe.
"I think we have come a long way in recent years. We are headed in the right direction now, but we still have a lot of work to do," Earl notes. "I am excited about the future ahead of us and we'll continue to add to our internal resources, cultivate stronger relationships and operate as a true leading light in this industry."
Retech Systems
Products: Vacuum metallurgical processing equipment
www.retechsystemsllc.com