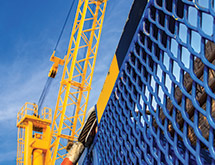 Reuland Electric's roots stretch back to the 1930s when Frank Reuland rebuilt and repaired motors in his garage in Alhambra, Calif. Reuland soon became the largest repair shop in the area and the company grew from there.
"Our ownership has always believed in reinvesting into the company and upgrading everything," Senior Project Manager Wayne Foreman says. "We remain a family owned company, and we have many employees that have had a long tenure with the company."
Through the Years
Reuland now bills itself as the most flexible electric motor manufacturer in the world. But to understand Reuland today, it is important to take a look at where the company has come from.
In the 1940s, Reuland made dive-flap motors for Lockheed Aircraft's P-38 fighter and built twin 50-caliber turret-drive motors for aircraft engine-powered motor torpedo boats for Electric Boat Company of Connecticut. That decade also saw Reuland produce its first one-horsepower industrial-type motor. Over time, the company added a complete line of motors featuring fluid couplings as well as magnetic disc brakes. The company expanded its presence in Alhambra and added an aluminum foundry to produce the housings and bell castings for the motors.
Over the ensuing decades, the company continued to evolve. In the 1950s, it established a warehouse in Howell, Mich., to accommodate distribution in the East. The facility eventually became an additional manufacturing plant. In the 1960s, the company outgrew its Alhambra plant and moved its headquarters to its current location in the City of Industry, Calif.
During the 1970s, Reuland established its electronics control division. In addition, it created a publications division, which it sold in 1985. The 1980s also saw Reuland take steps to facilitate growth in the electric motor market, creating its distributor products division to sell standard motors and components. Beyond that, the company opened its Cincinnati facility in 1986 to focus on research and development of motor design and advanced application of Reuland products.
In the 1990s, Reuland's flexible coupling line was added to the distributor products division. Reuland also took steps to become a leader in the exotic motor market with products such as liquid-cooled motors, permanent magnet motors, high-speed precision motors, inverter duty motors, partial motors and variable frequency drive systems. Additionally, Reuland installed a coordinate measuring machine in a climate-controlled environment to enhance production of precision components and ensure consistent quality.
Modern Era
Reuland consists of motor, brake and engineering services divisions. The motor division employs more than 200 people, has 100,000 square feet of manufacturing space, a 30,000-square-foot aluminum foundry and a pattern shop.
The company utilizes classic MRP-driven inventory and production techniques as well as CNC machining centers to process various motor part components, meeting exacting customer specifications and production design processing tolerances. Reuland can handle a vast variety of various types and sizes of custom and standard motors and motor products, and its flexibility in design and tooling production capabilities makes Reuland a premier motor manufacturer.
The Michigan brake division provides motor and brake lamination, tooling or stamping. It also manufactures higher horsepower motors and a line of AC and DC electromechanical brakes. The Ohio engineering services division provides design services and handles Reuland's high-speed and precision motors.
Altogether, Reuland can produce a vast array of products, including a diverse selection of AC electric motors and accessories such as brakes, chiller and cooling systems, flexible and fluid couplings, motor reducers, pump/motor adapters, variable frequency drives and vector drives. Its products can be used in a number of applications, from aerospace, cryogenic, crane and hoist, dough mixer, elevator and marine duty to military, nuclear, spindle, test stand, textile and washer/extractor applications.
"As a company, we have a 360-degree offering to our customers," Foreman says. "They may not need all of our services, but we can offer a wide variety to suit the customer's applications."
One of the long-standing main markets for Reuland has been the crane and hoist sector. At one time, it accounted for roughly two-thirds of the business and Reuland was one of the largest motor manufacturers in the crane and hoist market.
"That market has gotten saturated with offshore products, as the material-handling space is huge," Foreman says.
Taking advantage of its experience in the crane and hoisting arena, Reuland gravitated toward the elevator industry, which is now around 60 percent of the company's business. Modernization efforts in the elevator industry are helping to drive that activity.
"There are a lot of old elevators in old buildings, which are now being converted to up-to-date electronics and going from DC to AC control," Foreman says.
Other significant areas for Reuland are high-speed test stand motors and the nuclear industry. These are all examples of the way Reuland seeks to carve out a presence in niche markets and then expand.
"Going forward, seeking continued growth and ensuring consistent quality will remain major focal areas for us," Foreman says. "As new technology is developed, we will find ways to integrate it into our products and manufacturing processes."