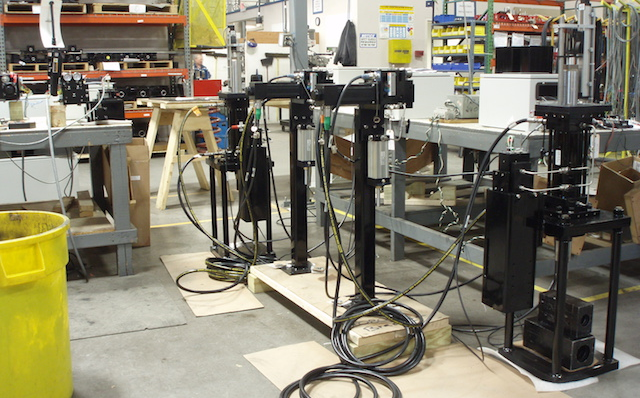 In Sam Lalos' eyes, one of the biggest mistakes a company can make is filling an open position with someone from outside the company. "Good skilled labor is tight everywhere," says Lalos, the president and CEO of Rexa, a manufacturer of electro-hydraulic actuators. "That's why we believe in bringing people on and seeing a future with the company."
It's straightforward to invest in product development, new machine tools and faster processes. The real distinction, Lalos says, is Rexa's people. "It's easy to look at the payback by investing in machines, but I think human capital is critical to our future," he continues. "I would like to get back to the days where people are hired for lifetime employment."
The company strives to promote and retain its workforce. "The worst thing we can do is to hire somebody, develop them for a one-to-two-year period and have them move on," he explains.
Rexa's investment in its people embodies the work environment and constructive atmosphere it wants to create. In addition to skills training, the company offers competitive pay and a profit sharing plan that directly rewards employees for Rexa's success. "This company has a very healthy culture," Director of Business Development Wallace Lueders says. "I've never worked in an environment that is so positive and constructive. You're able to get things done and do them well in a collaborative way."
"If you come into work every day and spend eight hours looking busy by going through the motions, it's a very long day. We find our best employees are those who really believe in what they do, don't make excuses for what they do, are the best at what they do," Lalos adds.
Committed to Customers
Rexa was founded in the early 1980s by a past president of Masoneilan, a leading producer of control valve technologies and products that is now part of General Electric. As a result, a lot of the competencies that went into growing Rexa stemmed from Masoneilan. In the early years, the company developed products and technologies, to fill control valve performance gaps especially on demanding process control applications. While most control valve manufacturers were trying to improve traditional pneumatic actuators and develop smart positioners, Rexa concentrated on combining smart electronics and self-contained hydraulic technologies to improve control performance.
The weakness of the control valve continuum in the early '80s was the control valve itself, Lalos says. To overcome those technical issues, Rexa hired some of the key resources away from Masoneilan's R&D team to develop new actuator technology. Like the early days of VHS vs. Betamax, Rexa did not know what kind of control valve system would win out. It explored electric, hydraulic and pneumatic technologies before settling on an electro-hydraulic technology, called ElectraulicTM, that combined the ease of electric operation, the power and stiffness of hydraulics, the reliability of solid state electronics and the flexibility of user configured control.
The technology was promising, but Rexa needed funding to bring it to market. The company secured an infusion of capital from venture capitalists that allowed it to begin selling ElectraulicTM actuators in 1988. The venture capitalists then took a controlling interest but soon grew impatient as they were sinking money into the company without realizing any return. In 1993, Rexa was sold to Nihon Koso Co., a Japanese company specializing in automated control valves. That same year, Rexa landed its first million-dollar order and it has been on stable footing ever since.
ElectraulicTM actuators are an ideal solution for any situation where precise control is required, such as power plants, high pressure valves, facilities with challenging start up and shut down conditions and equipment that has critical bypass requirements. "Our real expertise is in fast response, extreme precision and stability in precision control where there is a lot of fluctuation in the process," Lueders says. "Precise control provides a wider operating range that has a quick economic payback that you can only achieve with Rexa technology."
Rexa's actuators are highly customized products that are unique to each customer and application. The company works closely with its clients to define specifications and requirements for a range of industries, including power generation, oil and gas, mining, metals, water and wastewater and rotating equipment. "Almost every time something hits this manufacturing area, there's something new and special about it," Lueders says.
Language barriers often complicate the product development process, making it even more important that Rexa fully understand its customer requirements. The company sells to end users and OEMs in as many as 50 countries – a fact that earned it a Global Trade Award from the Associated Industries of Massachusetts International Business Council in 2016. Regardless of where the customer is located, Rexa's advantage is "Being able to work closely with our customer, define that product clearly and being able to deliver a product that meets their needs, without question," Lalos says.
The ability to meet those customer requirements is a testament to Rexa's ability to listen to its clients and its high standards for quality. Rexa's 50,000-square-foot facility is ISO 9001:2008 certified and the company is working toward ISO 9001:2015 certification. Further, it employs a comprehensive quality program that looks for defects at various checkpoints in the manufacturing process.
"We are definitely committed to our customers' success," Lueders says. "When a customer signs on to Rexa, we want to make sure they get an outstanding return on their investment so we support their upgrades and provide training to help with their startup needs."
Rex maintains a small but highly competent group of field technicians that can be dispatched within 24 hours of a request for service from a customer. Those technicians are trained to complete repair work on site and limit downtime in the client's facility.
Lean Journey
The support Rexa provides is part of how the company meets its customers' expectations on every order, however, those expectations become more demanding over time. Keeping up with the evolving needs of customers requires an efficient and flexible operation. "It's not brain surgery, but it's a very complex process and a lot of things have to happen simultaneously," Lalos says of achieving customer expectations.
For years, Rexa had tried to adopt lean manufacturing methods, but it wasn't until it received a training grant from the state of Massachusetts in 2007 that those efforts finally took root. Director of Operations Steve Oliver credits the grant with forcing Rexa to follow through on lean manufacturing and getting buy-in from all levels of the company. "That really got us focused," he says. "We didn't stray from what we were doing. We stayed on task." The company has since been awarded two more training and personnel development grants, the latest of which was granted in May and will run through April 2018.
"One of the things we're driving through these grants is our lean manufacturing process and continuous improvement," Health, Safety and Environmental/Facilities Engineer Mike Francisco says. Individuals identified as "champions" received extensive lean training and are participating in the Six Sigma belt program, which signifies levels of lean training using colored belts similar to the progression in martial arts skill. Ten employees are involved in green belt training and between four and six will participate in black belt training next year. In all, about 86 Rexa workers are involved in lean and cross-functional training. Oliver says "building those skill sets has helped employees advance within the company and improve Rexa's retention."
In addition to employee training, successful continuous improvement efforts require constant feedback from the employees working on the production line who experience first hand the problems and choke points. To encourage that feedback, REXA implemented a program where employees could submit continuous improvement ideas that would be posted to a board for anyone to see and share between departments.
The embrace of lean manufacturing has led to a number of improvements in Rexa's production process. Internal and external Kanban systems were implemented to make sure inventory is kept at a proper level so that production matches demand, reducing lead times by 30 to 50 percent. "[It] gives us the capability to respond to our customers needs in a timely manner," Lueders says.
Staying Focused
With investment in the oil industry on the decline due to low crude oil prices – oil was $45 a barrel as of early June – Rexa is concentrating more on other sectors of its business such as downstream refining and rotating equipment, turbines and compressors. It's also focusing more on its core actuator business. In 2014, Rexa spun off its valve business, Koso Hammel Dahl, to eliminate conflicts of interest between the companies. Koso Hammel Dahl moved into a new facility down the street from Rexa and the two maintain an arms-length relationship to better serve their respective customers.
Even as it evolves, Lalos believes people will remain Rexa's most important asset. "I'm proud of the employees of this company more than anything else," he says. "I really think there is a lot of untapped value here. I've never seen people so devoted and so dedicated to what they do every day."