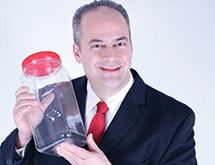 During its 33-year history, plastic jar manufacturer Rez-Tech Corp has expanded and contracted along with the market and its production needs. But the Kent, Ohio-based company is preparing to enter a new period of growth fueled by its investment in automation and an innovative type of plastic jar.
Rez-Tech is developing a new type of jar that is stretch blown with false blown threads, which the company has dubbed Green Lite Jars. The jars use new manufacturing techniques and equipment to make the material stronger while also being 8 to 10 percent lighter than similar products, reducing the cost of materials and speeding up production, according to President Jack Podnar. The company has ordered a custom-built machine to produce the Green Lite Jars and production is expected to begin within the next few months.
Beyond creating a better product, Green Lite Jar manufacturing could drastically change how Rez-Tech does business. The new equipment is being designed so that it can be shipped and installed in other locations at a low cost in order to bring manufacturing closer to customers. Podnar says the remote setup would likely work on at least three-year contracts with production runs of more than 5 million jars. "We would entertain that for large order or long term," he explains.
The Green Lite Jars will be the latest addition to Rez-Tech's roster of 100 different styles of containers, which range from a quart, handle ware jars, and up to three gallon bulk display bins in size. A range of customers use Rez-Tech's plastic jars, including candy jar fillers, snack food jar companies, commercial and industrial spice brand plastic container packers, lawn and garden fertilizer easy pour handle jars, and road salt handle container co-packers. "We make what the customers want," Podnar says. "We try to approach it as a collaborative type relationship where communication is key. What type of product they want to put into our plastic jars and the containers are designed with them accordingly."
The company has seen continued success with Rez-Tech's handle and grip plastic jars. It has updated its handle jar molds this year for a better quality and customer satisfaction.  It also found efficiency with its nestable plastic containers, which fit inside each other like paper cups during shipping. Nesting the containers allows as many as 75,000 one-gallon units per truckload compared to 15,000 for a regular plastic jar, which reduces the freight cost and fuel, storage by about 85 percent per unit.
American-Made Jars
Every container Rez-Tech produces is made at its 32,000-square-foot facility in Kent. Podnar says manufacturing and distributing everything in the United States enables Rez-Tech to better control costs because the company does not waste the time or shipping expense from international producers. Further, being an American company makes Rez-Tech more readily available to communicate with customers to design the custom containers and fulfill other needs.
Rez-Tech recently added a new Safe Quality Food (SQF) Level 2 certification to meet the needs of larger food-oriented clients. The certification is helpful for selling to Walmart and many other big box stores, Podnar says, and opens Rez-Tech up to larger customers. "They want suppliers that have guaranteed good manufacturing practices," Podnar says of why Rez-Tech sought the SQF certification.
Adding Automation Eases Stress
Manufacturing needs change with each client, and Rez-Tech offers a number of services that can be adjusted to every product. The company has an automatic labeler that can apply packaging labels supplied by the clients. From its one location in Ohio, Rez-Tech ships plastic jars to customers in 48 states and Canada. Each day, the plant can produce eight to 12 truckloads of containers. But finding the skilled technical labor needed to maintain that manufacturing pace is difficult, which has led Rez-Tech to increase the amount of automation in the process during the past three years.
Today, about 55 percent of the manufacturing process is automated by custom-built machinery, but Podnar's goal is to increase that to 80 percent within the next few years. "It's improved our consistency and quality so you can predetermine your preventive maintenance and mold maintenance easier and increases operator effectiveness and efficiencies," he says.
Although Podnar sees automation as a key part of his company's growth, he has taken a deliberately slow and cautious approach in adopting the technology. By implementing only a few new machines at a time, Rez-Tech can discover the faults in the equipment and vendor and work with the machine makers to improve the next generation. "There's no off the shelf components," Podnar says. "Different automation companies have different ideas. Some think outside the box and some don't. Our machines are really outside the box thinking."
Finding a reliable manufacturer of automation equipment has been a trial and error process, Podnar says. Since each machine is custom built, Podnar is looking for companies willing to stand by the equipment and fix it when necessary. Those businesses that provide strong customer service are the ones Rez-Tech is willing to work with in the future.
The company takes a similar approach with the vendors it chooses to work with. "We look for a quality vendor that provides just what I provide my customers: product when they need it," Podnar says. "We appreciate those vendors that support our expansions into new product lines and new avenues."
Proud Past
Although its manufacturing methods and products have evolved, Rez-Tech has retained its customer-focused spirit since Jack Podnar's father, Tom Podnar, founded the company in 1982. Even the packing customers it serves are largely the same, as Rez-Tech has supplied plastic containers to candy and snack companies since its beginning. "I'm proud of the company, that we've lasted almost 40 years and kept it a family business and continued to improve our plastic jar lines," Podnar says.