Ricardo drives forward
For more than a century, the company known as Ricardo has built a reputation for embracing innovation and technology. This is arguably none more prevalent than in the activities of its Performance Products division
One of the most innovative engineers of his time, Sir Harry Ricardo's ethos centred around a mission statement to 'maximise efficiency and eliminate waste'. It was this thought process that he applied to the founding of his own company in 1915. Now, more than 100 years later, the business that shares his name stands tall as a global strategic engineering and environmental consultancy that specialises in the transport, energy and scarce resources sectors. As a result of its multi-industry knowledge and deep technical expertise, Ricardo has been able to cultivate a rich client list that includes transport operators, manufacturers, energy companies, financial institutions and government agencies.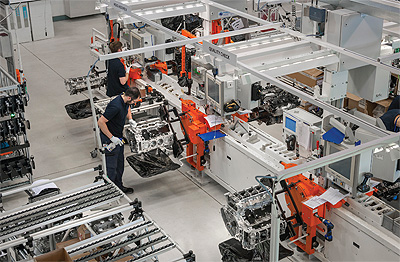 In addition to its technical consultancy services, Ricardo also possesses in-house engineering capabilities that enable it to design and deliver high-quality prototypes, and low volume manufacturing of complex products and assemblies, including engines, transmissions, electric motors and generators, battery packs and fuel cell systems.
Making up a core part of this offering is Ricardo Performance Products, which has been at the forefront of niche volume programmes for more than 40 years. Specialising in complex precision electromechanical products, it has delivered projects, from individual components through to complete power train systems, to global industries including automotive, defence, aerospace and rail.
"At Performance Products, we represent the manufacturing arm of the wider Ricardo group and are responsible for delivering projects at the very cutting edge of our industries," begins Performance Products' Managing Director, Mark Barge. "Our role is to bring production intent designs to fruition for our external clients. The process behind this typically begins with significant resources being directed towards research and, ultimately, prototype demonstrators."
The in-house capabilities of the business benefit from being both flexible and broad, and range from industrial engineering teams focused on developing assembly solutions from one to 100 products per week and precision machining operatives, to supply chain specialists sourcing critical components from across the globe. These capabilities combine to create a partner of choice where robust, complex assembly solutions are required to meet demanding applications and time scales.
The last 12 months have been a typically productive and energetic time for Performance Products, with the year beginning with the completion of its niche engine manufacturing facility at its headquarters in Shoreham-by- Sea. This task came to its conclusion with the bringing online of the business' second EOL dyno and the assembly of its 10,000th engine for McLaren Automotive.
"2017 has been a record production year for ourselves when it comes to the assembly of high performance engines, and one that we already look poised to better in 2018," Mark proudly states. "This continued development of engine performance has seen us invest in what we believe to be one of the most advanced and high performance production line dynamometers in the world. The test cell not only allows us to test the next generation of powerful V8 and V6 engines, but also significantly reduce the cycle time required to break in and quality assure these products. The process engineering team at Shoreham has used the very latest SMED approach to reduce the cycle time of these engines through the test bed, and this increased productivity is just one example of how we continue to beat our production records year-on-year."
Performance Products' success, however, has not been limited strictly to engines. "At our transmission manufacturing site in Leamington Spa we successfully secured the design and production of the new Aston Martin Valkyrie, and saw the first production transmission for the new Bugatti Chiron leave the production line," Mark enthuses. "Both cars are set to rewrite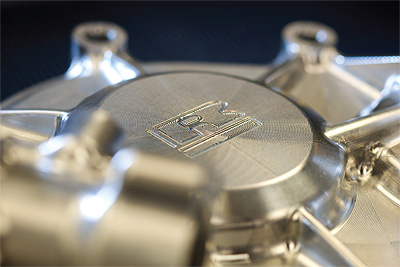 the rulebooks with regards to automotive performance, and it is a fantastic reflection of the team and their capabilities that we continue to be the supplier of choice in the world of hypercar transmissions."
With its core markets being premium automotive and motorsport, it should come as little surprise that the biggest trend that Mark and his team are experiencing at present is the electrification of the vehicle powertrain. "This has led to many areas of focus within Ricardo as a whole, however we at Performance Products have found that the most exciting new applications are based around high performance battery systems and transmissions with integrated electric motors, known as E Drives," he explains. "We have a proven track record in assembly of both complex, high tech systems and transmissions products, which has resulted in us securing concept battery and E Drive programmes in high performance road car and race car applications. This is another trend that we see continuing into 2018."
While 2017 has indeed seen significant investment across Performance Products' plant and infrastructure, moves which mean that 2018 is guaranteed to play host to further announcements regarding its growing capabilities, its biggest investment remains reserved for its most valuable asset, its people. "The world of high-tech, niche assembly is very specialised and whether it is process engineering, global procurement specialists, supplier quality engineers, project management or highly skills assembly technicians, we have continued to invest in our staff and grow the team to meet the challenges of today, and tomorrow," Mark continues. "Although it is true that we boast some of the world's most advanced manufacturing facilities, our success has always stemmed from our people and their continue drive to deliver excellence to our customers. Ricardo's core principles are 'Passion, Integrity, Innovation and Respect', principles that I am proud to say I witness daily from the team here at Performance Products."
The work of said team continues to receive external as well as internal praise. In October 2017, Performance Products was named winner in the 'Innovation' category at the JP South Business Awards, hosted at the Grand Hotel, Brighton. The award was presented in recognition of its excellence in delivering high performance engines, transmission systems and components for some of the world's most advanced vehicles. "This particular award represents a great achievement for the entire team, but ultimately we have our customers to thank," Mark says. "Since our inception, we have only tackled the most challenging of projects, be it the first hypercars, such as the Jaguar XJ220 and McLaren F1, up to the defence and aerospace projects of today. In each instance, it is the customer's continued drive into the most demanding of markets that constantly pushes the performance envelope.
"This in turn drives our team to constantly develop new and innovative manufacturing solutions. It is only through this process that we are able to keep up with, and service, our customers' ceaseless demands. When this is combined with our passionate team of professionals what you end up with is the perfect incubator for manufacturing excellence!"
As we enter into 2018, electrification of the vehicle drive line, whether it be on the road or on the track, will be a key theme for Mark and his team, as will a number of other important industry developments. "As you can probably imagine, the majority of our most exciting contracts are highly confidential. Nevertheless, you can rest assured that Ricardo's hardware will be in action during every Formula 1 race, every WRC rally stage, every Le Mans round and every motor show during 2018!"
Ricardo
Products: High performance engines, transmission systems and components
www.ricardo.com