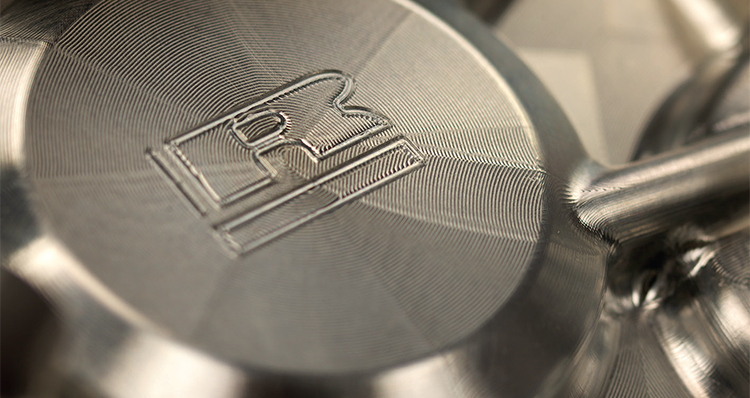 Ricardo Performance Products
Maintaining peak performance
Having successfully navigated the unwelcome combination of the Covid-19 pandemic and Brexit during 2020 and 2021, Ricardo Performance Products is now channelling its efforts towards aiding its customers' journey towards greater electrification
What a difference two years makes. In the time since Manufacturing Today last documented the activities of Ricardo Performance Products, in late 2019, a great deal has occurred. From the first global pandemic in a century, to the UK's exit from the European Union (EU), these events have also occurred at a time when major industries such as the automotive sector have been spearheading an ever-accelerating adoption of electrification.
"I can only speak on behalf of Ricardo Performance Products when I say that it has been an extremely exciting period in our history," begins the business' Managing Director, Martin Starkey when we caught up with him in early September 2021.
For those unfamiliar with it, Ricardo Performance Products specializes in highperformance, niche volume manufacturing for complex, precision, electromechanical products, from individual components through to complete powertrain systems. With over 40 years of experience in delivering precision manufacturing, advanced assembly, and industrialization consultancy, the business operates in a cross section of industry segments including high performance automotive, motor sport, defence, aerospace, and rail.
Being prepared
Speaking with Martin now, it is hard to reflect on the last couple of years without referencing the two big defining events of our time in the UK, namely the Covid-19 pandemic and Brexit. "The impact of both of these is still ongoing to this day," Martin correctly states. "For us, Covid-19 has been predominantly what I would call an internal facing issue, with our primary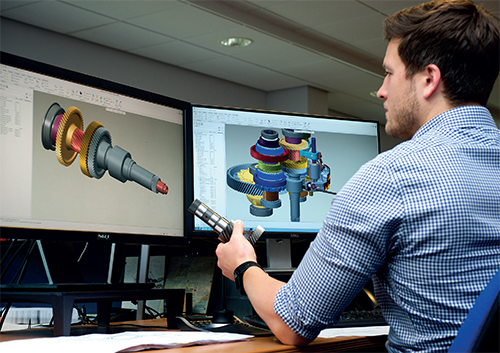 concerns throughout being ensuring that our staff are kept safe while the business continues to operate. We also had to evolve the ways and means in which we communicated, engaged and worked with our suppliers in order to secure products and associated services in what was an unprecedented period for everyone."
Adding further context to the above statement is Ricardo Performance Products' Head of Procurement, Ian Morris. "The sheer magnitude of the pandemic cannot be understated, and realizing this early on meant that we immediately began reaching out to our global supply chain partners," Ian notes. "We worked extremely closely with them to take the sometimes tough, but necessary decisions around things like project delays and extended lead times, navigating those tough times until the summer of 2020, when the world started to wake back up. In the months thereafter, we experienced an incredibly positive recovery – above expected levels – and the challenge since has very much been to get the supply chain back up to speed in order to meet demand."
As the pandemic continued to take its toll, the close of 2020 also marked the end of the transition period between the UK and the EU. As both Martin and Ian state, the issues surrounding Brexit were far from over, however. "Such was the nature of the issue that we effectively came back to work at the beginning of January 2021, still with a great deal of unknowns ahead of us," Ian details. "The whole Brexit experience has been one massive learning curve, which has required significant investment to navigate, but it has been our determination to manage this – as well as the strength of our supply chain – that has resulted in a level of stability being maintained consistently within Ricardo Performance Products."
Martin adds: "We put a great deal of effort into making sure we were as ready and prepared for all Brexit eventualities as possible long before the UK left the EU. In advance of the transition period coming to an end, we further stepped up communication with our clients and suppliers, and took steps including the bringing forward of shipments of materials and components so as to make sure that our clients were not disrupted at the turn of the year. Additionally, we built up our own inventory of raw materials and components to give ourselves a buffer should shipments face further delays, and we invested a great deal of time and resources into training and upskilling our people, and thanks to that I am pleased to say that we have more than survived Brexit so far."
As Martin alludes to above, the business' people have played a fundamental role in driving its recent performance. "We are lucky to be blessed with a fantastic, highly-skilled and highly-motivated team here at Ricardo Performance Products," he enthuses. "We are immensely proud of how they have responded to the challenges faced in the last two years, and they themselves can also be proud, not only of that, but also for contributing to hugely important schemes that have been enacted here such as the mass production of face shield PPE for frontline workers during that initial wave of Covid-19."
Innovative solutions
Martin also wants to point out the ways in which the company is continuing to tackle skills gaps in the industry, namely through apprenticeship and graduate schemes. "We firmly believe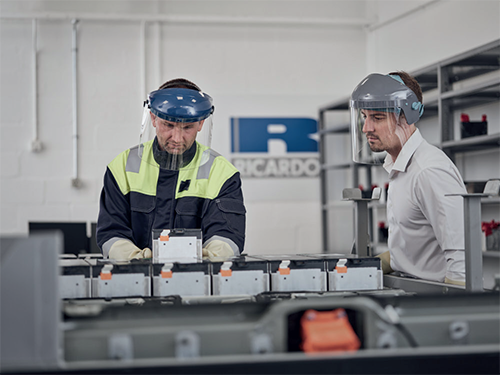 here at Ricardo Performance Products that you can never do enough to bring the next crop of talent into the industry. To that end, our work with apprentices and graduates, as well as the ongoing training of our existing employees, will remain as strong as ever. This past year alone has been our biggest in recent history when it comes to welcoming people onto our graduate program and we have been thrilled to be able to hold our first 'Apprentice of the Year' scheme, which is another way of recognizing the next generation of workers coming through Ricardo Performance Products and the value they create."
As mentioned earlier in this article, Ricardo Performance Products today finds itself at the centre of a multi-industry push towards greater electrification. "This has been something that we have found especially exciting," Martin declares. "Motor sport has been at the forefront of these innovative efforts to move in the direction of the UK's Net Zero agenda. For our part, we have had success to date in bringing electric drive units to Formula E, and in developing hybrid transmission products for our clients, as just two examples. Meanwhile, in our largest market of high-performance vehicles, we are increasingly seeing the engine technology that we manufacture becoming part of hybrid drive systems, which will also have a positive impact on the environment, and we are now building ever-smaller, high power units that will complement the architecture for hybrid electric vehicles.
"In the defence sector, we are involved in a number of large e-drive projects, while in the aerospace arena we are seeing more and more opportunities around how the industry hopes to utilize electrification technology in one form or another to produce the next generation of highly efficient engine and transmission products for both manned and unmanned flights."
Maintaining flexibility
Ian comments further: "The changes instigated by and linked to electrification will undoubtedly be profuse, and we are very keen for Ricardo Performance Products to be a trailblazer in this field. It is important to note, however, that in spite of the size of the shift that we anticipate, internal combustion engines will not disappear overnight. To that end, we need to ensure that we continue to modernize and improve our existing supply chain, while establishing one best suited to future industry needs."
Moving into the final third of 2021, and with a keen eye on 2022 and beyond, Martin and Ian discuss where Ricardo Performance Products' focus sits. "It is mostly about maintaining maximum flexibility for our customers, which has proven to be particularly invaluable over the last 12-to-18 months," Martin points out. "Despite the challenges that they continue to face, the vast majority of our customers continue to have very ambitious plans for the short-to-medium term future, and it is our responsibility to support them to the very best of our abilities."
Ian is correct to note that the world is by no means through the Covid-19 pandemic, and that it and the ongoing ramifications of Brexit will mean that the next year or so will remain challenging and unpredictable for everyone. "As such," he concludes, "our tactical objectives will be centred around monitoring, maintaining and improving upon our activities and operations. At the same time, we will continue to be proactive in the way we develop and grow a supply chain that is fit to deliver greater electrification to our various markets, and ensure that our existing one is ever-more sustainable."
Ricardo Performance Products
www.ricardo.com
Services: Transmission systems, engines, and components