Rieke Interiors is revolutionizing the way in which employees manage their space
Peace, space, time
Across 27 years in operation, Rieke Interiors (Rieke) has rocketed from selling used office furniture to offering complete interior design solutions, for both residential and commercial customers. What's almost more impressive than this incredible feat of business development, is the fact that it's all coming from a single 150,000-square-foot site in Elgin, Illinois.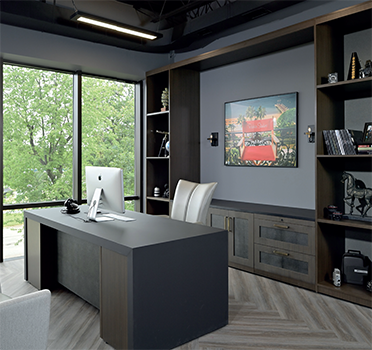 The chain of development saw used furniture sales grow into the refurbishment of fittings. This evolved into Rieke manufacturing its own lines of furniture, which soon led to the company breaking into the custom market. It added the flooring and interior design elements, along with similar services for residential spaces, off the back of Covid-induced working from home initiatives, and most recently: masterclasses on the importance of space management.
Melissa Kehl, Owner, elaborates further: "We offer the full interior design package, together with the necessary custom-built furniture. This process entails a construction-finish plan, manufacture of the product and installation of the complete space – this is what sets us apart from the competition. Your space is immensely important, it defines the foundation of your home or your workspace and in order for you to be able to live your best life, it must be functional, well-designed and feel good. We are very passionate about helping people enrich their lives."
For a business that focuses 80 percent of its manufacturing around custom products, innovation is everything. It also incorporates customer-based collaboration and a strong ethic of teamwork throughout the different stages of production. "It starts with our sales team who gather the initial information from the client and help them figure out what it is they really want. This will then go to our designers to be drawn up into plans, which will be constructed by our team of engineers. Collectively, the idea will be passed back and forth until it has been tweaked to everyone's satisfaction, before we can get building. We offer a lifetime guarantee on our custom pieces, so everything must be perfect.
"In terms of our inspiration, we take elements of things that we have seen in the world, but a lot of it comes from our customer's wants and needs. Our primary output is custom-built items, so we're approached with these new, unique challenges almost every day. In terms of the 'how' element, we allow our employees to come up with the majority of the suggestions – if we run with one of their ideas then they get to name the finished piece. We want people to be creative and try new things without fear of judgment, which in turn helps them build their – and indirectly, the company's – skillsets. It's astounding how far the talents of our manufacturing team have come in the last ten years."
In terms of reinvestment, Melissa cites the employees as being the company's number one asset. Rieke's hierarchy has recently seen the elevation of staff into management positions to help spread responsibility and speed up the decision-making process. Despite the company's single location, it currently serves customers across 27 different states – with such great internal growth and overall business development, comes the necessity for restructuring the chain of command.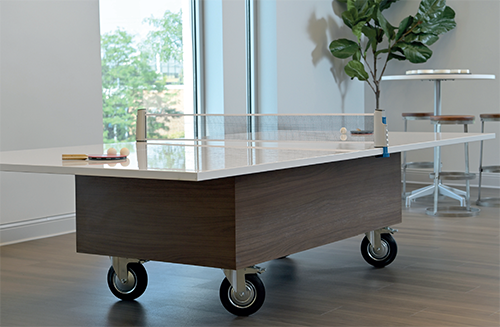 Besides career and skillset progression, Rieke offers its employees an incredibly well-engineered, culture-driven working environment and regular get-togethers and celebrations. "We place huge importance on our company culture and take our core values very seriously. They're not just hung on the wall; we literally hire people based on them and regularly review them as a group," Melissa explains. "Teamwork, reliability, responsiveness, respectfulness and a can-do attitude are the foundations of everything that we do. Let's say we reviewed somebody's resume and it was amazing, but they didn't reflect our culture – we wouldn't hire them. One bad apple can make a big difference in a company.
"We also use a system called Culture Index™, which essentially measures four core personality traits of an individual against those which are required for a specific role. This allows us to help prospective, or current, employees find the department that's going to bring them the most happiness." She continues: "The more you can align somebody's core natural trades with the responsibilities their role will require of them, the more they're going to love their job. This not only lights them up at work but also provides them with greater overall self-fulfillment. We care tremendously about our team, they are amazing! We like to work hard, play hard – every month we get together to have fun and let loose and every Friday we share our wins of the week to celebrate our successes."
Rieke has cornered the market perfectly. In its arsenal, it possesses both the technical means, in terms of its expertise in interior design, and the correct motives, outlined by its strong care for the contentment of customers and employees alike, to thrive in this age of wellness and self-care. As Melissa concludes: "We're looking to grow in parallel with our customers. I want us to help them in any way we can. That is the big part of our next journey: really helping customers get to their next level."
www.rieke.com