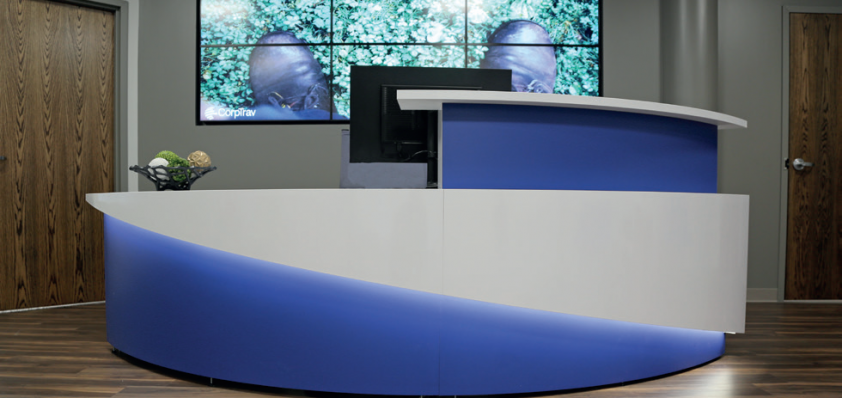 Superior interiors
Harnessing the power of smart design and positive customer service, Rieke Office Interiors creates, manufactures, and installs turnkey commercial furniture solutions, from custom office cubicles to panel extenders that protect against Covid-19
In business now for 26 years, Rieke President and Owner Melissa Kehl describes her company as an organization of 'culture experts for office furniture'. What started out as a retailer of used office furniture soon became a furniture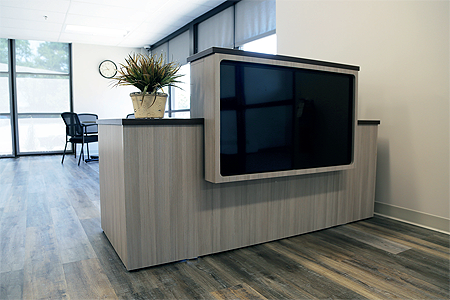 refurbishment operation, before blossoming into the designer, manufacturer, and innovative 'one-stop-shop' that Rieke is known as today.
"We're constantly adding new services," Melissa states. "Since we started we've added flooring and full design services, custom office furniture manufacturing, accessories, wall treatments, lighting, ceilings, walls, floors, and all the furniture in between. We offer everything a customer could need – even construction management, which means we can move walls or add bathrooms as well. We have our own trucks, we do our own installations, so once you work with us, you don't need to talk to anybody else. We want to build lifetime customers, so we try our best to make the whole process seamless."
Design flair
From corporate offices to retail stores to manufacturing sites, Rieke serves customers across all industries. Benefitting from extensive millwork and laminate facilities onsite, the firm is capable of delivering highly bespoke reception stations, conference rooms, private offices, and a variety of alternative fittings. For Melissa, some of Rieke's most successful and rewarding projects have been those that allow the company to showcase its flair for design.
"Some of the newer developments we've worked on have included a number of design elements. Coloring, flooring, furniture – we love blending it all together," Melissa declares. "We recently completed a beautiful project for Echo, one of our big customers. As well as the design, we did some construction management and saved them as much money as we could along the way. We built them a beautiful curved reception station and even helped a contractor select additional items. Echo is a manufacturer itself and it was a really fun project to work on. They were so excited with us in the end that they held a big open house and invited us and some of their other customers. They spent the evening ranting and raving about how great we were, so that was certainly enjoyable for us, and more importantly, goes to show how happy they were with the finished product."
Over the years, Rieke's manufacturing strength has been built on a careful balance between automation and handcraftsmanship. As the business has grown, Melissa has added CNC machines and edgebanders to increase production speeds and improve efficiency, but the company has been careful not to abandon manual production completely.
"We definitely still perform a lot of manual processes," Melissa comments. "We don't stock inventory products; we only build for the job at hand. We go to the machine show every other year to make sure we're up to speed with the latest technology, but we're definitely not into artificial intelligence or robots. What we do is a little bit more of an art. We are a custom manufacturer – we're not just running a line, where you create the same thing over and over again. Still, we are always asking our manufacturing team for suggestions on how to make their lives easier, and if technology can help then we will acquire those tools. We've purchased equipment like a contour edgebander, but sometimes it can be as simple as something like a conveyor belt to help simplify a process."
As far as product innovation is concerned, Rieke has an experienced product development team tasked with solving its customers' problems and challenging the business to explore new boundaries. However, this structured approach is not the only way the company devises the future. Sometimes, Melissa explains, inspiration can be more spontaneous.
"Earlier this year we were doing great until, all of a sudden, Covid-19 hit and the faucets just shut off. It was crazy," Melissa remarks. "We had no orders, none. People were cancelling and refusing to let you in their buildings, so we had to shut down manufacturing for three weeks because we didn't have enough business coming in. It was then that our CFO came up with an idea for a new safety shield. We all met up immediately – our designers, our engineer, our production manager, myself – and in one week we launched the product. From concept to pricing to prototype – the naming, the marketing, and the website was all done in seven days. From concept to launch, it was an amazing experience. We had orders on our very first day and it allowed me to bring back all of our manufacturing employees. It has saved our company in this downturn."
Meaningful connections
Named SafeSpace™ Rx, the new product line comprises of specially designed protective shields, panels, and panel risers that are helping to transform workplaces into safe environments for returning employees.
"We started with shields for private offices, then workstations, then conference rooms, and soon enough, gyms and salons wanted to use them between treadmills and chairs," Melissa reports. "Some customers without our product are only open at about 50 percent of their capacity, but we allow businesses to have every chair or table in use because they can have a divider in-between them. Panel risers can be used to grow office workstations and the same concept can be employed at restaurant booths and between slot machines in casinos. Thanks to our custom capabilities, we've been able to produce shields for curved units and oddly shaped offices. A customer can present us with a blank piece of paper, draw a sketch of what they would like, and we will be able to put something together."
One added benefit of Rieke's SafeSpace™ range is that the product line has introduced the company to new customers. Around 30 per cent of SafeSpace™ purchases have been made by brand-new clients and Melissa is pleased about the extra exposure it has afforded the firm.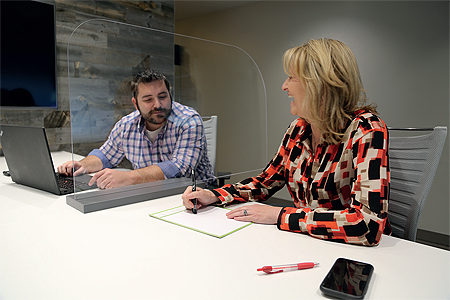 "Customers who had never even heard of us before have been buying SafeSpace™ products," she reveals. "Overall, we're down on sales across the year, but to be able to connect with so many brand-new customers is pretty amazing and puts us in a great position for the future. Now these companies know who we are, we will be right at the front of the line when they next require an office renovation."
A relationships-based firm at its core, Rieke values meaningful connections with its customers, vendors, and employees. Though the Coronavirus pandemic has made this difficult of late, Melissa is pleased to see customers returning to the company's showroom where they can view products first-hand and experience the environment in which they are manufactured.
As we move into the second half of 2020, Melissa expects to see a continuing demand for SafeSpace™ products as well as Rieke's space planning and office rearrangement services. The company is also currently working on getting children safely back to school. "Our shielding products are going to be around for a very long time because even after Covid we'll be entering into the regular flu season. Office safety is going to be the new cultural norm," she predicts.
Empowering culture
Over the next three to five years, Rieke hopes to bring construction services and architectural capabilities in-house, as well as working in partnership with its customers to build environments that match a company's culture. Optimistic about the firm's future, Melissa argues that Rieke will remain on a positive trajectory as long as it continues to value the contributions of its workforce.
"Concentrating on people is really important, and making sure you have the right people in the right positions is vital," Melissa asserts. "Some companies just expect their employees to do their job, but we like to open up a meaningful dialogue. We're constantly trying to cultivate an empowering culture. I think people on the front line have great ideas and if you listen, your company can go pretty far."
Rieke Office Interiors
Products: Custom office furniture designer and manufacturer
www.rieke.com