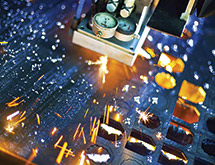 Steel fabrication is a specialty that relies on many different disciplines such as design, engineering, detailing, welding and painting. All of those are offered by Somerset Steel Erection, one of the companies of family owned Riggs Industries.
"We fabricate for the steel and power industries," says Daniel Riggs Jr., vice president of Somerset Steel Erection. "We do design work as well. We do our own detailing and engineering work and create drawings for the steel industry. In Virginia, we do some marine-type work in the shipyards. We do anything that is heavy industrial, from steel to power to coal to chemical and paper companies."
Somerset Steel Erection fabricates conveyors, bins, platforms, access ladders and material-handling structures. "We build platforms and fixtures to support submarine and aircraft carrier work," Riggs says. "We work in paper mills and various other industries and perform plant maintenance and build platforms, ladders, and various other structures.
"We also manufacture coal sample systems in Somerset, Pa.," Riggs continues. "We'll take a sample of coal out of a truck or rail car, and the customer can measure the quality using our systems."
Somerset Steel Erection fabricates structural steel for many different types of structures. The company has the ability to design, fabricate and detail most any structural steel project.
All of Somerset Steel Erection's welders are AWS certified. "We all have the qualifications," Riggs declares. "We can deal in any type of metal – aluminum, steel or stainless steel. Our fabrication facilities and onsite erection is AISC-certified."
Automated and Manual
Building custom steel structures requires a mix of automated and manual manufacturing methods. "We do have some automatic CNC equipment, such as burn tables and plasma cutters," Riggs says. The machines operate from 3-D modeling programs the company's three designers and 15 to 20 detailers create. The detailers create close-up, detailed plans of how fabricated steel connects.
The company's latest equipment acquisition is a CNC plasma beam line, which is currently being installed. It can make cuts and holes in a steel beam in one pass. "It's going to increase output and hopefully lower costs," Riggs forecasts. "We're always adding or trying to improve the technology we use." Riggs estimates the new machine represents a $1 million investment and replaces an older, slower automated system.
The company has its own shop painting facilities. "Our paint capabilities are pretty much second to none in the industry," Riggs maintains. "We can put any coating on in any of our shops. Exotic coatings go on some of these steel products. In marine work or coal mining, they need some pretty beefy or exotic coatings that we can do. We can do pretty much any coating in-house; it gives us a little bit of an edge in the industrial world." Many of the coatings are epoxy-based and ones that competitors must have outside shops do for them.
Vertical Integration
Somerset Steel Erection works on projects on the East Coast from Pennsylvania to North Carolina. It began working on projects in Virginia three-and-a-half years ago. "We're regional, so we have different competitors in different regions," Riggs points out. "We are vertically integrated more so than most of our competitors. On a construction project, we might compete against a fabricator, a different engineering firm and a different erector. Someone else is painting it. We're doing it all in-house. It's probably our biggest advantage, especially in industrial work."
This translates into time savings on many projects, as well as value-engineering that can reduce costs. "We control the turnaround a lot better," Riggs says. "We don't have to wait for a detailer to take on a project. We're taking care of all of it. When it comes to scheduling, we can meet the schedule more so than our competitors might." How quickly a project is turned around depends on the size and scope of the project. "You can be looking at two to three weeks or two to three months," Riggs notes. "But we definitely can take care of emergencies."
Group of Companies
Riggs Industries says it is one of the largest and most diverse family owned businesses in Somerset County, Pa. It employs approximately 500 people and serves a variety of industries including manufacturing (mining equipment and specialty transportation solutions), construction, retail (distributor of industrial, agricultural machinery and truck equipment) and custom welding and fabrication.
Employees at Somerset Welding and Steel have extensive experience in hydraulics, welding and fabricating aluminum, steel, stainless and high hard steels. J&J Truck Bodies and Trailers, a division of Somerset Welding and Steel, was established in 1958 and began by building steel dump bodies for coal haulers and farmers, the backbone of the economy at that time.
Over the years, the company expanded its offerings to include a variety of transportation equipment, certified welding and fabrication services for companies with mines and quarries, power plants, oil and gas drilling and general construction. Its products includes dump bodies for light-duty chassis or heavy-duty trailers for rock hauling or demolition and excavation work.
By the early 1980s, J&J began manufacturing transfer trailers for solid waste, agricultural, recycling and municipal applications. The company manufactures compaction, live floor, tipper, steel lightweight and push-out trailers for commercial and municipal use. These trailers come with many ready-to-work specifications and options.
In 2007, J&J began manufacturing pressure vacuum tanks, which are most commonly used to haul brine water for the natural gas industry. The company also upfits mechanic service trucks, crane bodies, lubrication trucks, winch tractors, snow and ice equipment and wet line kits. It specializes in hydraulics and specialty fabrication of truck equipment.
Riggs estimates the companies have more than 260,000 square feet of manufacturing space among their five shops in Somerset, Pa., Cumberland, Md., and Williamsburg, Va. Approximately half the companies' employees work in manufacturing and are trained in-house.
All of Riggs Industries' companies are family owned and managed. Riggs is in the third generation of family management. His father, Carl Daniel Riggs, is president of Somerset Steel Erection, and his uncle, William Riggs, is president of Somerset Welding and Steel.
"Being that we're family owned, we've always been a tightly knit group," Riggs says. "Our philosophy is slow, steady growth and trying to satisfy our customers to the best of our ability. We're always looking to grow the company and continue forward as a family company."