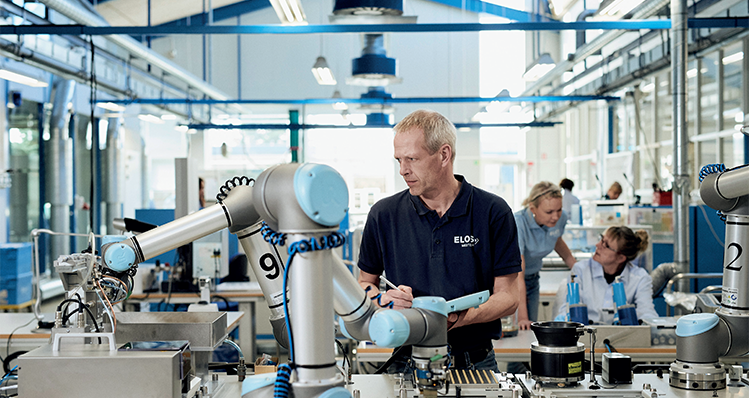 UK manufacturers are undergoing a period of disruptive change unknown in living memory. The structural changes resulting from Brexit and the Covid-19 pandemic have drastically impacted the availability of labor and ripped up many of the assumptions on which global supply chains are built. Meanwhile, the rapid evolution of technology has created new possibilities for forward thinking businesses wishing to make their operations more resilient, productive and viable.
For businesses – SMEs in particular – it can be easily to become overwhelmed by the options or to assume automation will be too costly or complex to implement within their production lines. Yet, it's a flawed mentality that will have to change if UK manufacturers wish to take advantage of the new opportunities that are being presented. As the 'Automation and the future of work' report from the House of Commons committee on Business, Energy and Industrial Strategy makes clear, if we're to create new jobs in UK manufacturing, we need more robots, not fewer.
The good news is that the evidence from countries that have been faster to adopt automation shows robots don't necessarily have to do anything particularly advanced to improve productivity. For example, simple screwdriving, gluing or palletizing applications can be hugely beneficial if they help to address labor shortages or free up workers to focus on other activities of higher value.
Filling the automation gap
Compared to other European nations the UK (and Ireland) have been relatively slow to take on robotics. This is shown in an illustrative 2020 report from the International Federation of Robotics that revealed that the UK has just 21,700 units installed, compared to 221,500 units in Germany, 74,400 in Italy and 42,000 in France.
Starting from such a low base leaves the UK and Ireland in a rather unique position amongst the G7. Given the return on investment of collaborative robots is already well proven on the continent, manufacturers don't have to take big risks with the adoption of new technology. There is significant untapped potential in beginning with simple automated tasks that have already become commonplace elsewhere. That alone could bring huge productivity gains and set business on a sustainable path to the wider use of collaborative automation.
For example, since Brexit was finalized, many manufacturers have struggled with a shallower pool of available labor from Eastern Europe, especially in sectors that have labor intensive manufacturing processes – such as metalworking. Travel restrictions imposed as a result of the pandemic have only exacerbated the problem and made it even less feasible to bring in manpower from abroad. The UK can look to nations such as Denmark and Japan which were forced to address labor shortages much earlier. Japan has long struggled with an ageing workforce and declining population, but by innovating and taking on robotics the country was able to offset its changing demographics and establish itself as a world leader in automotive and electronics manufacturing.
Robots as a tool
The essence of the argument for automation is captured by Henry Ford, 'If you need a machine and don't buy it, then you will ultimately find that you have paid for it and don't have it.' A company that automates manual ways of working now will find itself in a better place in a year's time than a company that doesn't. It may even find itself on the path to funding future investments in automation purely from the proceeds of the productivity gains it is making.
On every production site there are repetitive tasks – not jobs – that could be easily be automated. Think polishing and sanding, basic assembly or packaging and palletizing. This is where collaborative robots come into their own. Deploying them to take on the dirty, the dull and the dangerous tasks frees up the workforce to carry out more fulfilling and rewarding assignments.
The bottom line
During these difficult times, many manufacturers are understandably reluctant to make significant investments. However, collaborative automation is simpler, cheaper and more straightforward than many people imagine. Furthermore, it is the foundation for ensuring that during a period of uncertainty a business can operate with more predictability with regard to output levels and costs. Thereby positioning the business to grow from a base that is resilient, efficient and viable.
How STANLEY Engineered Fastening solved the labor conundrum
STANLEY Engineered Fastening is an industry leader in fasteners. At its Breakstem manufacturing cell based in Warrington, it produces approximately 350 million fasteners per year. In order to meet demand, the organization needed to increase throughput and productivity.
It has deployed 15 Universal Robots cobots in the production line to automate quality inspection. The cobot selects a component for batch sampling and carries out a pre-programmed process of activities, including degreasing, drying, deburring and feature inspection through a digital micrometer.
Russell Lodge, Site Operations Manager at STANLEY Engineered Fastening said: "We wanted to reduce our product lead time by up to 70 percent across our product ranges. We implemented UR cobots in the quality inspection process, and were able to deliver greater productivity, faster lead times and better profitability. We are very happy with the results."
Mark Gray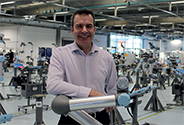 Mark Gray is Country Manager UK & Ireland at Universal Robots. Universal Robots was founded in 2005 to make robot technology accessible to all by developing small, user-friendly, reasonably priced, flexible industrial robots that are safe to work with. Since the first collaborative robot (cobot) was launched in 2008, the company has experienced considerable growth with the user-friendly cobots now sold worldwide. The company, which is a part of Teradyne Inc., is headquartered in Odense, Denmark, and has subsidiaries and regional offices around the world.
www.universal-robots.com