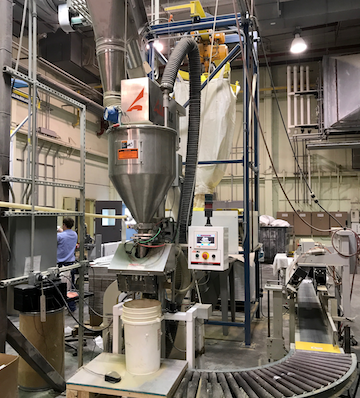 When large or small manufacturers need outside help for products or specialized services, they look to Rite Pack Inc. "We can do big, small or intermediate-sized production runs," says Kevin Hayes, director of sales and marketing for the Saint Joseph, Mo.-headquartered company. "We offer flexibility for manufacturers who don't want to make a large investment in capital equipment for small-run products."
Founded in 1990, the company specializes in custom and contract manufacturing, blending, filling and packaging services. RitePack works on behalf of consumer product manufacturers in three markets: lawn and garden, including natural and organic products as well as commercial fertilizers. Feed, which includes high-end products consumed by chickens, cows, swine and other animals plus pets; and animal health products such as parasite control, insecticide sprays and fly control.
Rite Pack's capabilities include blending liquid and dry materials. These blends can be custom packaged in pre-purchased or custom-designed folding cartons, heat-sealed and sewn bags, high-density polyethylene (HDPE) poly pails, paper bags or shrink sleeved containers and flexible packaging. The company  produces more than 300 different products.
"We can package just about anything our customers throw at us, from powders to granules pellets and liquids," CEO Fred Schneider says. "We are a low-cost, high-quality manufacturer; because of that, our services are in demand, and we've grown every year for the past 20 years."
Manufacturing Footprint
The company operates four locations with more than 335,000 square feet of space combined. A 45,000-square-foot production facility in St. Joseph operates four production lines for generally recognized-as-safe EPA-registered pesticides and repellents, as well as blending and packaging capabilities. Later this year, the manufacturing and packaging lines in the St. Joseph facility will be moved into a new, 110,000-square-foot building, Schneider notes.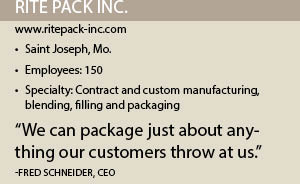 Rite Pack's 85,000-square-foot facility in Elwood, Kan., offers injection molding, grinding and specialized dry powder blending services. A 165,000-square-foot facility in Wathena, Kan., includes six animal feed filling production and packaging lines. A 40,000-square-foot facility in Allentown, Pa., offers warehousing and distribution services.
The Wathena facility is Midwest Organic Services Association (MOSA) and Organic Materials Review Institution (OMRI) certified, Director of Operations John McCarthy says.
In addition to its certifications – which also include HACCP food safety and Good Manufacturing Practice (GMP) recognitions – the company maintains several EPA registrations as well as patents and trademarks on its processes. The company regularly licenses its processes and trademarks to its customers, Schneider says.
Full Service
The company's product portfolio is divided between the three facilities in Kansas and Missouri, with each facility specializing in a particular type of product. Rite Pack works closely with its customers on forecasting, so it can schedule its production runs far in advance, Hayes says.
Rite Pack generally uses one of three sourcing methods. The first is a tolling arrangement, where the customer provides the all the materials needs to produce its products. The second is a hybrid method, where the customer provides materials such as pellets or powders, while Rite Pack provides packaging and palletizing equipment and services.
Under the third arrangement, Rite Pack provides a full turnkey service to its customers. "We would provide everything the client needs to produce their product," Hayes says. "We would source the materials and do all the packaging, palletizing, shrink wrapping, etc., until there is a finished good that meets their specification."
Rite Pack provides its customers with real time updates on inventory levels of components, raw materials and finished goods. "That's not something everyone can do," McCarthy says.
All of the products Rite Pack provides to its customers are rigorously tested in onsite laboratories. Products also go through regular spot checks. The company can also perform product recalls if needed.
Entrepreneurial Spirit
Schneider says he is proud of Rite Pack's ability to "pull a rabbit out of its hat" daily to meet customers' needs. "We can have a customer step into a room with just a concept of a product they want to take to market, and we can work with them to bring that product through manufacturing until it is packaged, on the shelf and ready to be purchased by a consumer," he says.
Hayes credits the company's success to the entrepreneurial spirit of the employees in each of its locations. "They are always willing to do what it takes to take care of our customers, which includes understanding how we can make our products better," he says. "Our people do a great job of working toward customer satisfaction – that's what keeps our customers happy, which ultimately keeps our lights on and our doors open."