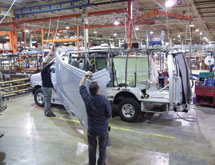 For Roadtrek President Jim Hammill, there's one simple reason why the company's products are the top-selling motor homes in their class in North America. "Our products are just better than everyone else's," he says. "In the motor home world, there are dozens of features a product needs to be functional for its owner, and those vary widely from capacity, water and electricity to drivability and how easy it is to park.
"In our products, we try to give the consumer every possible advantage that will allow them to be to be able to go down the road and have total freedom," Hammill adds.
The Kitchener, Ontario-based company – which marks its 40th anniversary in business in 2013 – manufactures Class B recreation vehicles sold through a network of more than 100 dealers in the United States, Canada, Japan and Dubai. "Our owners are buying products that cost $75,000-up, so they expect perfection, automotive quality and ease of use," Hammill says. "They don't want to have to take a course to be able to use the vehicle; they want to just flick a switch and turn it on."
This ease of use is best illustrated by the E-trek, an environmentally friendly vehicle Hammill calls the company's newest flagship. Heat and hot water in the E-trek are provided through the vehicle's combined heating core, which is fueled by its regular fuel – diesel – as opposed to propane. The E-trek also features an engine-mounted generator and  a 245-watt solar panel on its roof that charges its eight auxiliary batteries in daylight.
Several features of the E-trek, such as its solar panel, are being adapted to the company's other vehicles, including its 40th Anniversary Edition model, launched this year. The anniversary edition model includes insulated fresh and wastewater systems that will function even in cold temperatures. "This allows our consumers to go anywhere in North America regardless of the weather," Hammill says. "Our customers want to be able to just jump in their vehicles and cross the country and not have to be a technician along the way."
Leading the Way
All of Roadtrek's vehicles are manufactured in its headquarters in Kitchener. Vehicles are built on Chevy Express van and Mercedes Sprinter chassis, which are cut, expanded and equipped with fiberglass bodies. After the body is in place, the company installs wiring, plumbing, propane and other systems, depending on the product line.
Other manufacturing functions include cabinet making, plastic vacuum forming, appliance installation and painting. Following final assembly, each vehicle goes through more than 200 quality checks, inspections and tests, including one conducted by the vehicle's owner, Hammill says.
Roadtrek recently enhanced its production capabilities by investing in metalworking equipment and CNC tube cutters and benders. The company also added scanning technology to its research and development and engineering capabilities. "We feel we have to lead the engineering way and always have, since our products have functions other companies' products don't," he adds. "Our products are not the cheapest or the most expensive, but they are the most functional and well-built."
Continuing Improvement
Roadtrek applies lean manufacturing. "The recession made us completely retool and redesign our manufacturing," Hammill says. "We used to have three long assembly lines with 200 vans in process that took 30 days to work our way through."
Today, the company produces roughly 40 vans at a time, with an average throughput of seven days. Vans are manufactured based on sales as opposed to sales forecasts, he adds.
Roadtrek's inventory of parts has been reduced by more than 70 percent within the past few years through the implementation of kanban systems and dealer-managed inventory. "We have an excellent group of vendors who went through tough times just like everyone did," Hammill says. "They work closely with us on engineering and help us bring in new technology all of the time."
Other internal improvements include adding workstations and kitting systems. "We continue to refine all of our processes and regularly have lean events to improve our business," he adds.