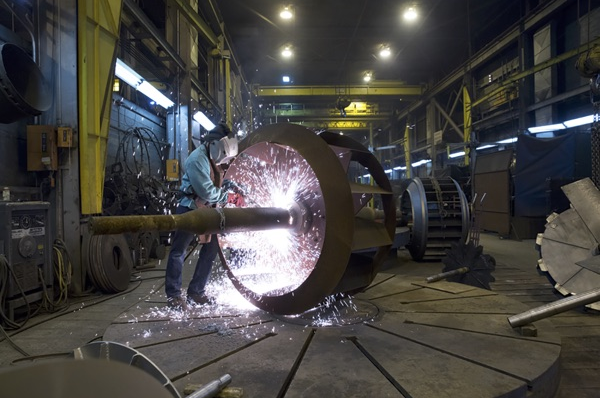 Robinson Fans, an industrial air moving and equipment manufacturer, formed in 1892, is now in its sixth generation of family ownership with President Tricia Staible running the company. Customers reap the benefits of this family owned and operated company because it operates in a culture of caring.
"We have a team that is very loyal with second and third generations of employees," she says. "Because of those, we have these long-term relationships with customers and care about their success. Our care for the customer is phenomenal. We are better than anyone else at working with the customer to get them to achieve a customized solution. I'm really proud of the way our team cares about quality, success of the customer, their teammates and what they bring to the effort day to day."
Staible's father, Carl Staible, continues to be part of Robinson Fans as CEO and chairman, while her cousin, Jim Gutzwiller, works in the company's Utah facility, overseeing production improvements and scheduling. "I definitely enjoy that the company is part of my life, but I don't know if I always intended to work here," Staible says.
She originally worked as a full-time attorney, but found her way to Robinson Fans in 2008, working her way up until she became president two months ago. "I'm excited I get to be part of it because I can very clearly remember putting together candy bags for everyone at the company picnic at an early age, and to see how much I've evolved – as has the company – has been quite the journey," she adds.
Turnkey Service
Since its founding almost 125 years ago, Robinson Fans has emphasized high-quality products for a number of industries. These industrial fans are produced for a variety of applications, including food processing, power generation, air pollution, rock and carbon products, thermal treatment, chemical and petrochemical and mining.
Robinson Fans' products excel in unique and challenging applications, such as corrosive materials, abrasion, high-temperature areas and environments where lots of materials are moving through the air. In addition, the company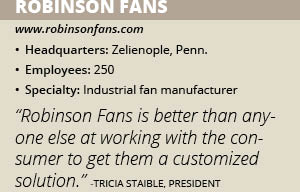 provides repairs and spare parts for industrial fans, as well as installation services.
"That's a huge asset in that we have a lot of engineering experience and hands-on engineers that have a long-term experience, knowledge and wisdom on what they're working with," Staible explains. "They can provide emergency solutions quickly that are well thought through. If a customer is down, it's all-hands-on-deck to turn things around and get that customer back up and running. That's taken very seriously here.
"If you're having trouble with your fans, we have field technicians and service people who will go out and take a look. Because of their expertise, they can analyze what's going on and solve problems."
Robinson Fans is able to reach multiple customers in the field since it has representatives all over the world and manufacturing locations throughout the United States. Its current headquarters was opened in 1920 in Zelienople, Penn., with other plants in Lakeland, Fla., Abilene, Texas, and Salt Lake City, Utah.
"Our aftermarket and repair business is great and having that geographic spread allows us to respond no matter where a customer is physically located," Staible adds. "We also sell internationally to OEMs that integrate our product with their own sell directly to overseas end-users."
New Designs
Staying ahead of the curve is a goal at Robinson Fans. The company has its own research and development laboratory to create new, highly efficient fan designs that can operate over a wide range of specified needs applications. A higher-efficiency fan manufactured with better technology will result in cost savings for the customer. A recent Robinson Fans development was an axial flow fan that will serve the aluminum, carbon baking and steel industries – all industries that deal with extremely high temperatures.
"We saw aluminum manufacturing and use increasing in vehicles and that was the product we wanted to improve and to meet that industry's needs," Staible explains. "I would say a lot of our product development occurs because customers tell us where we need to be and how to meet their needs. We tend to engineer for every customer order, and because that's common for us, we're able to adjust pretty quickly to customer needs and develop from there."
Additionally, Robinson Fans has its own testing capabilities to ensure its products meet industry standards. It is AMCA accredited for air performance testing and sound testing, and each Robinson Fans facility operates under the requirements of the ISO 9001 Certified Management System.
"We have worked to create a mentality and way of life of continuous improvement and target it as part of our work," Staible says. "We work to look for improvement opportunities and eliminate waste and create efficiencies."
Robinson Fans has gone through a cultural transformation as a part of its succession planning that provides an opportunity for the company to rethink how it is moving forward. The company plans to achieve growth in general, but it is also focused on growing its product lines to reach more customers and serve even more industry needs.
"Growing the current lines of our business, that's how we leverage what we already have and grow organically," Staible says. "It's currently a time of consolidation and opportunity, and we certainly have plans to be a part of that.
"Our team is the quality team it is because we involve them more and more and improve more from even where the customer wants us to go," she adds. "We have opportunities for growth as our team participates in that. From that, the overall success and growth of the company will come, too."